Majority of White Christians Back Trump While Biden Leads Among Other Religious Demographics by Double Digits: Poll
A majority of white Christians continue to support President Donald Trump ahead of the election, while Democratic nominee Joe Biden leads by double-digit margins among other key religious demographics.
New polling by the Pew Research Center conducted from September 30 to October 5 shows that 78 percent of white evangelical Christians continue to back Trump, similar to the president's level of support from the religious demographic in 2016. Additionally, slim majorities of white Catholics and white non-evangelical Protestant Christians back Trump just weeks before Election Day on November 3.
Among white Catholics, 52 percent support Trump while just 44 percent back Biden, who is Catholic. A similar level (53 percent) of white non-evangelical Protestants support the president, while only 43 percent support the Democratic nominee, who served as vice president under Barack Obama.
Meanwhile, Biden's lead is twice as high as Trump's among individuals who describe their religious views as "nothing in particular." The Democrat is supported by 62 percent of that demographic and the president is supported by just 31 percent—or exactly half of those backing Biden.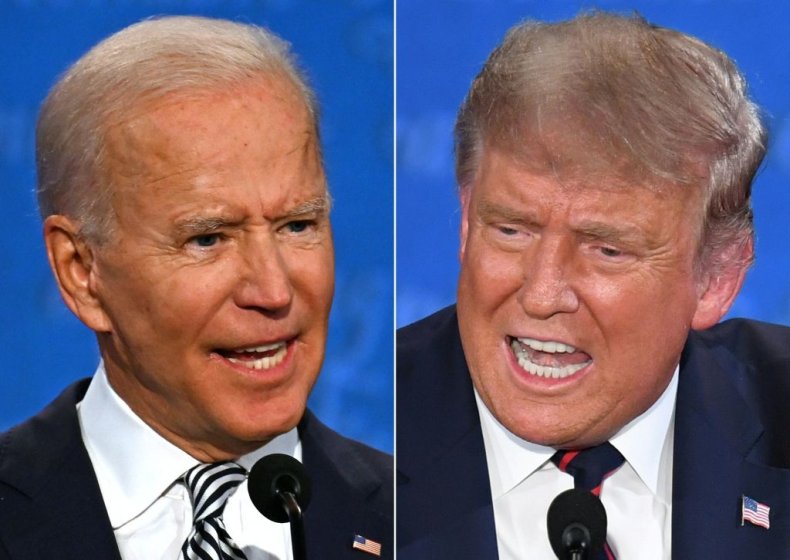 Jewish Americans also largely support Biden, with 70 percent backing the Democratic candidate and only 27 percent supporting Trump. The results are similar with Hispanic Catholics, of which just 26 percent support the president while 67 percent back his opponent.
When it comes to Black Protestants, Biden's support is 10 times higher than Trump's. An overwhelming 90 percent of Black Protestants back the Democratic nominee, and just 9 percent plan to support the president. Support for Trump among atheists and agnostics is also exceedingly low, with just 11 percent backing the president, compared with 83 percent who support Biden.
White Christian support—and particularly the strong level of support from white evangelicals—helped propel Trump to victory in 2016. Eight in 10 (80 percent) white evangelical Christians said they voted for Trump in the last presidential election, according to an analysis of exit polling data by Pew. Among white Catholics, Trump was backed by 60 percent, while just 27 percent supported Democratic candidate Hillary Clinton.
Notably, Trump's support among white Christians appears to be somewhat lower ahead of the 2020 election. While the president's support among white evangelicals has declined by just 2 percent since 2016, his support among white Catholics appears to be down by about 8 percentage points.
Although Biden is a devout Catholic—even regularly carrying a rosary and attending Mass every Sunday—Trump and his supporters have attempted to portray the Democrat as anti-Christian. The president has claimed that the Democrat is "against God," "against the Bible" and "essentially against religion." But Biden's supporters have pointed to the president's multiple marriages and affairs, as well as allegations of sexual assault, and question the logic of Christians viewing Trump more positively than the former vice president.
"And if people wanna play that game, we could look into why an evangelical Christian like Mike Pence wants to be on a ticket with a president caught with a porn star," former Democratic presidential candidate Pete Buttigieg, who served as mayor of South Bend, Indiana, and has endorsed Biden, told Fox News last week.