Makayla Noble, the Texas high school cheerleader who was paralyzed in a freak accident, is experiencing nerve pain in her hands and it appears to be getting worse, according to an update from her family.
The news comes as a GoFundMe page set up by a family friend, Tiffany Smith, to help with the 17-year-old Prosper resident's medical expenses has surpassed $200,000 in donations.
Since she suffered a severe spinal cord injury on September 20 while practicing for homecoming, Noble, a world champion cheerleader, has received an outpouring of support from people in her local community, around the country, and even further afield.
The injury left Noble paralyzed from the chest down and unable to move her hands. The teen was hospitalized for more than three weeks following the accident and she subsequently moved to a special rehabilitation hospital. She is now living at home although her care is continuing and she is undergoing various forms of therapy.
According to an update posted to the Facebook group "Makayla's Fight" on Sunday, the teen had a "great day" and was "super excited" to watch her cheer team, the Cheetahs compete. But the family said that the nerve pain in Noble's hands was continuing.
"It is getting more intense. We'd like to think that is a good thing but we do not know that. She will continue to massage them and retrain her brain that it isn't hurting," the family said in the update.
Over the weekend, Noble also attended an Abilities Expo in Dallas, Texas.
"Mak had an amazing day, learning, meeting so many people, and just felt so happy all day being surrounded by so many people just like her, in wheelchairs and could relate to her and give her advice! She just soaked it all up!" the family said.
In another update posted on Saturday, the family provided a little more information about Noble's life before her accident.
"We realize a lot of people don't really know Mak from before her accident so she wanted to share a glimpse into her life," the family said. "Mak has always loved cheer and had big goals! It was her dream to be on Cheetahs Competitive Cheer Team, which is one of the top teams in the World!"
The family said in her first year on the team they won several competitions, including the Cheerleading Worlds, which they described as the "highest level, like the Super Bowl in cheer."
"All these goals were reached in such a short amount of time but Mak worked hard and pushed her body to get there!"
"A lot of people wonder how Mak can be so positive about the accident and where she is now," the family said. "It is that she set and reached all her cheerleading goals and is content with that! Which leads us to today, the now. Mak is excited to set new goals and knows that with hard work and pushing herself she can reach those!"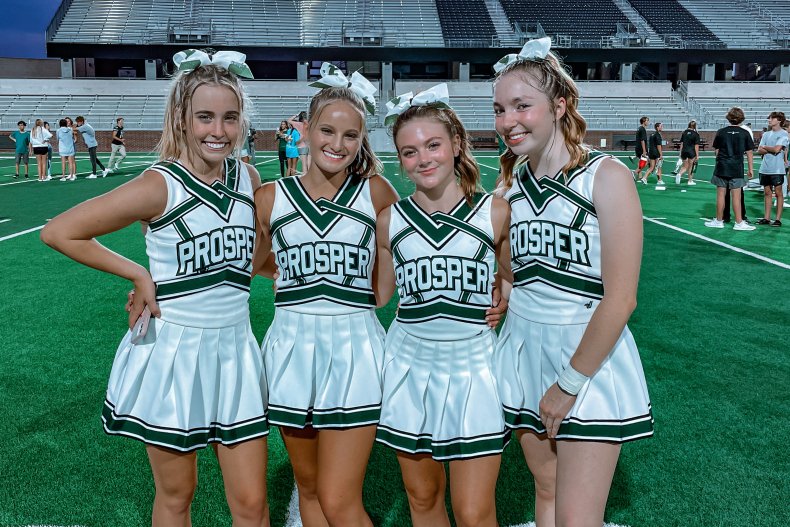 Uncommon Knowledge
Newsweek is committed to challenging conventional wisdom and finding connections in the search for common ground.
Newsweek is committed to challenging conventional wisdom and finding connections in the search for common ground.
About the writer
Aristos is a Newsweek science reporter with the London, U.K., bureau. He reports on science and health topics, including; animal, mental health, and psychology-related stories. Aristos joined Newsweek in 2018 from IBTimes UK and had previously worked at The World Weekly. He is a graduate of the University of Nottingham and City University, London. Languages: English. You can get in touch with Aristos by emailing a.georgiou@newsweek.com.