To Make Our Politics Work, Remote Work May Work | Opinion
The onslaught of Republican state legislatures passing laws intended to diminish minority and other Democratic constituency voting strength continues. We are now up to some 21 states where Republican legislatures have passed bills signed into law by Republican governors that are intended to limit the voting of certain constituencies to help advance the interests of the Republican Party, which is especially troublesome in the key swing states where this has occurred.
The Democrats have only one possible answer to this, and that is to pass federal legislation that will not only create standards to challenge these laws, but deal with their most pernicious elements—those which enable state legislatures to politically interfere with the certification and counting of election results in a way that could lead to future elections truly being stolen. This is all, of course, fueled by the Big Lie that the 2020 election was stolen, which Donald Trump and most Republicans falsely maintain, when in fact they were thwarted in their own attempts to steal the election.
In order for federal legislation to pass, the Democrats will have to put together a 51-vote coalition prepared to create a voting rights exception to the filibuster rule to combat the Big Lie. Senator Joe Manchin of West Virginia and Kyrsten Sinema of Arizona hold the cards as to whether or not the Democrats will have the votes to do this. While Senator Manchin has proposed compromise legislation, it does not mean that he will support overturning the filibuster rule even for his own bill, nor does his compromise bill currently contain provisions to counter the new state statutes that make it far easier for Republicans to reach in and overturn legitimate election results.
When Georgia passed the first of these laws aimed at diminishing the minority vote, there was a massive CEO uprising speaking out against these actions. Since then, however, CEOs have been far less publicly vocal and seem unlikely to enter the battle over sidestepping the filibuster rule, which will be an intensely partisan political war. Yet, I am of the firm belief that most CEOs, regardless of their political party affiliation, believe that no longer being a country truly governed by fair election laws, while permitting the worst of these Republican state legislative actions to stand, would be hugely problematic to our entire governmental system—not to mention the potential long-term impact it would cause to the economy.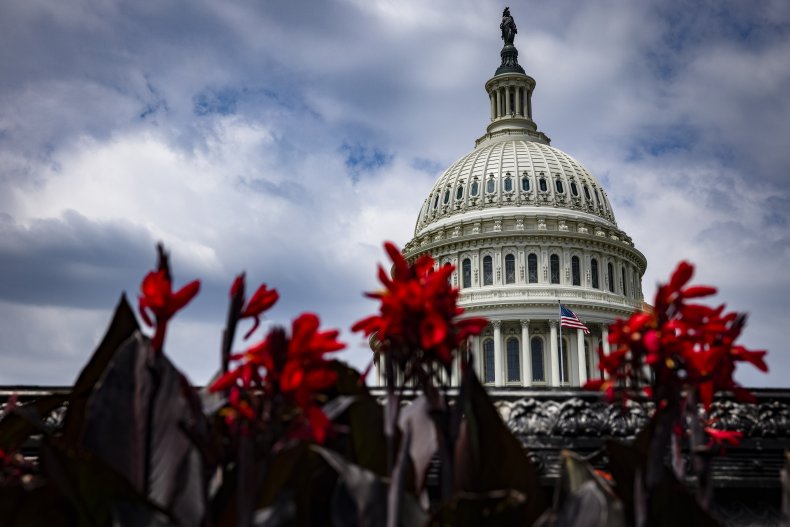 I wrote a column a couple of months ago saying there is an answer to this, where CEOs can be enormously helpful in counteracting both the Republican legislative actions, as well as the stalemate in Congress, by taking a lesson from what we learned about remote work during the pandemic. Every major corporation learned that it could maintain its operations efficiently by allowing workers to be remote, never coming into their corporate offices and in many cases, allowing many corporate office workers to live wherever they chose. So I posed the possibility of CEOs allowing their corporate office employees to move to states where they would prefer to live—be it for lower taxes, lower cost of living, better weather, or any other reason—and to create a "Great Corporate Migration" of voters working from home remotely without any real cost to those companies in terms of moving corporate headquarters, renting new office space, or doing anything other than simply telling those employees they could keep their jobs and work from home in the state where they wanted to live.
To assess the practical potential of this plan, I worked with Morning Consult, a global enterprise technology company specializing in intelligent data, to determine how much corporate employee interest there would be in working remotely from another state. The results confirm that there is not only very significant interest in corporate employees being able to do so, but at levels which would add major additional Democratic votes to just about every swing state. In many cases, the swell of Democratic-voting remote workers would potentially more than compensate for voter suppression laws which might otherwise affect voting. In addition, in some of the narrowest margin states in 2020, such as Georgia, Arizona and Wisconsin, this migration could add to Democratic totals significantly enough to put out of reach the ability to overturn the legitimate outcome of elections in those states where Republicans have put in place new election statutes that would enable them to do that.
Morning Consult's results indicate there are over 7.2 million workers who are still working remotely in their jobs and are desirous of continuing to do so but have interest in moving to another state. When workers were asked if particular swing states had some appeal, and then the results were further filtered by likely voters, the potential to move the voting results in each of the swing states was very significant. Democratic remote workers desirous of moving to another state outnumber Republicans 2 to 1. For instance, Florida would potentially gain 1.35 million new Democratic likely voters, compared to 814,000 new Republican likely voters. The margin of 533,000 voters would more than offset the 2020 Trump margin of 371,000 voters in that state.
In the last election's closest swing states—Arizona, Georgia and Wisconsin, without which Joe Biden would not have had an electoral college victory—the added Democratic margin of 661,000 votes, 988,000 votes and 454,000 votes respectively would massively increase what was a total margin in those three states of 44,000 votes for Biden (see the chart below). Since respondents could name multiple states that they found had "at least some appeal" to move to and work remotely from, these results cannot be read to mean each state in the chart below would gain the level charts indicated of Democratic margin. The margin gains would be distributed across the states, but any given state could be attractive enough to achieve this gain when taken on its own. If there was some direction or guidance given as to where workers were permitted to move among multiple states they found appealing, the increase in Democratic voters in each of the swing states could be allocated to have extremely substantial impact.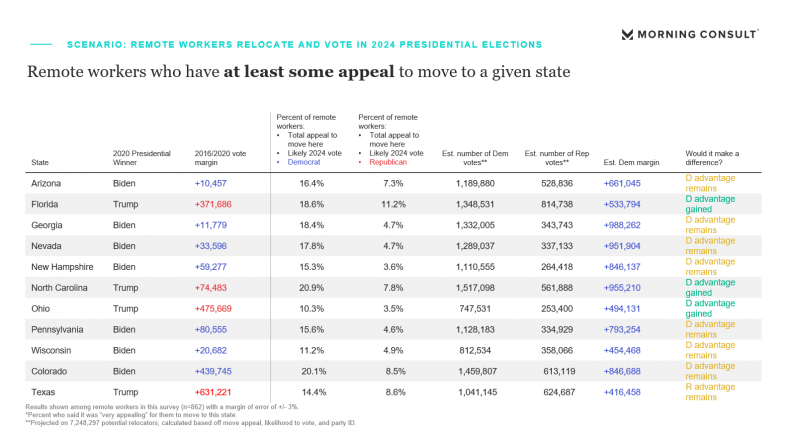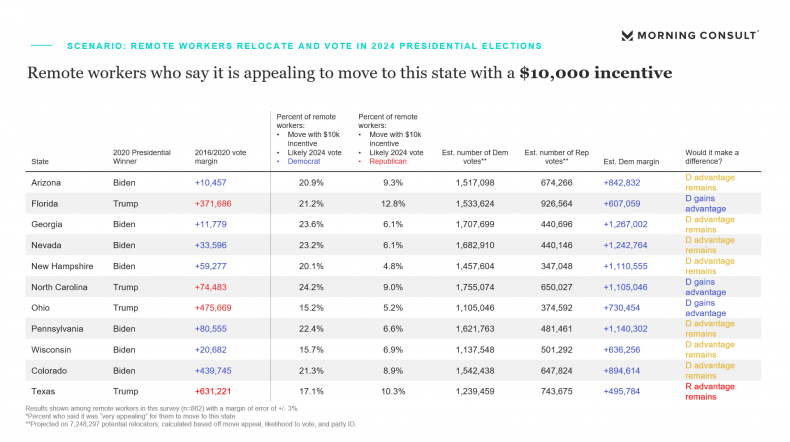 The younger age demographic was most interested in moving to another state if they could work remotely, but the appeal was strong across all ages. When certain economics are added to the offer to the employee as an inducement to work remotely from another state, such as a $10,000 cash incentive, the Democratic margins increase even more substantially. In most cases, by 200,000 to 300,000 Democratic votes or more. Given some of the higher-cost states that workers would be leaving, the polling shows if the same salary that employees are currently receiving would be guaranteed when they move, certain states that are not known, for instance as having great weather, such as Pennsylvania and Ohio, further surge in appeal. The $10,000 financial incentive has enough pulling power for remote workers who are desirous of working in one of the swing states that, with the exception of Texas, every one of the other swing states that went for Trump in 2020—Florida, North Carolina and Ohio—could experience an increase in Democratic votes sufficient to move the state into the Democratic column.
One thing to note is that Florida was by far the most popular state to move to, and if corporations did not restrict how many employees they would permit to move to what states, Florida would see a massive surge in its remote worker population under this plan. If the desire of corporations was to let employees move only to their first-choice state, and not direct the flow of employees to other choices, it is very likely Florida's Republican statewide margins would be totally overcome by these new workers.
While some considered this to be radical thinking when I first proposed it, this plan should be put in the historical context of the early and mid-1900s, when northern factories paid financial incentives to Black workers from the South to migrate North, and those Great Migrations very much changed the demographics in a number of northern states. Given the experience of both corporations and employees during the pandemic, this proposal by comparison is not only not radical, but something that could easily work to make employees' lifestyle more in keeping with their desires, while reducing company office space expense even further than those reductions already planned by companies looking to implement more flexible remote work conditions.
We are headed down a path where former President Trump has created a loyalty litmus test that requires Republicans at all levels to not only buy into the Big Lie, but also buy into creating mechanisms to enable Republicans to steal elections in the future. If Congress won't act, and that action at this point continues to seem dubious, then our democracy and our flourishing economy based on being a country anchored in the rule of law, require CEOs to find a path around the political process in a way which costs them and their shareholders nothing. This plan is eminently doable but can only come to life with key CEO leadership. That leadership requires demonstrating that American business will not stand for this anti-democratic attack from the Republican Party—the so called party of business—that it is planning in clear view. To make our politics work, remote work may just work.
Tom Rogers is an editor-at-large for Newsweek, the founder of CNBC and a CNBC contributor. He also established MSNBC, is the former CEO of TiVo, currently executive chair of Engine Media and is former senior counsel to a congressional committee.
The views expressed in this article are the writer's own.