'Make Your Nations Great Again': Donald Trump Tells Migrants to Stay in Their Own Countries
President Donald Trump said that migrants should "make your nations great again" in a Tuesday speech to the U.N. General Assembly in New York.
Citing the diversity at the U.N., Trump said: "There is the heart of a patriot that feels the same powerful love for your nation. The same intense loyalty to your homeland. The passion that burns in the hearts of patriots and the souls of nations has inspired reform and revolution.
"We must protect our sovereignty and our cherished independence above all. When we do, we will find new avenues for cooperation unfolding before us," he said.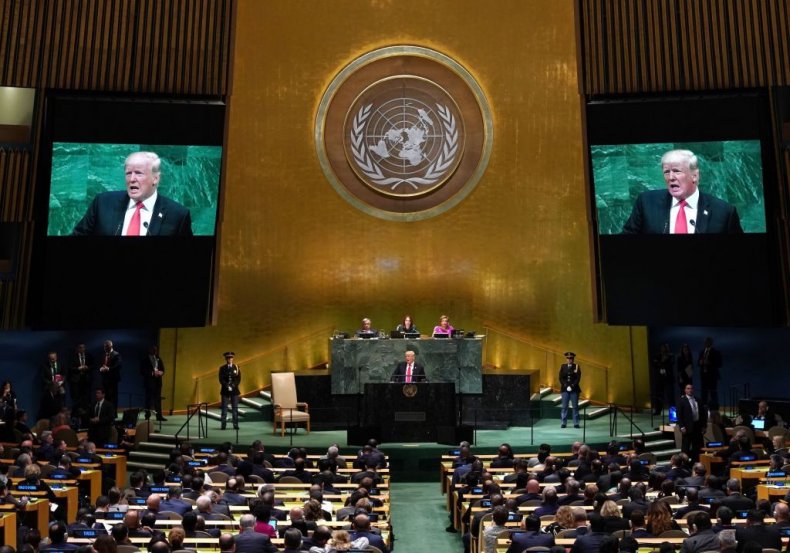 The president began his speech by praising his administration, claiming it had accomplished more than "almost any administration in the history of our country," to which laughter broke out in the assembly hall. Apparently caught off guard by the response, he said, "I didn't expect that reaction, but that's OK."
He also said that the U.S. is "only going to give foreign aid to those who respect us, who frankly are our friends," and that Washington would no longer be part of the U.N.'s Global Compact on migration.
"We recognize [that] every nation [should be allowed] to set its own immigration policy, just as we expect other countries to respect our right," the president said.
Trump used the speech to attack Venezuela and Iran while also praising "steps" taken by North Korean leader Kim Jong Un toward denuclearization.
"Currently, we are witnessing a human tragedy, as an example, in Venezuela," he said, targeting the country's president, Nicolás Maduro, and calling for an end to socialism. He also called for the world to unite with the U.S. against Iran, accusing Tehran of causing death and destruction while plundering its people's resources.
"America is governed by Americans. We reject the ideology of globalism, and we embrace the doctrine of patriotism," the president said.
"The United States will not tell you how to live, work and worship," he noted at the beginning of his remarks. "We only ask that you honor our sovereignty in return."
The president's hard-line immigration policies have been widely seen as a key reason for his supporters' decision to vote for him in 2016. During his campaign, Trump called for building a wall along the U.S.-Mexico border. His administration has aggressively cracked down on undocumented immigrants and been condemned internationally for separating thousands of migrant children from their parents at the U.S. border.
He also implemented a travel ban targeting several predominantly Muslim nations after calling for a ban on Muslims entering the U.S. during his campaign. Although the travel ban was initially blocked by the courts, the Supreme Court ruled in June that a watered-down version could go through.