Ma'Khia Bryant Bodycam Video Shows Columbus Police Fatally Shoot Teen
Columbus police have released body camera footage of a teenage girl appearing to threaten two others with a knife before being fatally shot by an officer on Tuesday afternoon.
Police have not identified the Black teenager shot by the officer, but local children's services and a woman who said she was her aunt named the girl as Ma'Khia Bryant, aged 16.
Authorities released the officer's body camera footage at a press conference on Tuesday night, as Black Lives Matter protests began in the Ohio city.
"Normally we don't provide information this soon," said Michael Woods, the interim chief of the Columbus Division of Police, at the start of the press conference. "But we understand the public's need, desire and expectation to have transparency of what happened."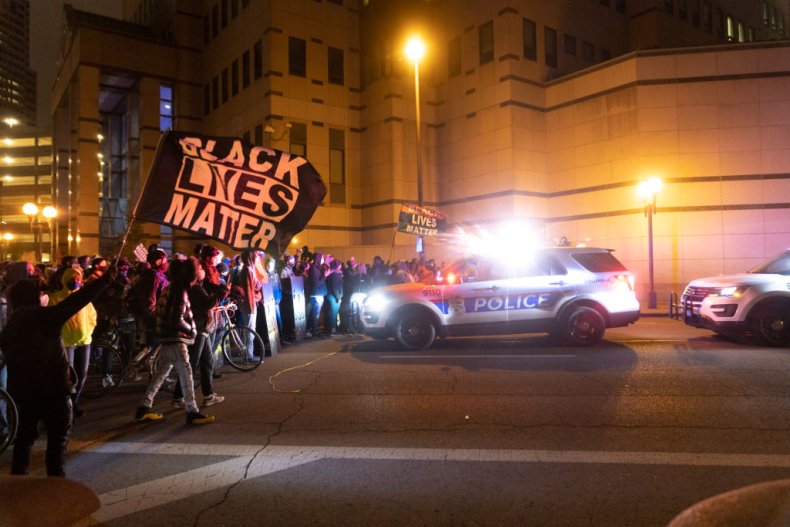 He added that the footage came from the bodycam of the officer who had fired his weapon at the scene. Police were responding to a caller who had said women were trying to stab them.
The interim police chief then played a clip from the bodycam footage, showing an officer leaving his car and approaching a group of people outside a house. Shouting can be heard as he approaches.
A scuffle breaks out as one girl and an unidentified male lunge and kick at an unidentified woman. The officer repeatedly tells the pair to get down, but they persist.
The girl then approaches another woman standing by her car and lunges at her with what looks like a knife. The officer fires four shots at the girl and she falls to the ground by the car.
Shouting can then be heard as officers attend to her. The officer who shot the girl walks closer to her and what appears to be a knife can be seen beside her body as she lies unconscious.
Although officers did not reveal her identity at the press conference, Franklin County Children Services said she was Ma'Khia Bryant, who had been in foster care.
"We know, based on this footage, the officer took action to protect another young girl in our community," said Columbus Mayor Andrew Ginther. "But a family is grieving tonight, and this young 15-year-old girl [sic] will never be coming home."
The name of the officer who shot the teenager was not released at the media briefing on Tuesday night. However, the interim chief of police said he would be taken off the street for the time being.
The Ohio Bureau of Criminal Investigation has launched an inquiry into the shooting.
Hazel Bryant, who said she was the teenager's aunt, told the Columbus Dispatch her niece had had a knife, but maintained that she dropped it before being shot. It is not clear whether that was the case from the police bodycam footage.
Newsweek has contacted Columbus Division of Police for further comment.