Making a Bigger Push for Naturalization in Houston | Opinion
As one of the most multicultural cities in the nation, Houston has an extraordinary opportunity to create a better future not just for our communities and economy but for the entire nation. In addition to having the third-largest Hispanic population in the country, nearly half of Houston's residents speak Spanish, Vietnamese, or Chinese as their primary language. The city's ethnic and racial diversity makes our culture vibrant. But for our communities to continue flourishing, we must find new ways to invest in them equitably. One impactful way to do that is by making it easier for immigrants with legal status to apply for citizenship.
Take Khalid Habli's story as an example. Khalid is a lead aircraft cleaner and union leader with the Service Employees International Union at George Bush Intercontinental Airport. He has lived in Houston, Texas with his wife for nearly a decade, working and paying taxes, doing everything citizens do without any benefits afforded to those who naturalize in our country. That changed in 2019 when Khalid became a naturalized citizen at 31.
Khalid was among the more than 9 million immigrants eligible for citizenship but had yet to take their final steps toward naturalization. Khalid's journey inspired him to become more civically engaged, with a desire to elect pro-union candidates who support working families like his. In short, naturalization unleashed Khalid's full power as a citizen, allowing him to participate fully in our democracy and become a part of Texas' economic growth.
However, millions of people have yet to start their journey toward naturalization. The country's overall naturalization rate each year is less than 10 percent. In Houston alone, more than 310,000 permanent residents are eligible for naturalization. That's 310,000 people who have yet to unleash their full potential as Khalid did in 2019. But it's no fault of their own. Many of our residents have been priced out of citizenship, face language barriers and lack the information needed to naturalize.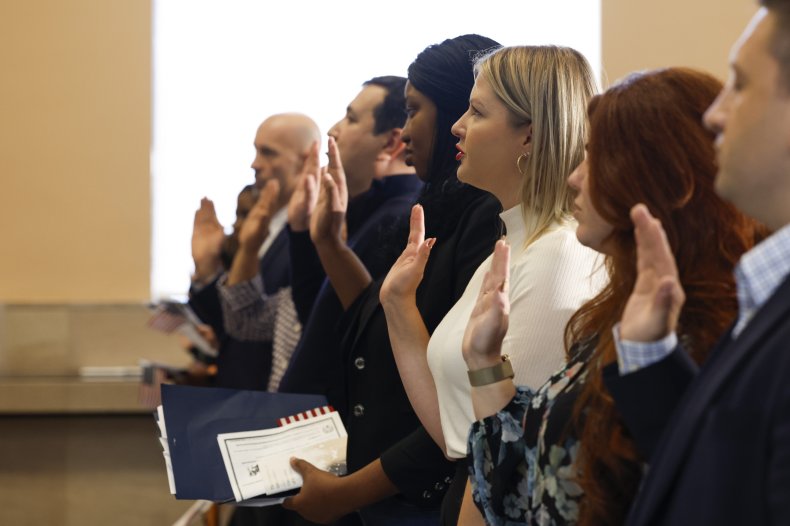 Here in Houston, we welcome everyone and do whatever it takes to inform, support and empower eligible permanent residents on their path to becoming U.S. citizens. That's why we partnered with the National Partnership for New Americans' "Naturalize 2 Million by 2022," campaign—aiming to naturalize 2 million eligible permanent residents across the country by the end of 2022—and why, along with our Cities for Citizenship partners in the Austin, San Antonio, Dallas and El Paso County, we're encouraging permanent residents to apply for U.S. citizenship through outreach events, workshops and communication efforts.
Our message is simple: Naturalization is a path to a better life. On average, getting naturalized can raise the income of immigrant households by up to 13 percent—providing more access to higher-paying jobs and broadening employment options, including jobs in the public sector. The median household income for naturalized citizens totals $72,000, whereas noncitizens' household income totals $53,100. With higher incomes, naturalized citizens are twice as likely to become homeowners.
Making it easier for immigrants with legal status to naturalize would also lift entire industries that depend on for our collective well-being. For example, nearly 30 percent of Houston's health care workforce—one of the largest in the world—is powered by immigrant women, who are largely held down by low wages and standards. In addition to hospitals, our airports and office buildings employ a large portion of Houston's Latinx and immigrant residents—from the hundreds of baggage handlers and cabin cleaners working at George Bush Intercontinental Airport, to the thousands of janitors working across Houston to ensure our buildings are safe and clean. With a stronger voice in our economy, these essential workers could win better-paying, union jobs, which would, in turn, strengthen our most important industries.
It's not just our economy and our health—it's also our democracy. A recent report found that people who naturalized between 2016 and 2020 constitute a formidable potential voting block of over 5.19 million. This means that, should they vote, these newly naturalized citizens could have significant power to elect candidates who will fight for their communities and improve their day-to-day lives.
While Houston is going big on naturalization, our nation has a long way to go. Our democracy works best when all Americans can participate in the economy and make their voices heard. And it's up to our nation's leaders to work toward building a truly equitable, resilient economy across all states for all people, no matter who they are or where they're from. Supporting naturalization would be a significant step in that direction. Houston, let's lead the way.
Sylvester Turner is the mayor of Houston, Texas.
Elsa Caballero is the president of SEIU Texas.
The views expressed in this article are the writers' own.