'Making the Cut' Contestants: Meet the Designers of the Heidi Klum and Tim Gunn Fashion Show
A few months after Next in Fashion proved a hit for Netflix, Amazon Prime Video is launching its fashion competition show. Making the Cut reunites Project Runway alums Heidi Klum and Tim Gunn in a new show that sees 12 contestants travel across three countries designing clothes with the chance to win $1 million for their brand. The line-up of contestants features designers from a number of countries and includes the founders of some brands that fashion fans may already be familiar with.
Who are the contestants in Making the Cut?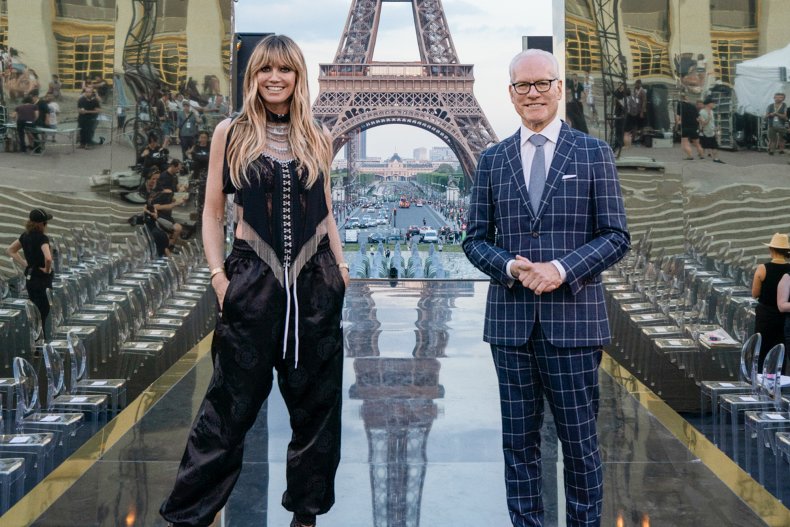 Sander Bos
Womenswear creator Sander Bos is based in Antwerp in Belgium, making clothes described on their Not Just a Label page as: "Unconventional and... eclectic, a seamless fit with the modern day, expressive woman-in-motion."
Rinat Brodach
The 35-year-old Israeli-American New Yorker is known for her gender-free clothing. On her website, she says she makes pieces: "For those who want to experiment with and enhance the art of the human body regardless of age, ethnicity, gender, or ability."
Ji Won Choi
Born in Seoul and now living in New York City, 26-year-old Ji Won Choi recently designed a collection for Adidas worn by figures including Beyonce and Kendall Jenner.
Jasmine Chong
Luxury ready-to-wear womenswear designer Jasmine Chong is 32 and based in New York City, and has apprenticed for big fashion names including Anna Sui, Tory Burch and Halston.
Jonny Cota
Jonny Cota, 35, is a former member of a performance art troupe and the co-founder of Los Angeles label Skingraft, worn by such figures as Britney Spears, Janet Jackson and Justin Bieber.
Martha Gottwald
Richmond, Virginia resident Martha Gottwald, 28, who was born in Baton Rouge, is the founder of the label Neubyrne and is known for her bold, brightly colored womenswear designs. Speaking to the Richmond Times-Dispatch about her time on the show, she joked, "You would never know seeing people on TV how much a [taped] microphone can rip off your spray tan...I love backless clothing. And I'm a spray-tan psycho. You forget that a microphone really presents a problem there."
Troy Hul Arnold
Hul Arnold is a 34-year-old East Harlem designer and one-time adjunct professor at Project Runway's former home, the Parsons School. He was formerly the founder of the HUL ARNOLD label, and has a label named TROY launching soon.
Joshua Hupper
A co-founder of Shanghai label Babyghost, American expat Joshua is 38, and trying to take his cult Chinese brand, often worn by the nation's supermodels, into the next major brand.
Esther Perbandt
43-year-old Berliner Esther Perbandt runs a unisex fashion label, and combines making clothes with making music and creating costumes for film, theatre and concerts.
Will Riddle
Ohio born womenswear designer Will Riddle is 31 and now based in New York City, where he is the product development manager for Kith, following a job at Oscar De La Renta.
Sabato Russo
The oldest of Making the Cut's contestants is Sabato Russo, the 64-year-old Milan architect-turned-designer linked to the label Sartorial Monk.
Megan Smith
Megan Renee founder Megan Smith is 38 and lives in Los Angeles, with her label described on its site as embodying "strength, confidence and unapologetic femininity."
Making the Cut is streaming now on Amazon Prime Video.