'Making the Cut' Contestants: Who's in the Season 2 Cast & How to Buy Their Clothes Online
Making the Cut is back after more than a year away, with Tim Gunn and Heidi Klum out to find the next fashion megastar (not to be confused with Netflix's canceled-too-soon Next in Fashion). This time, 10 new designers from across the world fight it out for $1 million and the chance to win a place in Amazon's fashion stores.
Klum, Gunn and new judges Jeremy Scott and Winnie Harlow will decide which designers "make the cut." Those designers come from locations ranging from Australia to Colombia and Poland to India. All of them, however, have collections that viewers of Making the Cut are able to buy now.
Who are the contestants of Making the Cut Season 2?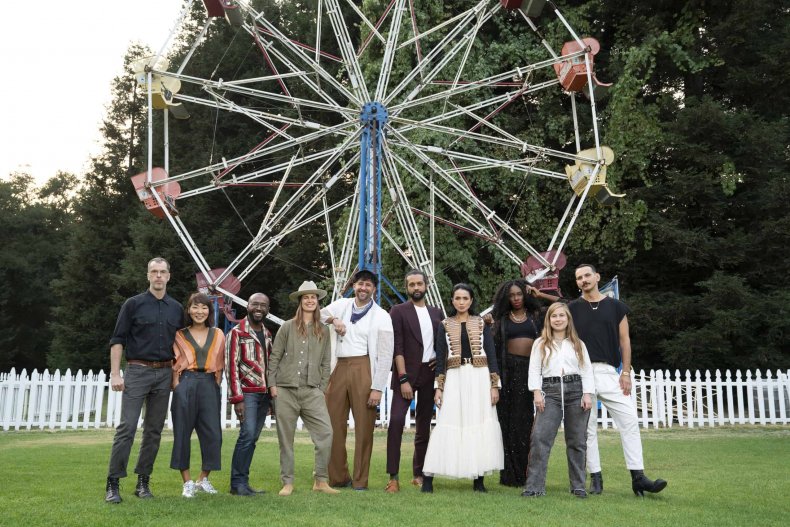 Ally Ferguson
Who is Ally: A Los Angeles native and former package design company creator who founded gender inclusive organic hemp label Seeker.
Where to buy her clothes: Ally has the suitably eco-conscious URL of seeker.earth.
Andrea Pitter
Who is Andrea: The first of two Andreas in Making the Cut Season 2, Andrea P. is a Brooklyn-based bridalwear designer and owner of the label Pantora Bridal. Making the Cut sees her moving into ready-to-wear.
Where to buy her clothes: Wedding dresses available from the Pantora flagship store in Brooklyn; Ready-to-wear is at pantorabridal.com.
Andrea Salazar
Who is Andrea: The Colombian founder of the brand SETA, who has lived in Colombia, the U.K., Brazil and now Miami. Her womenswear brand was co-founded by her sister, and has a mission statement to represent: "the new generation of women, those who have decided to rise, transmit confidence and create a statement with their unique style we provide."
Where to buy her clothes: SETA is at setaapparel.com
Dushyant Asthana
Who is Dushyant: An India-born designer now based in Los Angeles, whose brand (per Amazon) brings together, "unconventional accents from the East with classic Western stylistic principles."
Where to buy his clothes: Buyable at dushyant.la
Gary Graham
Who is Gary: After two decades running his eponymous brand in New York City, known for its intricate designs and embroidery, Gary moved to upstate New York to launch his latest project, GaryGraham422.
Where to buy his clothes: The brand's website is at garygraham422.com.
Joshua Scacheri
Who is Joshua: An Australian who now lives in London after a career in Italian football. After experiences launching a brand in his native country, and working with British heritage brands, he is using Making the Cut to launch a new planet conscious clothing brand, Love Hero.
Where to buy his clothes: Available to pre-order on lovehero.co now.
Lendrell Martin
Who is Lendrell: A New Jersey-based men and womenswear outerwear designer who also has a commitment to mentoring young men of color in the fashion industry.
Where to buy his clothes: Lendrell's online shop is at lendrellmartin.com.
Lucie Brochard
Who is Lucie: A Korean-born Parisian who studied in Paris and San Francisco before launching her brand Lucie Brochard.vo. Per its website, the brand, "reinvents the woman's wardrobe by combining tailoring with aerial silk to create timeless feminine silhouettes."
Where to buy her clothes: Purchasable at luciebrochard.com.
Olivia Oblanc
Who is Olivia: A graduate of the prestigious Parsons School (where Tim Gunn was formerly chair of fashion design), Olivia now runs the unisex workwear-inspired brand ØBLANC, best known for its collaboration with Adidas.
Where to buy her clothes: ØBlanc available online at shopoblanc.com.
Raf Swiader
Who is Raf: A Polish born designer working in New York City. After stints on Seventh Avenue and at menswear brand John Varvatos, he now runs R.Swiader, which Amazon calls "​​gender-optional line inspired by the art, people, and culture he loves."
Where to buy his clothes: R.Swiader has an online store at rswiader.com.