'Making a Murderer' Confession: Everything We Know So Far
The Teresa Halbach murder case behind Netflix's Making a Murderer documentary series was thrust back into the news this week after a convicted killer in a Wisconsin prison confessed to her murder, casting further doubt on the case against the two men convicted of the crime, Steven Avery and Brendan Dassey. Joseph Evans Jr. confessed to filmmakers of the documentary series Convicting a Murderer, originally reported exclusively by Newsweek. He has since sent a confession letter to Avery's attorney, Kathleen Zellner.
With so many pieces to this increasingly confusing puzzle of a murder case, here's everything we know about Evans, the confession, whether or not it's credible and when can you watch Convicting a Murderer.
Who is Joseph Evans Jr.?
Evans is serving a life sentence in a Boscobel, Wisconsin prison for murdering his wife, Dina Evans, in their home on July 26, 2008. During the trial, he claimed Dina's death was accidental.
At the 2009 trial, he testified that Dina entered his mobile home unexpectedly and startled him. At the time he said he was on the couch looking at a pistol he had purchased just a few days prior. He then testified Dina reached for his arm just as he was setting the gun down and it went off.
"I grabbed Dina and said 'are you OK?' two or three times," Evans testified. "She looked at me and then her eyes closed."
The couple's 25-year relationship was tumultuous, marrying, divorcing and then remarrying before the fateful shooting. Dina also filed multiple restraining orders against Evans over the years. The couple had three children together.
What did Evans say in his confession letter?
First and foremost, Evans starts the letter by saying he's "making a claim to your reward offer for the information in the Steven Avery Case," referring to the $100,000 reward Avery's attorney, Zellner, is offering for information that leads to the "arrest and conviction of the real killer of Teresa Halbach."
Evans then goes on to explain how he, in fact, murdered 25-year-old Teresa Halbach in 2005. Like in the death of his wife, Evans claims the murder was accidental.
"A lady stepped out in front of my vehicle and I hit her," Evans wrote in the confession letter. "She fell to the ground, and hitted her head on a large rock. I got out to check on her but she was unconscious, and her head was starting to bleed."
Why was Evans even at the Avery Salvage Yard, the auto yard the Avery family ran? Evans alleges he needed to replace a part on his 1996 Chevy Tahoe and stopped by the salvage on his way back from Sheboygan on October 31, 2005.
Evans then went on to describe how he panicked after Halbach's death. He meticulously described entering Avery's trailer, hiding evidence in the trailer, shooting Halbach, placing her body in her Toyota Rav4, removing the body, hiding the Rav4 and then burning the body hours later. During the entire time the crime took place, he alleges only "some teenager" stopped by the fire and then left, never mentioning Avery was ever-present during the multiple hours over which Evans alleges he committed the crimes.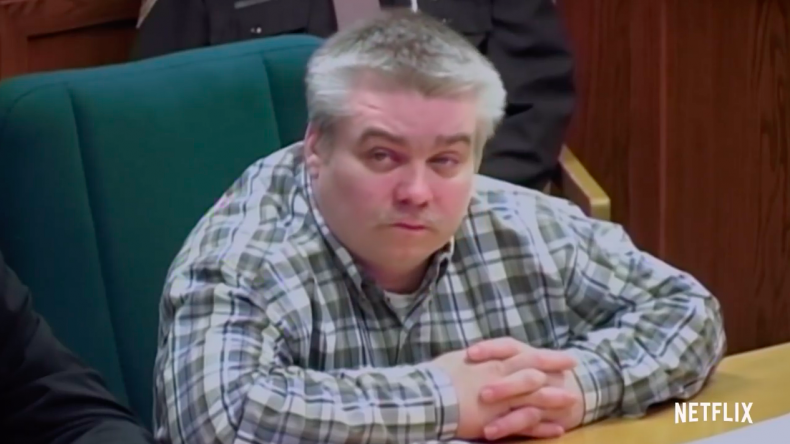 Is anyone taking Evans confession seriously?
Evans letter to Zellner was accompanied by a deposit slip, requesting $2,000 to start any discussions, a move that casts doubt on the motivations underpinning Evans' confession. Additionally, Evans requested $250,000 in addition to the $100,000 reward if his confession led to Avery's exoneration.
"Keep your panties on and shirt down, because I'm not out to screw you," Evans said in the concluding paragraph of his confession letter to Zellner. "This is a deal relationship between you/me, you'll win when I give all up and the full cover-up story," referring to his own allegations that the state covered up Evans involvement in the murder in order to convict Avery.
Also, this isn't the first time Evans has attempted to insert himself in the Halbach case. In 2017 Evans submitted a nine-page letter to multiple media outlets stating that Avery confessed to the murder to Evans when the pair were cellmates in Wisconsin.
Zellner called the current confession a "publicity stunt" and said that Avery "laughed" when she read him the confession letter. She told Newsweek Wednesday, "The only credible thing Evans has done is discredit his 2016 statement that Avery confessed the murder to him. His recent publicity stunt is pathetic."
Shawn Rech, the director of the Convicting a Murder documentary series, also cast doubt on Evans' confession.
"He already admitted to lying, he's a convicted felon, so that tells you, maybe he's not the most believable guy in the world," Rech told Fox News on Tuesday. "But, at the same time, he killed someone in the state of Wisconsin and he was walking around free when all this happened, and maybe this was the reason he was trying to point the finger at Steven Avery in the first place. So, it's kind of a balancing act you kind of have to do."
What will Convicting a Murderer be about and when will it be released?
Rech told Deadline in 2018 that Convicting a Murder will take a broader look at the Halbach case.
"When Making A Murderer was produced, many on the law enforcement side of the story could not, or would not, participate in the series, which resulted in a one-sided analysis of the case," Rech told Deadline. "This docuseries will examine the case and the allegations of police wrongdoing from a broader perspective. It will also share with viewers the traumatic effects of being found guilty and vilified in the court of public opinion."
Transition Studios, the production company behind the docuseries, has not yet announced a release date or where the series will air.