'Making a Murderer' Update: Brendan Dassey Seeks Clemency From Wisconsin Governor
Making a Murderer subject Brendan Dassey is taking new steps to fight for his freedom. The 29-year-old was convicted of the murder of Teresa Halbach in 2007, though he claims he's innocent. Dassey originally confessed to the killing, but his attorneys have since claimed the confession was coerced. Now, he's asking the governor to believe him.
The news of Dassey's clemency request comes just after a third party confessed to the murder of Halbach. The confession, which was given by convicted murderer Joseph Evans Jr., has not been verified.
Clemency is an official pardon, which allows a formerly-convicted inmate to go free. Clemency can be given by state and federal government officials, such as a governor or the president, depending on a prisoner's status.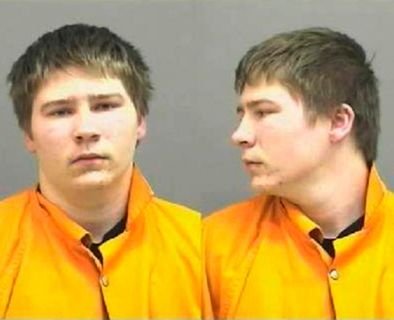 The United States Supreme Court rejected hearing the appeal of Brendan Dassey (pictured). The now-28-year-old exhausted his appeals of whether his confession to the Halloween 2005 crime was voluntary.
Reuters | Handout
Dassey's attorney, Laura Nirider, announced the new step on Wednesday. "Today, we are filing a petition for executive clemency on behalf of Brendan Dassey," Nirider told a group of reporters according to WMAQ-TV. "This petition asks Wisconsin Governor, Tony Evers, and his pardons advisory board, to grant Brendan either a pardon or a commutation based on Brendan's innocence as well as the extreme length of his sentence."
A pardon is "a grant of forgiveness from the Governor that can restore some rights and privileges and relieve certain legal disabilities" according to the Pardon Information page on Evers' website. A commutation diminishes the length or severity of a sentence.
In her petition, Nirider dove into Dassey's story, the same sad tale that fascinated and infuriated Making a Murderer fans. She said at the time of his confession, Dassey was a "16-year-old special education student." She also claimed the confession has become "universally regarded as false."
Netflix's Making a Murderer traced Dassey's attempt to appeal his conviction all the way to the United States Supreme Court, which declined to hear his case. Dassey had been close to being released from prison in 2016, Nirider explained on the series. At the time, a Wisconsin appeals court judge had found enough reasonable doubt to overturn Dassey's conviction. Dassey's fate came down to one vote, and he remained in prison.
Because his case has already been taken to the Supreme Court, Dassey has further legal options, and so is asking for clemency. This could change if enough new evidence comes to light in Dassey's case to prompt a new appeal.
Nirider touched on where Dassey is in life. "In his quiet, hopeful, peaceful way, Brendan has now served more than 13 years behind bars with no chance of parole until 2048. The courts have been unable to deliver justice for him. We now ask Governor Evers to deliver that justice and bring Brendan home."
Dassey was moved to a medium-security prison in April. The change allowed him to have more lifestyle rights, like career classes and hobbies. Dassey's new location also has dorm-style housing.
Fans of Making a Murderer have long fought for the release of both Dassey and his uncle, Steven Avery, who is also in prison for Halbach's murder. Avery has always maintained his innocence. Before Halbach's murder, Avery was wrongfully convicted of rape in Wisconsin state court and was eventually exonerated.
Nirider did not immediately respond to Newsweek's request for comment.