'Making A Murderer': Kathleen Zellner Files New Motion For DNA Testing of Possible Human Bones In Steven Avery Case
Kathleen Zellner, Steven Avery's Attorney, filed a motion to test possible human bones found in three burn barrels on Manitowoc County property. The sets of bone were not presented in Avery's original trial, which found him guilty of murdering Teresa Halbach in 2007. He's currently serving life in prison without parole but Avery maintains his innocence.
The bones from multiple burn pits, including barrels on Manitowoc County property, were identified as possible human remains by forensic anthropologist Dr. Leslie Eisenberg, though they were never DNA tested. In 2007, the possible remains were submitted for DNA testing by the FBI, but were unable to be tested because of the fragment condition, according to the motion, obtained by Newsweek. In response, in April 2007, Avery was granted future DNA testing as technology in the field advances.
In the brief, Zellner argues there must be sufficient reason for further testing and the potential for a change in Avery's sentence. The state of Wisconsin allowed her team, along with Eisenberg and Avery's original forensic expert, Dr. Steven Symes, to test a pelvic bone fragment, a bullet fragment and Halbach's car key. These research opportunities were captured on the Netflix documentary series Making A Murderer Part 2, which has brought Avery's case national attention.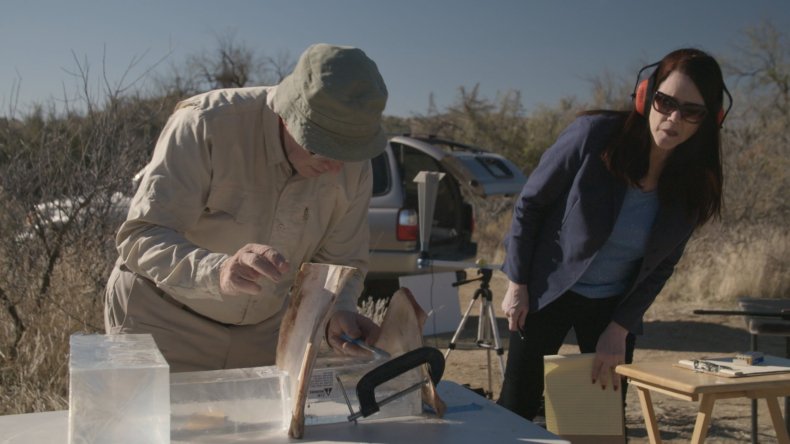 In his original trial, Avery was accused of burning Halbach's body in a burn pit on his own property. Though the jury convicted him of Halbach's murder, they did not find him guilty of burning her body in the burn pit, Zellner told Newsweek in November. She sees the burn pit as a large factor in Avery's innocence: if he did not burn her body the way the prosecution suggested, did he kill her at all?
Identifying bones in other locations would, to Zellner, negate Avery's said involvement in the crime because the prosecution's case against Avery largely revolved around him killing and burning Halbach's body on his property. Zellner maintains the bones were moved and planted to convict Avery.
Possible bone fragments were also found in a burn pit on the Dassey-Janda property. Zellner's working theory names Bobby Dassey as a leading suspect in Halbach's murder.
Zellner suggested an advanced DNA testing technology called the ANDE Rapid DNA Identification System. The system was just recently approved as a prominent technology by the FBI in June. It specializes in DNA testing on calcified and charred bones, according to Zellner's motion.
It is currently unknown when Zellner will hear back on approval or rejection for future testing.