'Making A Murderer' Lawyer Kathleen Zellner Counter Sues Client For Lying About Alleged Innocence And Not Paying Due Legal Fees
Coveted wrongful convictions attorney Kathleen Zellner is suing a former client, Lathierial Boyd, who was formerly exonerated for a shooting death in the '90s he claimed he didn't commit. Now, Zellner's research says he lied about some of the points that gained his innocence.
Boyd is already suing Zellner for $20 million with the claim she backed out of his civil lawsuit without doing the expected work of an attorney. His lawsuit noted he would have won at least $20 million in damages had she properly represented him. But Zellner's countersuit frames a different story.
The lawsuit, obtained by Newsweek after being filed by Zellner through the Cook County Clerk's Office on Wednesday, states Boyd would not agree to less than $20 million to settle the case without a trial. Therefore, the negotiations were terminated. Zellner, who is representing herself in the lawsuit, says through continued attempts to settle the lawsuit and gain some amount of financial compensation for Boyd's time spent in prison, Boyd refused to lower his asking amount.
Much of Zellner's lawsuit against Boyd states he took out a series of loans and did not pay them back, along with never paying Zellner's firm what they were owed. Though some of the work Zellner did for Boyd was pro bono, other parts of his legal representation required compensation, according to Zellner. At one point, Zellner claimed Boyd paid $40,000 to the firm, which he was later granted as a refund to pay off medical bills. Zellner never saw evidence of the medical bills.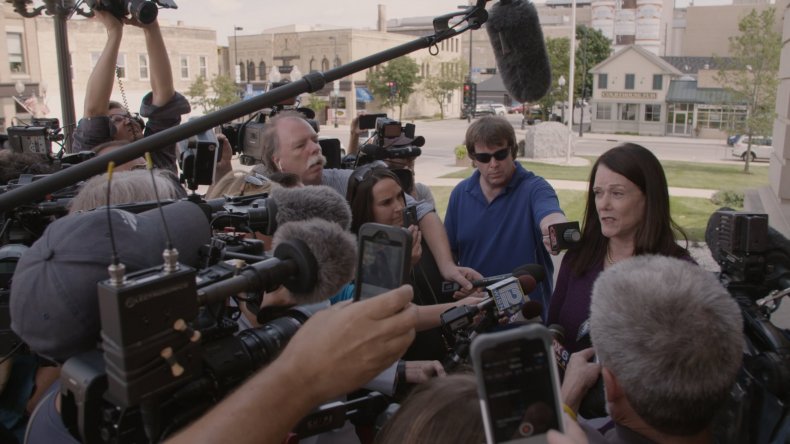 The lawsuit says Boyd owes Zellner's firm $867,269.66 total for legal fees he promised to pay and an $85,000 loan which Zellner's firm repaid on Boyd's behalf. The argument also explains Zellner's firm will now take another financial hit because of the representation needed to face Boyd's lawsuit against Zellner.
Zellner claims Boyd lied about major parts of his story to her firm and the Cook County Conviction Integrity Unit. One specific point mentioned Boyd's "rat note," which he told Zellner he did not write. The note implied the writer was owed money from someone selling drugs for them. At his civil suit, Boyd allegedly claimed he did write the note, incriminating him under oath. Zellner's lawsuit states this was "fatal to his integrity."
The lawsuit also outlines Boyd lying to Zellner about visiting victim Ryan Warner's home before the shooting.
Zellner is arguably most known for her work on the case of Steven Avery, who is featured in the Netflix series Making A Murderer. In the documentary, she claims she will never represent someone who is guilty, and if the person is guilty, she will find out.