Making Putin's Oligarchs Pay for Russia's War on Ukraine
Western nations have frozen as much as $500 billion in Russian assets since Moscow's full-scale invasion of Ukraine began in February 2022—a vast collection of funds that Kyiv is eyeing to help foot its massive reconstruction bill.
The unprecedented sanctions offensive against Moscow had Western governments hunting down assets of the Russian central bank, private Russian banks, and individual politicians and businesspeople, that for so long have sloshed around Western financial centers and enabled foreign Kremlin influence operations.
Kyiv, facing an ever-inflating reconstruction bill that is currently thought to be around $750 billion, is eyeing the funds that Moscow and its operatives were unable to extricate or hide.
"This is one of the most urgent topics for us," Oleg Ustenko—an economic adviser to President Volodymyr Zelensky—told Newsweek. Winning control of Russia's frozen assets, Ustenko said, is important "from the point of view of justice, but also because we have most urgent needs to be financed."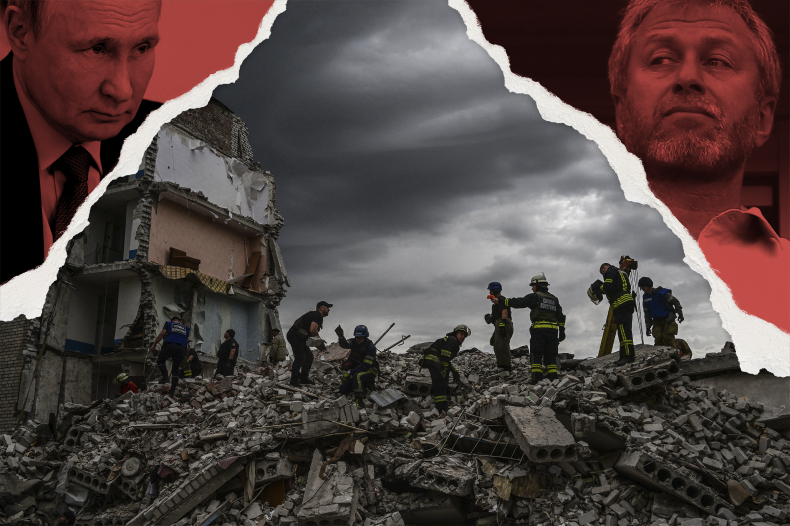 Ukraine has established a "fast-track recovery plan" it hopes will form the first phase of a larger reconstruction. The proposal focuses on the most critical infrastructure destroyed by Russia's invasion, occupation, and missile bombardment campaign.
"Water supply, heating supply, electricity supply; everything that was damaged because of Russian attacks," Ustenko explained. "Its cost is somewhere between $15 and $20 billion...we can get this money from those funds."
Ustenko said nascent seizure efforts are "very encouraging," adding: "We believe this process has to move as fast as possible."
Oleksandr Hryban, Ukraine's deputy economy minister, told Newsweek that Russia's wealthiest should bear some of the burden. "The ones who are directly collaborating with the Putin regime, they—to me—are the same," he said. "They're associated with this evil state, and I think that their assets should be seized as well."
Legal Dominoes
The political and legal challenges of seizing hundreds of billions in frozen Russian assets are daunting, even if there is a growing political will to "make Russia pay" for its hellish quagmire in Ukraine. Some countries are more enthusiastic than others, with many blocs like the European Union composed of both hawks and doves, making collective action difficult.
"It is a complicated case," Maria Shagina, a sanctions expert and researcher at the International Institute for Strategic Studies think tank in London, told Newsweek.
"There is an understanding that these atrocities and war crimes can't just pass without making Russia pay for some of it. But to put in place the legal framework...it gets tricky."
In December 2022, Canada became the first G7 nation to attempt to seize frozen Russian assets. Ottawa began proceedings to seize $26 million from Granite Capital Holdings Ltd., a company owned by oligarch Roman Abramovich who was sanctioned by Canada soon after the invasion began.
"Putin's oligarchs are complicit in Russia's illegal and barbaric invasion of Ukraine," said Finance Minister Chrystia Freeland—who is also said to be among the frontrunners to become the next NATO chief. "It is just and appropriate for Russian assets to be used to help rebuild Ukraine."
The outcome of the Canadian case, Shagina said, is important in setting a precedent. But the real money is across the border to the south. There, the U.S. has frozen some $300 billion in Russian central bank funds and $30 billion in assets of sanctioned individuals. A plan to use Russian funds to help rebuild Ukraine passed the Senate unanimously in December.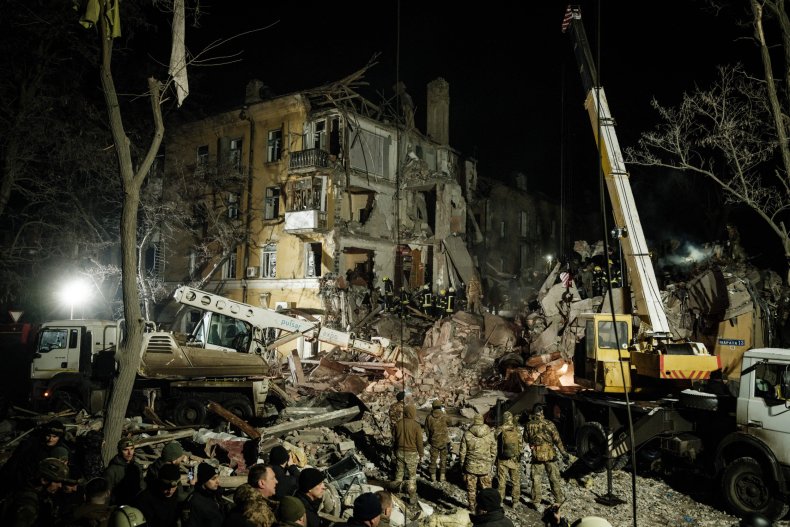 "In the U.S., obviously there is politically high support," Shagina said, though added that officials including Treasury Secretary Janet Yellen will be wary of unintended blowback regarding Russian central bank funds.
"Other central banks will pivot away from the U.S. dollar" if Washington, D.C. goes after Russian central bank assets in the U.S., Shagina said. "They don't want to lose that leverage, it's key for introducing any type of sanctions."
"The picture is not as rosy as Ukraine wants, but I think some of it might be possible because there is the political will," she said.
It may be that pursuing the frozen wealth of individuals makes more sense than that of the Russian central bank, even if the former dwarfs the latter. "I think it's more feasible and more realistic," Shagina said.
In Europe, officials in Brussels are looking to creative solutions to dodge the legal and political pitfalls inherent in any collective action against Russia. Expropriating Russian central bank funds might be too ambitious for now, the bloc's Council Legal Service told diplomats last week there is a legal basis to temporarily leverage almost $37 billion of frozen money.
Though discussions are at an early stage, Bloomberg reported, EU officials are considering pooling and investing Russia's frozen assets, profit from which would be siphoned off and used to finance Ukrainian reconstruction projects.
Meanwhile, more motivated EU member states are pursuing their own ideas. Estonia—the small Baltic nation always at the forefront of EU-NATO support for Ukraine and action against Russia—is undertaking a legal review to consider if new legislation is required for the government to seize frozen Russian assets and transfer them to Ukraine.
On Thursday, after consultations with the government, Estonian Finance Minister Lea Danilson-Jarg said her ministry will move forward with the plan in cooperation with the foreign ministry.
One Estonian diplomatic official, who requested anonymity to discuss the proposals more candidly, told Newsweek that Tallinn hopes its action may begin a domino effect across Europe.
"Once someone proves it can be done, it's easier to go along," the official said. "There's really a big interest in this subject from governments and institutions all over Europe. They'd like to see what we come up with and how this could be implemented on their national or EU level."
Blowback
The Russian state and sanctioned individuals can be expected to fight legal action every step of the way, both in Western courts and with retaliatory measures at home. Russian oligarchs long ago mastered wielding Western laws against their detractors, though the avalanche of new sanctions and international repudiation of Moscow's conduct may complicate matters.
A successful defense could see any oligarch delisted, forcing Western nations to begin the sanctions offensive all over again. So too might international pressure; Hungary and Uzbekistan are among two of the nations who have recently lobbied for the removal of sanctions aimed at influential oligarchs, including Alisher Usmanov and Petr Aven.
More than 1,000 Western companies have fled Russia since February 24, 2022. In the case of Western expropriations of frozen Russian assets, Western companies who stayed might pay the price.
"They are good at this isometric retaliation," Shagina said of the Russian government. "They might go after Western assets, and there are already calls in the Russian Parliament to seize everything possible."
Hryban acknowledged that asset seizure is a long-term aim for Kyiv. "It is a painful process for them, and we understand that it's a tough sell to their societies and that parliamentary decisions need to be taken to implement this," the deputy economy minister said of Ukraine's Western partners.
But with recent moves in Canada and elsewhere, "there are examples to follow," he said.
Speaking with Newsweek after meeting with EU commissioners during their visit to Ukraine, Hryban said the sentiment is clear. "They do have an understanding at least of the first steps," he explained, noting the possible plan to invest seized assets and use the proceeds to support Kyiv.
"Once they manage to get to the relevant legislation, maybe the assets themselves will be seized," Hryban said. "But there's still a long way to go."
"We see that there is a political will, but sometimes it's not fully aligned with [parliamentary and electoral] majorities," Hryban added. "In the EU every member state has its own parliament, and we know that Russia managed to create a huge footprint via supporting different political parties, opinion leaders, whistleblowers, and so on. This is a problem."
"Now, this is being gradually revealed and rolled back. But it takes a long time."