Malala Urges World Leaders to Invest in Books Rather Than Bullets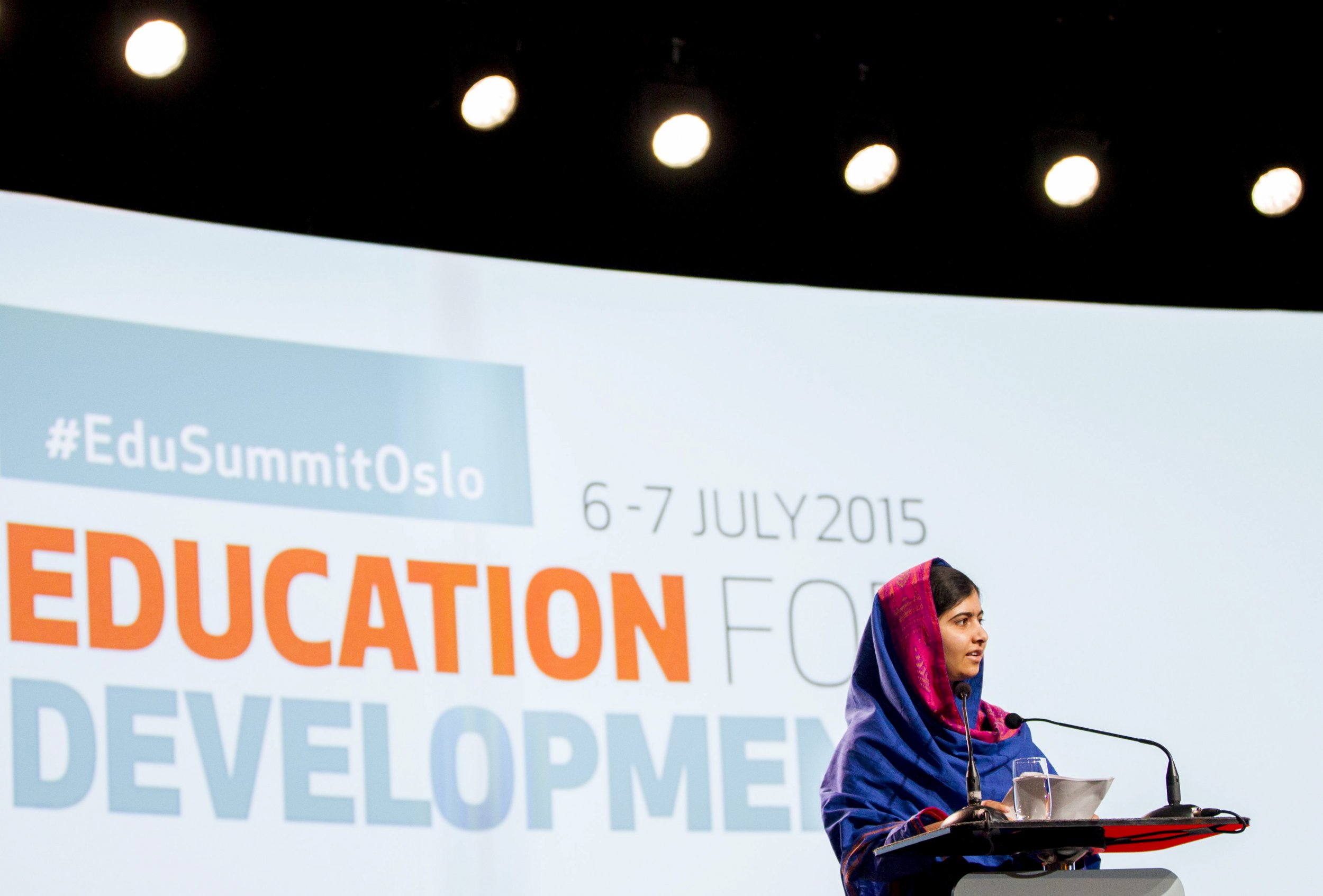 Education activist Malala Yousafzai became the youngest Nobel laureate last year when she and Indian children's rights activist Kailash Satyarthi received the Nobel Peace Prize "for their struggle against the suppression of children and young people and for the right of all children to education." Yousafzai returned to Oslo this week, nearly seven months after the Nobel Prize ceremony in December, to urge world leaders to invest in education. On Tuesday, she spoke at the Oslo Summit on Education for Development about the importance of ensuring free, quality primary and secondary education for every child throughout the world.
"I am here as the voice of children, as the voice of over 60 million girls who have been stopped from getting their education," she said at the summit, according to a transcript emailed to Newsweek. "I am here on behalf of those girls—including some of my own friends—who have been forced out the school to get married. And others who are trapped in child labor, child trafficking and poverty."
The two-day summit was organized to spur action to reach children who are still being denied an education and to improve the quality of education and outcomes for those who are in school.
Yousafzai, who turns 18 on July 12, said she also spoke on behalf of the 146 people killed at the hands of the Taliban at a school in Peshawar, Pakistan, in December 2014; the millions of children who have been deprived an education because of war and conflict; a Syrian girl she met at the Zaatari refugee camp in Jordan; and the three girls in Afghanistan who on Saturday were attacked with acid on their way to school.
Yousafzai was born in the Swat District of northwest Pakistan in 1997. She wrote a series of anonymous diary entries she wrote for the BBC in 2009, in which she expressed "her views on education and life under the threat of the Taliban taking over her valley," according to the Malala Fund website. She was the subject of a New York Times documentary and other news coverage. In 2011, she received Pakistan's first National Youth Peace Prize and was nominated for the International Children's Peace Prize (which she won in 2013 after her second nomination).
She was thrust into international spotlight at the age of 14, when on October 9, 2012, a Taliban gunman shot her in the head and neck on her school bus. According to The New York Times, the teenager was targeted for her "obscenity," which is how Taliban spokesman Ehsanullah Ehsan described her mission to secure education rights. She survived the attack, undergoing treatment and recovering in England, and has since continued working to champion education for children and girls in particular. Her memoir, I Am Malala: The Girl Who Stood Up for Education and Was Shot by the Taliban, was published in October 2013.
"World leaders need to think of the rest of the world's children as their own children," Yousafzai said Tuesday. "No world leader would want their child to starve, to remain deprived of education or health facilities or become victim of wars and conflicts. The world needs a change, right now."
Yousafzai cited research from UNESCO's Education for All Global Monitoring Report, which found that 12 years of free primary and secondary education for each and every child in the world would cost approximately $340 billion annually between 2015 and 2030. Since much of that amount is covered by domestic commitments already made by governments, the remaining annual shortfall during this period comes to roughly $39 billion.
"It may appear as a huge amount of money, but the reality is that it is not so much at all. The world spends many times more than that on military purposes. In fact and unfortunately, $39 billion are spent on militaries every eight days," she said, a fact also highlighted in the Education for All Global Monitoring Report. "If the world leaders decide to take one week and a day off from war and weapons, we can put every child in school," she added. "Books are a better investment in our future than bullets. Books, not bullets, will pave the path towards peace and prosperity."
The Malala Fund, a nonprofit founded by Yousafzai and her father to empower girls through education, released a paper Monday to coincide with the summit. Titled Beyond Basics: Making 12 Years of Education a Reality for Girls Globally, it provides detailed recommendations for achieving the kind of universal education the young Nobel laureate described in her speech Tuesday. The five-step path laid out in the paper includes making national plans of action with interim targets, expanding the Global Partnership for Education to fund "upper secondary" as well as basic education and identifying and pursuing new sources of funding.
Yousafzai said at the conclusion of her speech that her life as a child will "come to an end" when she turns 18 next week. But "there is something that I have learnt from being a child that I will never forget and would carry on even in my adulthood…to dream big, without limit," she said. "My message today is very simple to our leaders: Be a child for a moment, dream with no limit, and dream bigger, this is the only way you can achieve bigger."