Malala Yousafzai Backlash Intensifies in Pakistan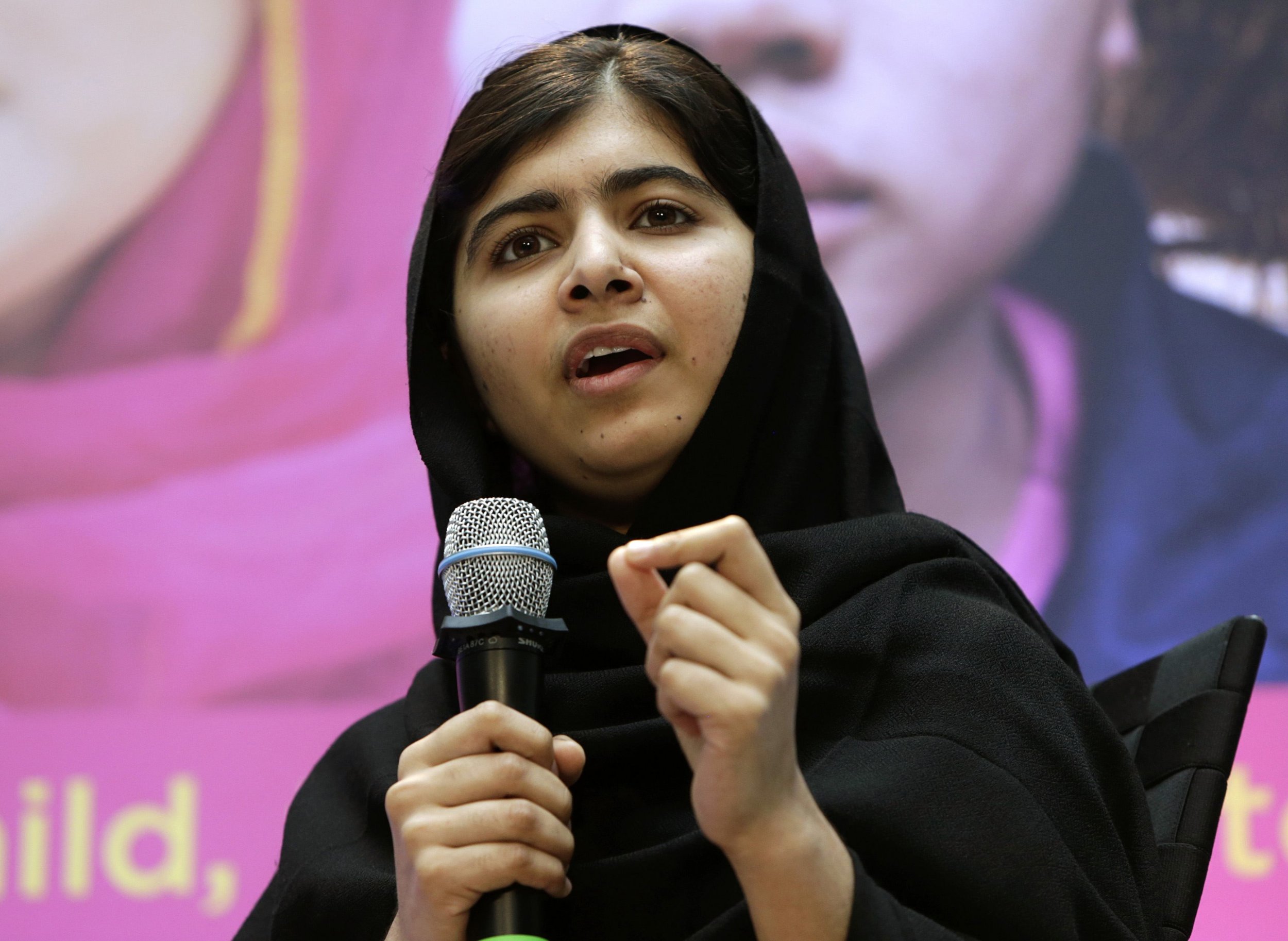 Malala Yousafzai, the 16-year-old Pakistani girl who ascended to global fame and adoration following her brave recovery from gunshot wounds (courtesy of a Taliban gunman in her native Swat Valley) and for her advocacy of women's education, has triggered a long-simmering backlash and waves of resentment in Pakistan.
Since her airlift to Great Britain late last year, Malala has not only received free reconstruction surgery on her face and neck, but her father was granted a job by the Pakistani government at a consulate there. The young girl has also received a multi-million dollar book deal (resulting in the recent publication of her much-hyped memoirs, "I Am Malala: The Girl Who Stood Up for Education and Was Shot by the Taliban") and has enjoyed the company of the world's movers and shakers. Her latest piece of hardware came in the form of the European Union's prestigious Sakharov Human Rights Prize.
Malala has also made various television appearances, spoke before the United Nations General Assembly in New York and the World Bank in Washington and visited Buckingham Palace in London. A portrait of her, created by British painter Jonathan Yeo, went on display in the National Portrait Gallery in London last month.
Last week, she even visited U.S. President Barack Obama and first lady Michelle Obama as an honored guest at the Oval Office for a private audience. The Obamas thanked her "for her inspiring and passionate work on behalf of girls' education in Pakistan," according to a statement from the White House. "The United States joins with the Pakistani people and so many around the world to celebrate Malala's courage and her determination to promote the right of all girls to attend school and realize their dreams," the statement added. The only accolade the blithe spirit failed to snag was the Nobel Peace Prize (had she won, she would have been the youngest recipient in history).
But all this praise has come at a steep price -- grumbling voices in Pakistan -- and some of the gathering opprobrium has reached Malala's ears. Agence France-Presse reported that she has responded to such criticisms by asserting that she is neither a "Western puppet" nor ashamed to be Pakistani. "My father says that education is neither 'Eastern' or 'Western.' Education is education: it's the right of everyone," Malala told the BBC. "The thing is that the people of Pakistan have supported me. They don't think of me as 'Western.' I am a daughter of Pakistan and I am proud that I am a Pakistani."
She added: "On the day when I was shot, and on the next day, people raised the banners of 'I am Malala.' They did not say 'I am Taliban.' They support me and they are encouraging me to move forward and to continue my campaign for girls' education."
She also cited that she wants to help women and children in other troubled spots and detailed her future ambitions. "We want to help every child in every country that we can," she said. "We will start from Pakistan and Afghanistan and Syria now, especially because they are suffering the most and they … need our help. Later on in my life I want to [enter] politics and I want to become a leader and to bring the change in Pakistan. I want to be a politician in Pakistan because I don't want to be a politician in a country which is already developed."
But some Pakistani bloggers are not convinced of Malala's credibility or sincerity. "She may not understand everything that is going on around her, but unfortunately she is being used and given a great deal or air time only to push and justify this whole 'War against Terror' by the so-called people of justice-democracy-freedom," one Pakistani commenter bitterly complained. Another skeptic lamented: "It doesn't matter if she denies [it]. She is, what she is; that is, [a] Western puppet... Yes, you are an American puppet."
Another blogger declared that Malala could probably never return to Pakistan and would prefer to remain in the West. "She is being managed by the [world's] largest PR company," he wrote. "Unfortunately she does not realize that she can never go back to Pakistan. She will be given a British passport in five years time and will become a naturalized Westerner."
Other bloggers pointed out that Malala was only one of thousands of brave girls in the Swat Valley seeking an education by attending school, still at an immediate threat of the Taliban. "If award should be given because Taliban shot her, then award should be given to each and every girl shot by the Taliban," one sarcastically declared. "Malala only got [a] magic bullet and magic surgery that didn't [give] her even a small scar, there are girls [in Swat who] lost their lives and many others with their limbs [lost]. They deserve more."
Some Pakistan bloggers made even graver accusations. "She is being used for some anti-Islamic purposes," one angry person charged. "She talks as if there is [a] ban on girl's education in Pakistan. All she talks is nonsense." Another ominously added: "[Malala] is in the hands of the West, controlled by the Jews. A conspiracy in reality."
Indian bloggers also weighed in on Malala's credibility. One blasted her by charging: "She actually meant she is the [whore] of the west. Anything for fame and money." Another Indian observer commented that Malala would probably fit in perfectly in Pakistan's deeply corrupt political system. "If the Community Organizer [Obama] with his financial advisors, etc could become the President, Malala Yousafzai could also be the Prime Minister [of Pakistan], with the right people in her government," he noted. "Since Pakistan became a nation, [it] has deteriorated and survives from foreign aid."
Even the Pakistan Taliban has voiced its opinions about Malala's global fame, by asserting that she did not deserve to win the Nobel Peace Prize (which instead went to the Organisation for the Prohibition of Chemical Weapons.) "She has done nothing. The enemies of Islam are awarding her because she has left Islam and has become secular," Shahidullah Shahid, a spokesman for Tehreek-e-Taliban Pakistan, told AFP. "She is getting awards because she is working against Islam. Her struggle against Islam is the main reason of getting these awards." TTP also warned that they will try to kill her again "even in America or the UK." "Malala is the enemy of Islam and Taliban and she wrote this book against Islam and Taliban," he added about her new autobiography.
AFP described the mania surrounding the girl as "Malala Inc.," noting among other things that she has retained one of the world's biggest public relations firms, Edelman, which is seeking to transform her into a "global brand." Edelman, whose other prominent clients include Starbucks (NASDAQ:SBUX) and Microsoft (NASDAQ:MSFT), has also begun to represent Malala's whole family. Edelman told AFP that there is now a "two-month waiting list" for people who want interview Malala.
Malala herself referred to the whirlwind engulfing her life in her autobiography, insisting that she is the same girl she was in her earlier days in Swat. "My world has changed, but I have not," she wrote.
Malala Yousafzai Backlash Intensifies in Pakistan | World