In Malala's Hometown, Pride Over Young Nobel Peace Laureate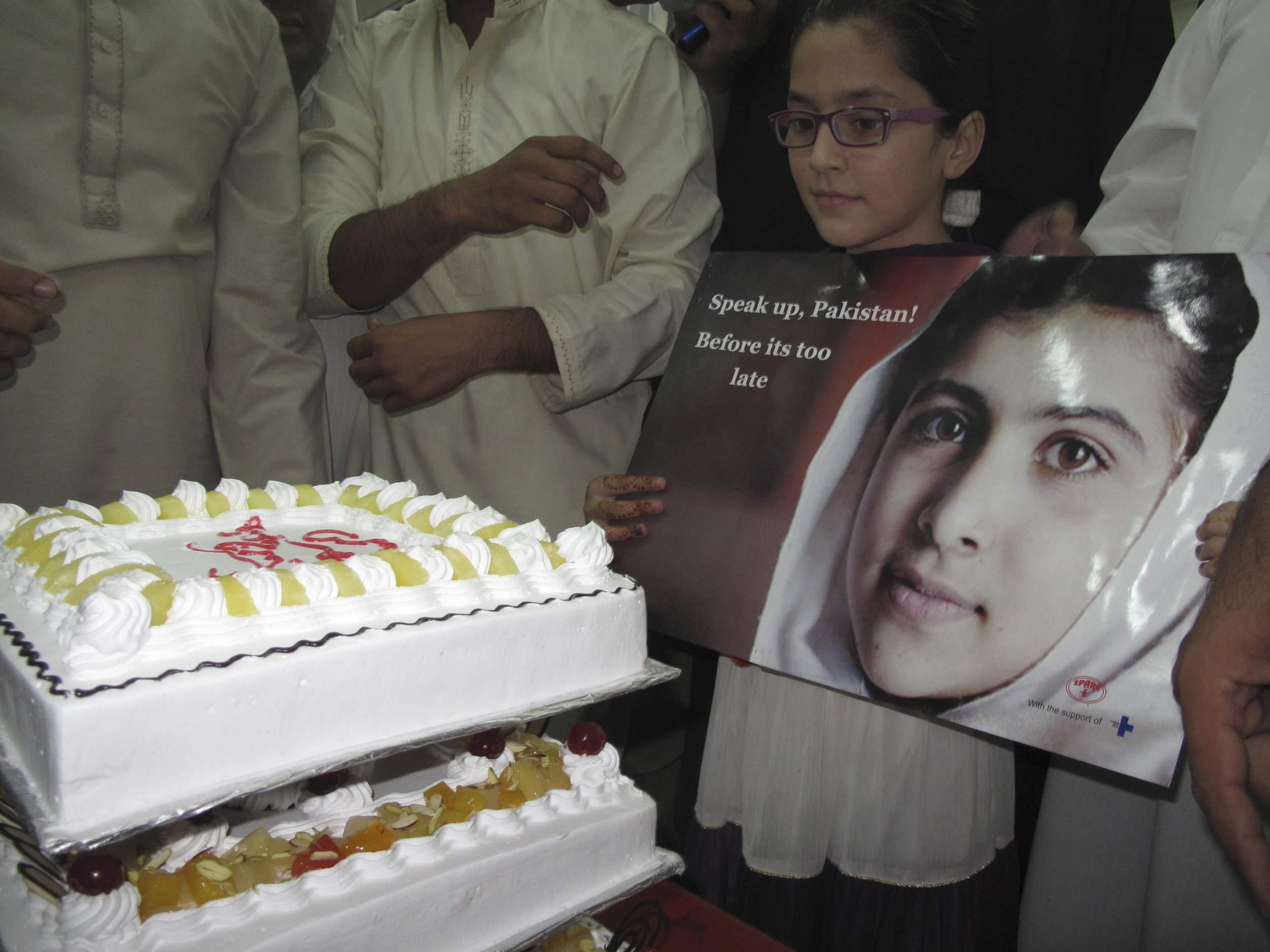 MINGORA Pakistan (Reuters) - Hours after Malala Yousafzai was awarded the Nobel Peace Prize on Friday, people in her hometown in Pakistan erupted in joy that a young woman from their conservative society had won global recognition for fighting for women's right to education.
Malala, 17, and Kailash Satyarthi, an Indian child rights campaigner, jointly won the Nobel Peace Prize on Friday, a symbolic win for both nuclear rivals, India and Pakistan, at a time of growing tensions between the two neighbors.
Malala became globally known in 2012 when Taliban gunmen almost killed her by shooting her in the head for her passionate advocacy of women's right to education.
She was awarded the Nobel Peace Prize on Friday, prompting people in her native Pakistani valley of Swat to celebrate. Many saw her as a woman who had become an icon for the global fight to give women more rights.
"This is a moment of great honor for us, and the people of Swat and the people of Pakistan," said Tariq Khan, a medical official, as he bought dry fruit at a brightly lit shop in the main bazaar of Mingora, Malala's home town.
Mingora, a small town in the picturesque valley in northwestern Pakistan, is surrounded by lush rolling hills and soldiers standing guard at sand-bagged checkpoints.
REAL CHANGE
Malala's success could bring real change to a region where women are expected to keep silent and stay behind closed doors. Change may be slow, but Malala's win is bound to inspire girls in the region to pursue education and become independent.
Just a few years ago, the region was overrun by Taliban insurgents who tried to impose strict Islamic rule and ban women from seeking education. Eventually, the Pakistani army drove them away, but tensions are still high in the strategic region.
Under the Taliban, teenaged Malala kept an anonymous blog describing her experiences under the austere Islamist regime, calling on other girls to study and develop their own opinions.
"The Taliban want to imprison women in homes. They don't want their faces to be seen, they don't want women to make their mark," said Aziz Ullah, a store owner in Mingora.
"Malala said, 'No. women will not sit at home. They will go out, they will study, they will do something big.' So they shot her. And I know they will try to do it again, now that she has won this big award."
Now living in Britain, Malala is unable to return to her homeland because of Taliban threats to kill her and her family members. The current Taliban chief, Mullah Fazlullah, was the one who ordered the 2012 attack against her.
Malala was a young student in Mingora when she became interested in women's rights.
At the time, the Taliban were in power in the valley after they took control over the region and imposed strict Islamic rules, including their opposition to women's education.
Despite its conservative Islamic reputation, most people in the region want their daughters to go to school.
"I have sent all my daughters and grand daughters to school. Why would I be against Malala? Swatis are a very proud people who have always believed in education," said Akal Zada, a restaurant owner.
"But now we are afraid. No one will say much because we don't know who is listening. I support Malala's mission but I admit this with fear. What if the Taliban come back and kill me for saying this? We are all very happy with Malala. But we are also very scared."