Malawi Government to Burn $7.5m Ivory Stockpile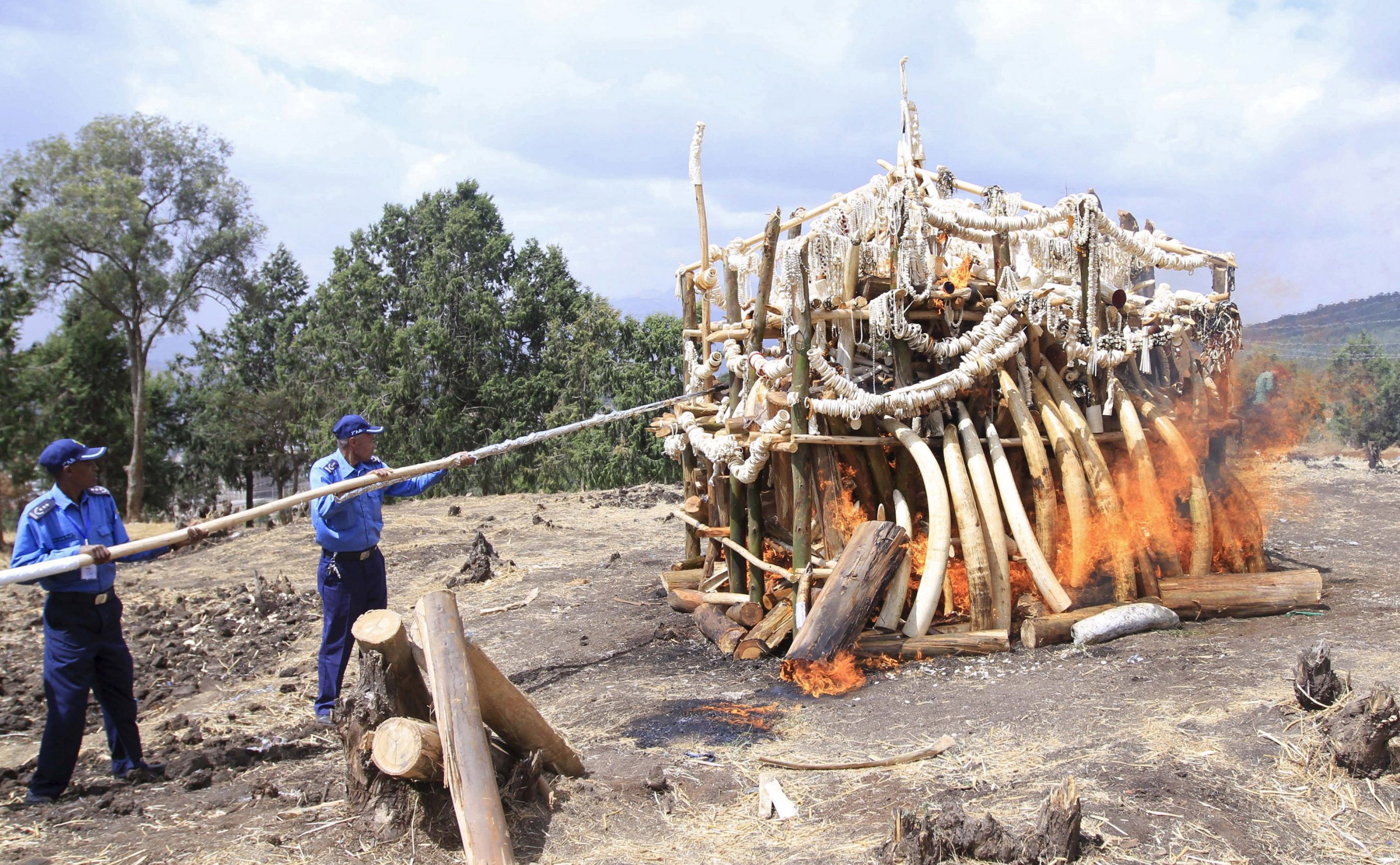 UPDATE: A spokesperson for the Malawian government today said the ivory burn is to be postponed, so that 2.6 tonnes of ivory currently held in the courts as evidence can be included in the burn. At the time of writing no date has been set for the ivory burn.
The Malawian government says it will tomorrow publicly burn its four-tonne stockpile of elephant ivory, which is valued at around $7.5m (€6.9m).
This follows similar public displays carried out last month in Kenya and Ethiopia. In March, the Kenyan president Uhuru Kenyatta personally set alight 15 tonnes of ivory, and Ethiopia burned over six tonnes.
Tomorrow Malawi's president Arthur Peter Mutharika will be present, in what the government are calling "a show of the highest possible political will" to tackle the illegal trade in ivory.
African elephant populations have been in rapid decline since the 1950s due to hunting according to the world's largest conservation organisation, the World Wide Fund for Nature (WWF), with experts recently warning at a conservation summit in Botswana that they could disappear from the wild in a matter of decades.
Figures from the International Fund for Animal Welfare, a conservation charity, show that every 15 minutes an elephant is killed for its ivory, and that illegal ivory trade activity has tripled worldwide since 1998.
Organisations such as international wildlife charity Born Free Foundation (BFF), are campaigning to end the trade in ivory and protect elephant populations. The BFF's CEO Adam Roberts says Malawi's ivory burn is part of a broader trend that is catching on.
"Clearly what we are starting to see is a snowball effect where you had the U.S. destroy its ivory by crushing it, the Philippines destroy its ivory, and now certain African countries," he says.
"So I think this is the start of a very important trend where individual governments will follow suit in making a very public declaration that ivory should only be worn by live elephants and stockpiled ivory should be destroyed. And that that will eventually reverberate not only across the African continent but around the world."
BFF say in 1989 a global ban on the ivory trade helped restore the endangered population of African elephants to some extent, as the legal trade in ivory was stopped, reducing demand and driving the trade underground.
In 1997 however, the Convention on International Trade in Endangered Species of Wild Fauna and Flora (CITES), which is an international agreement between governments, agreed to allow a one-off sale of government ivory stockpiles, which BFF say fuelled not only poaching but also consumer demand, especially from China.
Tackling the problem on the ground, and sending out a message through the burning of the lucrative stockpiles is an important step forward says Roberts.
"If people can't get ivory out of Africa then the poaching will decline," he says.
"It's incredibly encouraging to us when comparatively smaller govs like Malawi and Ethiopia take a stand against the ivory trade by destroying it, so they deserve serious praise and also international support so after they send the message by destroying their ivory they can actually have assistance in helping fight the poachers on the ground."
He warns that trying to drive down demand by changing consumer attitudes could take more time than certain elephant populations have left.