Malawi's First Female President on How to Empower Girls in Africa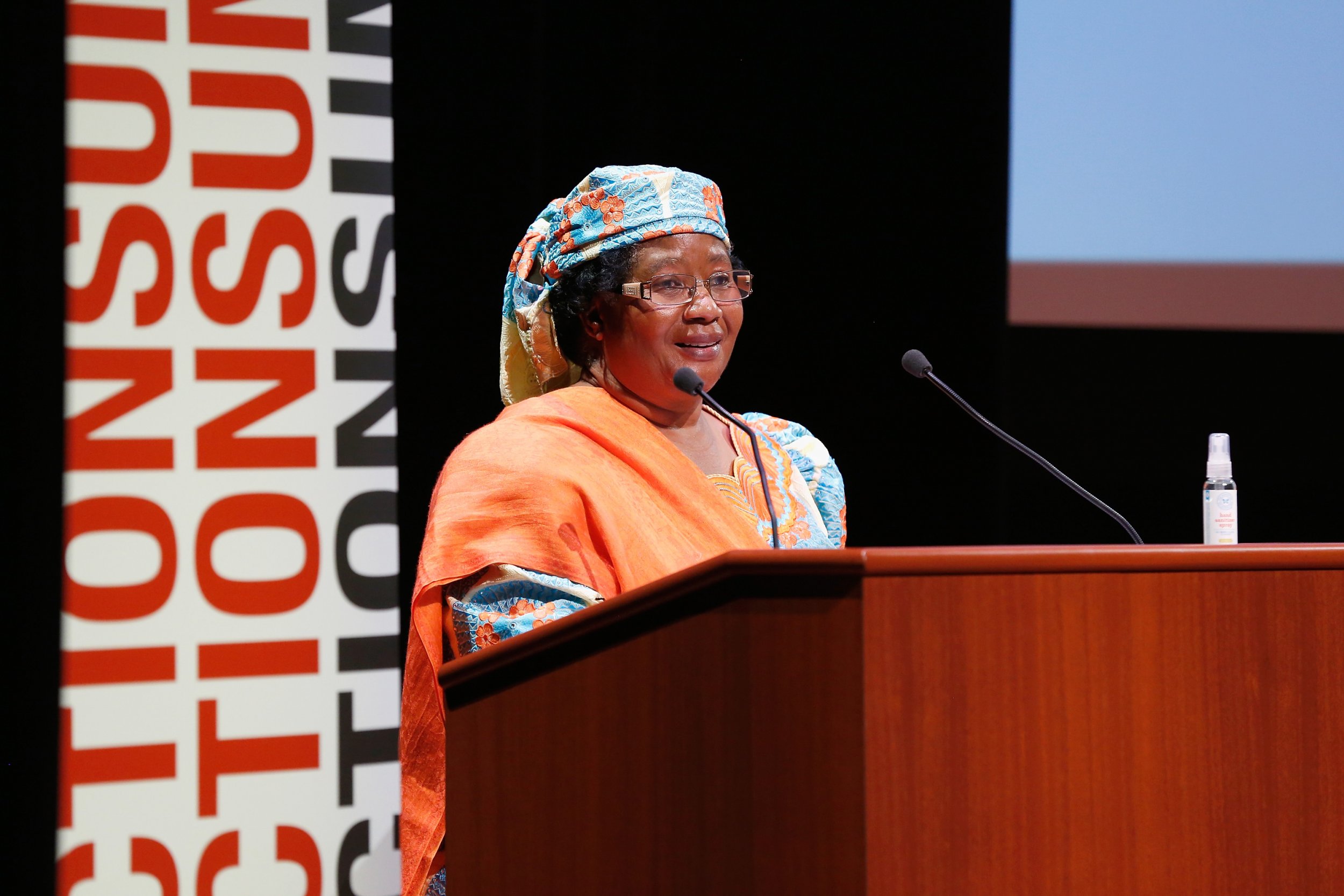 I have always believed that leaders are born. For budding young changemakers to unleash their full potential, however, society must nurture them.
Young leaders need opportunities to grow and environments that encourage the development of leadership skills. Many girls and women across Africa are not receiving the same opportunities for growth that boys and men are. As a result they are being held back, unable to reach their full potential.
I know from my own personal experiences that this does not have to be the case. My family and community nurtured me and helped me in a number of ways to develop the leadership qualities that I was born with. Crucial to my development as a leader were:
The examples of female worth and leadership I saw in my community's traditions;
My grandmother, a role model for a strong matriarch;
My open-minded father, who valued his daughters as much as his son;
The high hopes and expectations that my family always had for me.
To support women's and girls' leadership, change must start at a household level. And so much has to change.
My community and my grandmother
I was raised in a matrilineal community, meaning that when one gets married, the husband comes to live with the wife's family. The lineage, the power and the land are passed from mothers to their daughters. My community's women are strong, empowered and, unlike in many parts of Malawi, can even become chiefs.
Seeing the value placed on women in my community, and the informal leadership roles that women can play, had a positive influence on me. Similarly, surveys in India and Uganda have reflected the role that visible female leaders outside of the family can have in inspiring young girls.
In our tradition, the grandmother is the family matriarch. She takes responsibility for the eldest girl child, and even gives the child her own name. I was 10 years old when I discovered that I did not bear my grandmother's name.
I was born in a clinic that had just been established by a young English nurse. The day after I was born, the nurse asked my grandmother, through an interpreter, "What is this baby's name?" My grandmother replied, "What is your name?" Her name was Joyce. My grandmother told her: "My granddaughter will bear your name, and one day, like you, this baby girl will be an important woman who builds hospitals and schools." From the moment of my birth, my grandmother showed me that her expectations for my future, and for me as a leader, were high.
In my matrilineal community, the grandmother is responsible for raising the eldest granddaughter herself. And though I grew up seeing her as our family's matriarch and I learned from her strength, she did not raise me in the village according to tradition. My childhood, like my name, was an anomaly.
My Father
My father was a member of the Malawian police band, and his work required that he live in the city instead of the village. When I was born, he wanted to bring me up himself in town, to give me the opportunity to go to an urban school. My grandmother protested. He was disrespecting traditions, she told him, and dismissing her role in my upbringing. They reached a compromise: I would spend five days a week with my father, where I would attend school, and spend weekends with my grandmother.
In many households in Malawi, especially in the village, men and women are separated at home. Boys are often privileged by this separation; sitting with the men gives them access to news, radios and discussions of current events and politics, and often a greater confidence in their self-worth. These are important experiences and exchanges of ideas from which the girl child would be left out. My father decided that he would bring up his children differently, in a few key ways.
First, he made an effort to treat his son and daughters as equals. He would give me and my brother the same books to read, and he always made sure that my sisters and I were given the same opportunities as our brother. He ate with all of us, talked to all of us, engaged us in discussions on education, geography, history, civics and more. We were all engaged by him equally. A researcher who surveyed women leaders from China and the United Arab Emirates from 2009 to 2010 found that all of them shared similar experiences in own their childhoods. Open-minded fathers, who brought home books and started inclusive dinner-table conversations, were cited by nearly every female leader as one of the most important enabling factors for later development of leadership abilities.
Second, our education was always a priority to him. My father was not highly educated, but it gave him pride to teach us.Every day after school he would ask us what we had learned and want to go through our homework with us. For most of my childhood we lived the police barracks with many other families, and I always noticed that few other parents enforced school attendance or homework as strictly as our father did.
By the time I arrived in school, I could speak more English than all of my classmates because my father had taught me at home. Being a musician, he exposed us to Beethoven, Haydn and other composers at a very young age, and wanted to discuss their music with us. I truly believe his enthusiastic support for our education set us apart.
Third, my father was proud of us and always wanted to show us off. When his friends visited, we were not ignored in favor of our brother. Instead, our father would call us in to sing, and then ask us to discuss and debate serious issues such as the importance of girls' education or current political affairs. I was around six years old when a friend of his, whom we called Uncle John, said: "I don't know what I see in this child, but she is going to do something big for this nation."
I remember for years afterwards that my father would say: "Remember, what Uncle John said about you." I was born a leader, but the fire within me was started by this positive reinforcement as a child.
While I believe that true leaders are born, there is an undeniable link between what you are told and exposed to in youth, and what you become. If your family, your school and your community are united in reinforcing your worth, your health and your education, it is far easier for your spirit to flourish. In the traditional communities where men and women are separated, the girl child is made to feel like less than she is and her path to leadership is blocked at a young age.
But I also know that communities and behaviors like this can change. We can work to make this happen.
Joyce Banda served as the president of Malawi between April 2012 and May 2014. She was the country's first female head of state and is now a distinguished fellow with the Wilson Centers's Women in Public Service Project.