Malaysia Announces That It Will Abolish the Death Penalty for All Crimes
The Malaysian government announced on Wednesday that it intends to abolish the death penalty. The country's cabinet approved a bill that will be presented to the Parliament during its next session on October 15.
"All death penalty will be abolished. Full stop. All the papers are in the final stage. The Attorney-General has also indicated to us that it is ready to be tabled, hopefully in this (parliamentary) session," Law Minister Liew Vui Keong said, according to Channel NewsAsia.
"Since we are abolishing the sentence, all executions should not be carried out," Liew added.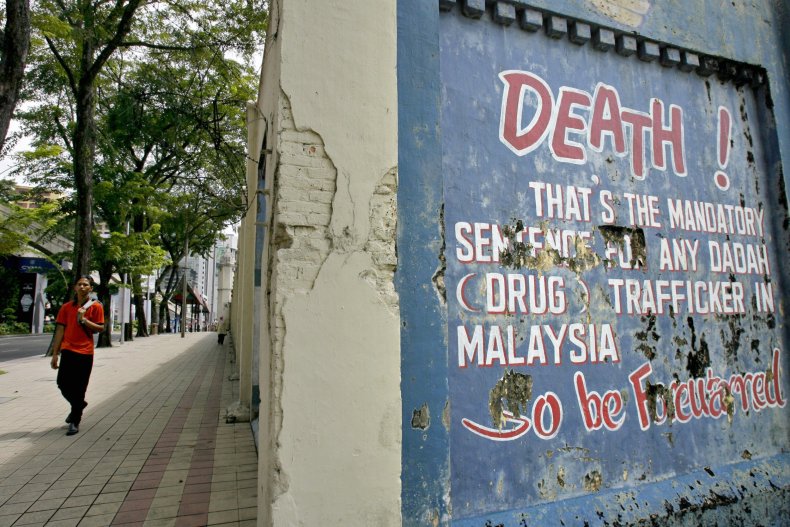 The law minister mentioned that those on death row would be referred to the country's pardons board, which will decide whether to release the prisoners or commute their sentences.
"When commuted, they would have to face life imprisonment because there had been several deaths that were caused by the offender and so they were sentenced to death by the court," Liew said, according to the Malay Mail.
The decision, welcomed by human rights groups, reported Al Jazeera, and will affect more than 1,200 people who are on death row for crimes including murder, kidnapping and drug trafficking. The Southeast Asian country carries out executions by hanging.
"Malaysia must now join the 106 countries who have turned their backs for good on the ultimate cruel, inhumane, degrading punishment—the world is watching," Amnesty International's Secretary General Kumi Naidoo said in a statement, calling Malaysia's use of the death penalty "a terrible stain on its human rights record for years."
"There is no time to waste—the death penalty should have been consigned to the history books long ago. Malaysia's new government has promised to deliver on human rights, and today's announcement is an encouraging sign, but much more needs to be done," Naidoo added.
While several countries continue to use the death penalty, a report from the human rights NGO showed a four percent decrease in death penalties from 2016 to 2017. Nine hundred ninety-three executions were reportedly carried out in 23 countries last year. More than half of the executions took place in Iran, which executed more than 500 people.
Malaysia meanwhile, imposed 38 death sentences, 21 for drug trafficking, 16 for murder and one for discharging a firearm in 2017.
The government's announcement comes nearly a month after Prime Minister Mahathir Mohamad pushed for officials to review the case of a man sentenced to death for selling cannabis oil to ill patients, reported Reuters.