Malaysia Extends National Lockdown as COVID Cases Remain High
The Malaysian government is adding two weeks to an existing two-week lockdown after maintaining daily COVID-19 infection rates of more than 6,000.
The National Security Council decided to extend the lockdown during its Friday meeting, Senior Minister Ismail Sabri said. Sabri said that average daily cases have remained high despite a decline from the 9,000 high the nation hit before going into lockdown.
Malaysia's total case count sits at 646,411 after 6,849 new cases were reported by the health ministry on Friday. The ministry reported an additional 84 deaths, bringing the total to 3,768.
The near-total lockdown took effect on June 1, putting all social and economic activities on hold while essential services remained available. Forty percent of the nation's documented COVID-19 deaths occurred in May alone, the Associated Press reported.
For more reporting from the Associated Press, see below.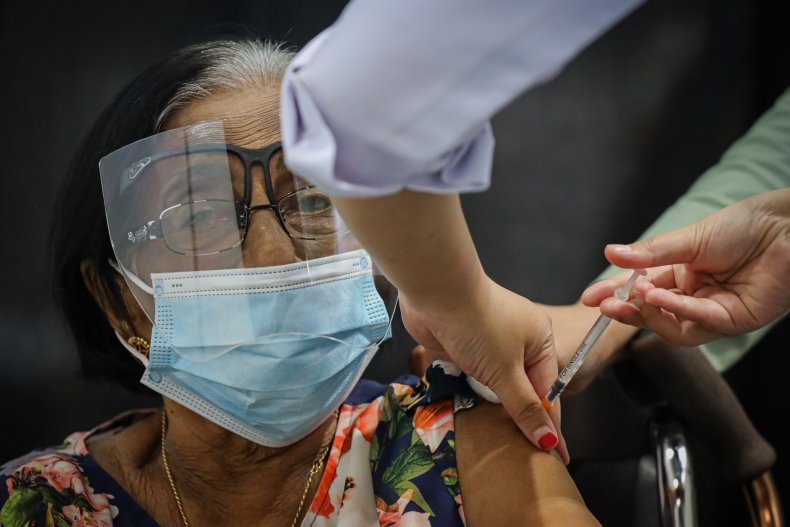 Pakistan to spend $1.1B on vaccines
Pakistan will spend $1.1 billion in the next fiscal year to import COVID-19 vaccines to inoculate most of the 100 million adult population.
This announcement was made by finance minister Shaukat Tareen on Friday while presenting the annual budget for fiscal 2021-22 in the parliament. Pakistan's fiscal year begins on July 1.
Pakistan, a nation of 220 million, has so far mainly relied on vaccines import from neighboring China. The latest development comes two days after Pakistan said it has administered 10 million vaccine doses amid a decline in COVID-19 cases and deaths from coronavirus.
Tareen also set a target of achieving 4.8 percent GDP growth in the next fiscal year. Pakistan's economy has been under pressure since last year when it imposed weeks-long nationwide lockdown to contain the spread of coronavirus.
Pakistan has registered a total of 938,737 confirmed cases and 21,576 confirmed deaths.
China needs kids to get vaccinated
If China is to meet its tentative goal of vaccinating 80% of its population against the coronavirus by the end of the year, tens of millions of children are going to have to start rolling up their sleeves.
Regulators have taken the first steps by approving two domestically produced vaccines for use in children aged 3 to 17, though no date has been set for the shots to start.
Children have been largely spared the worst of the pandemic, becoming infected less easily than adults and generally showing less severe symptoms when they do contract the virus. But some experts say if countries are going to achieve herd immunity, inoculating children should be part of the plan.
Few regulators around the world have evaluated the safety of COVID-19 shots in kids. The United States, Canada, Singapore and Hong Kong are allowing the use of the Pfizer vaccine in children as young as 12.
China has a population of 1.4 billion, meaning it needs to inoculate 560 million people to reach its goal of 40% vaccination by June and 1.12 billion people to get to the 80% goal. It will be hard to do the latter without vaccinating many of its 254 million children who are younger than 14.
Germany to lift travel warning
Germany is lifting a blanket travel warning for countries with high coronavirus infection rates starting July 1.
Foreign Minister Heiko Maas says "after many months of lockdown, we can look forward to greater normalcy, that includes travel."
The general travel warning will be lifted next month for all countries that have fewer than 200 newly confirmed coronavirus cases per 100,000 inhabitants in a week.
But Maas cautioned that the pandemic isn't over yet and the rise of new variants means risks remain.
Countries with infection rates above 200 or a large share of concerning variants among new cases, like Britain, will remain on the government's list of risk areas. Germans are discouraged from traveling to such countries and people arriving in Germany from there will need to go into quarantine.
Newsweek, in partnership with NewsGuard, is dedicated to providing accurate and verifiable vaccine and health information. With NewsGuard's HealthGuard browser extension, users can verify if a website is a trustworthy source of health information. Visit the Newsweek VaxFacts website to learn more and to download the HealthGuard browser extension.