Malaysian King Abdicated Shortly After Marrying Russian Beauty Queen. One Year Later They're Reportedly Divorcing
Six months after stepping down from the throne, a former Malaysian king has reportedly divorced his Russian beauty queen wife after a year-long marriage. According to social media posts, the pair welcomed a son just eight weeks ago.
But a regional official urged the public not to speculate before an official announcement is made.
The New Straits Times reported Sultan Muhammad V of Kelantan split from his wife, Rihana Oksana Voevodina, after filing documents in the Singapore Syariah Court on June 22.
Anonymous sources told the newspaper the divorce was finalized July 1, and that a divorce certificate circulating online was genuine.
Despite their reported split, an Instagram account believed to belong to Voevodina, a former Miss Moscow, continues to publish happy images of the couple. The account, which was set up in June, shared a romantic video of the pair on Wednesday.
The head of Kelatan's regional government, Datuk Ahmad Yakob, asked the public to "remain calm and patient" until the Kelantan Palace releases official information, The Times reported Thursday.
The couple's whirlwind marriage—which was never confirmed or denied by the palace—regularly made headlines in Malaysia and further afield. News of the wedding emerged just months before the sultan resigned as head of state.
The Malaysian throne is shared between nine royal families whose individual heirs take the throne for five years at a time. The sultan, from the state of Kelantan, abdicated on January 6 2019, just two years after becoming king. An official explanation was never given for the unprecedented move.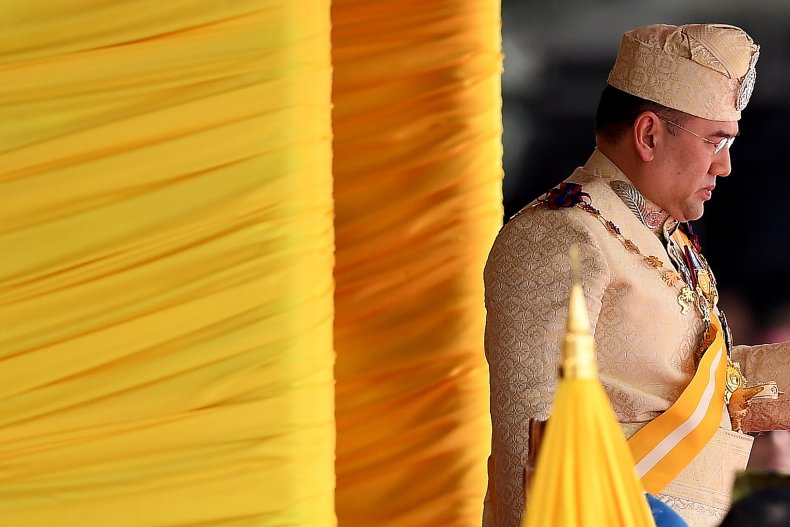 It was thought the sultan married Voevodina in Moscow during a two-month period of sick leave last year, per the BBC. But the bride's Instagram account appears to show they wed on June 7 of last year, before celebrating their wedding some time later in the Russian capital.
According to the account, Voedovina gave birth to the couple's son, Tenku Ismail Leon Petr Bin Tenku Muhammad V Faris Petra, on May 21 of this year.
The palace released an unusual statement Tuesday implying Voevodina never held a royal title. It read: "This is to notify that no one can be referred to as Permaisuri Kelantan, Raja Perempuan Kelantan, Sultanah Kelantan or Queen of Kelantan without any official announcement from the Kelantan Palace."
Deputy chief minister of Kelantan, the sultan's state, said Wednesday the palace had no "official information" about the pair's alleged split. Per The Straits Times, Datuk Mohd Amar Nik Abdullah told reporters: "We only know about the divorce through social media, including from the news published on the front page of a newspaper today."