Two Commuter Trains Collide Head On, Injuring More Than 210 Passengers
Two trains collided in Kuala Lumpur, Malaysia, on Monday evening, leaving as many as 213 people injured and Malaysian Prime Minister Muhyiddin Yassin has ordered a full investigation into the cause of the accident.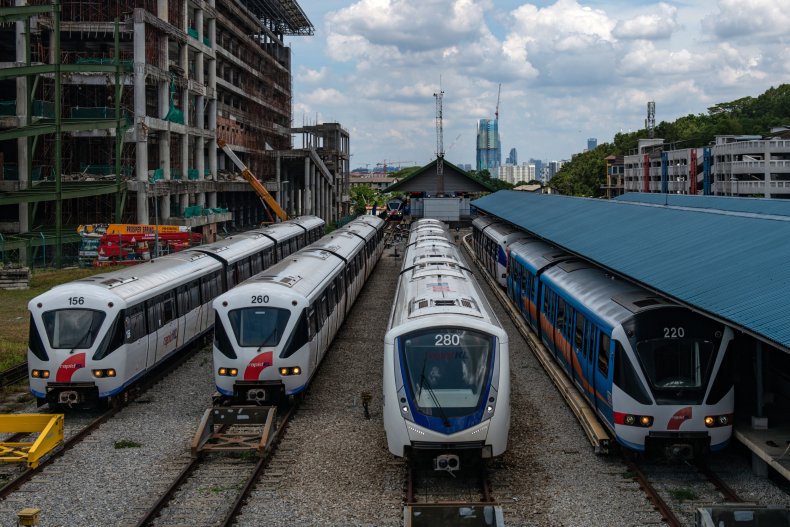 Channel News Asia reported that Kuala Lumpur Fire and Rescue Department Chief Nordin Md Pauzi confirmed that 47 passengers were seriously injured while 166 people suffered minor injuries. No deaths have been reported.
Federal Territories Minister Annuar Musa tweeted about the incident, writing that early reports indicated a Light Rail Transit (LRT) train carrying passengers from Ampang station collided with an empty LRT train. The crash happened underground below the Kuala Lumpur City Centre. Musa said the injuries occurred when people fell or were thrown about during the wreck.
The two trains hit one another around 8:30 p.m. local time, according to multiple reports. Footage shared on social media shows the damage caused to the trains and passengers covered in blood, with some being transported by medics.
Elill Easwaran, a journalist at The Malaysian Insight, shared this graphic video on Twitter.
Dang Wangi OCPD Assistant Commissioner Mohamad Zainal Abdullah said the accident may have occurred "due to a miscommunication at the operations center," according to Channel News Asia. He said, "We will investigate further if the cause of the breakdown is ... the result of carelessness or something else, because it involves public safety and many people were injured."
Speaking to the media, Transport Minister Wee Ka Siong said the collision is the first accident in 23 years of LRT operations in Malaysia. "Tomorrow, the director-general of the Land Public Transport Agency will present the initial report to me," he said. "And in two weeks, this task force will present the investigation report to me. In two weeks we will be able to identify (whether the accident) is caused by error in the system, signaling or communication, or human error."
On Twitter, Prime Minister Yassin called the collision "serious." He said he had instructed the Transport Ministry and the rail company to conduct a "full investigation to identify the cause of the accident." He said that "stern action will be taken immediately" upon the findings of the investigation.
The prime minister also said that in the immediate aftermath of the incident, priority should be given to the accident victims, and that he has instructed all agencies responding to the wreck to ensure all the injured received "comprehensive treatment as we are also in the midst of a rising COVID-19 pandemic wave."