Malaysian Man Finds Selfies of Monkey on iPhone He Lost
A Malaysian monkey made headlines this week after allegedly stealing a man's iPhone, snapping a few selfies on it and even taking a video.
Zackrydz Rodzi, 20, a computer science student who lives with his parents in the city of Batu Pahat, believed his phone had been stolen from his house after he woke up on Saturday and couldn't find it anywhere, he told Newsweek.
After searching for nearly an entire day, Rodzi considered trying to hire someone or make a police report to find the missing phone. But before he could do that, his father mentioned there was a monkey playing outside the family's house, and that maybe it had stolen the phone.
At first, Rodzi didn't believe his father, he said. But sure enough, Rodzi found his phone Sunday in the forest near his house "full of mud." When he unlocked it and opened his photo gallery, Rodzi "ran out of words," he told the Evening Standard.
"[I have] no idea how to describe it because one of the impossible things just happened," he told the Standard. "I shook and laughed so hard and quickly ran towards my parents to tell them."
Rodzi's camera roll contained several surprises, including a few dozen blurry images of the monkey itself and out-of-focus shots of trees, plants and the undergrowth. There was even a short video of what appeared to be the monkey attempting to bite the phone.
The images and videos showcase a variety of iPhone camera features, including slow motion, time lapse and portrait mode, Rodzi told Newsweek. It was not possible for Newsweek to verify how the content arrived on his phone.
Rodzi believes the evidence points to the monkey grabbing his phone and using it.
"Theres no sign of robbery or something cause everything is fine and my family have seen nothing," he wrote in a message to Newsweek. "The only thing in my mind was maybe its some kind of sorcery or something."
Rodzi posted a video to TikTok featuring a screen recording of his camera roll to show off the numerous images allegedly taken by the animal.
"I lost my phone for 2 days and i thought it was stolen by someone but look who did it !!!???" he captioned the video. "This little monkey left my phone case below my bed lol."
He also posted on Instagram what appears to be a clear image of leaves and a tree branch, along with the brief caption: "Facts: This shot was taken by a monkey."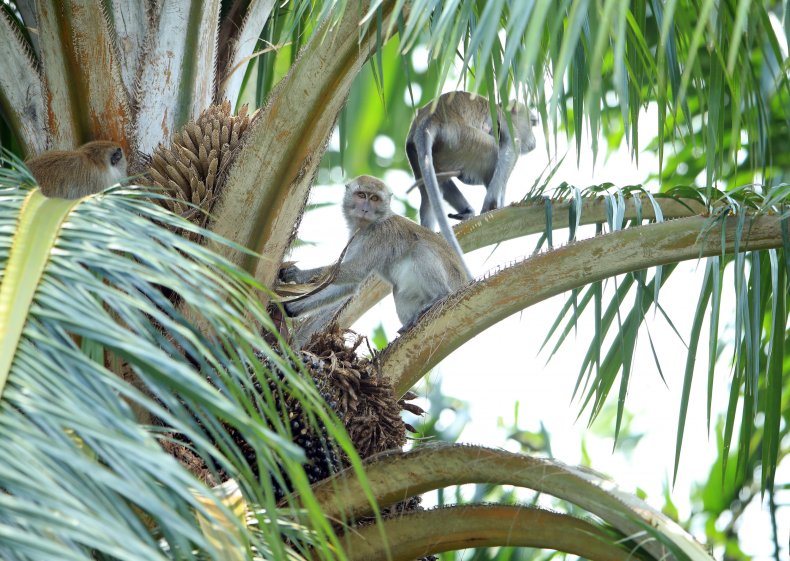 This is not the only instance in which monkeys have gotten in front of the camera. During a December 2018 vacation to Bali, Indonesia, Judy Hicks and her family decided to visit the Ubud Monkey Forest, a sanctuary for hundreds of monkeys, People reported.
A guide offered to take the family of five's photo, but a monkey suddenly jumped in front of the camera, flashing his face and appearing to hold up a finger.
"As I was flicking through the photos afterwards, I noticed that in one of them the monkey was actually giving us the finger," Hicks told The Daily Mail. "I showed my husband and we both started laughing. We thought it was hilarious."
And in 2018, the U.S. 9th Circuit Court of Appeals ruled that Naruto, a monkey from Indonesia, had no rights to the selfies he snapped in 2011 on a nature photographer's camera, CNN reported.
Photographer David John Slater had used the monkey's images in a book he published, prompting the People for the Ethical Treatment of Animals to file a lawsuit on Naruto's behalf. In its ruling, however, the appellate court essentially found that animals cannot file copyright infringement suits, according to CNN.