'Stay Off the Bottle!': Eagles Safety Malcolm Jenkins Delivers Scathing Attack on NFL Officials After Loss to Cowboys
Philadelphia Eagles safety Malcolm Jenkins delivered a scathing attack on NFL replay officials, suggesting they should "stay off the bottle."
Jenkins's comments came after Philadelphia lost 29-23 in overtime against the Dallas Cowboys on Sunday night in controversial fashion.
Read more: Chicago Bears throw NFC wide open with impressive win over Rams
The Eagles safety forced a fumble at the Cowboys' 18-yard line after hitting Jourdan Lewis, who had fielded Jake Elliott's opening kickoff. Jenkins's teammate Kamu Grugier-Hill appeared to recover from the fumble when he emerged from a pile of bodies with the ball.
However, officials ruled that Lewis was down by contact. The call was reversed to a fumble when Philadelphia challenged the call but the Cowboys retained possession as recovery of the ball "wasn't clear" on instant replay.
"That was a pretty terrible call," Jenkins was quoted as saying by ESPN.
"They reviewed it and the explanation I got was that it wasn't a clear recovery, although Kamu had the ball in his hand and there was only Eagles defenders on the ball in replay. So whoever's watching that in New York should stay off the bottle."
Had the fumble recovery been awarded, the Eagles would have restarted the game deep into Cowboys territory. Instead it was Dallas who retained possession and then struck first.
"Common sense, you saw Kamu come out with the ball," Jenkins added.
"Obviously they don't pay me to make calls like that but that was, in hindsight, obviously a big play in the game."
A high-scoring fourth quarter saw the Eagles come back from 9-6 down to tie the game to 23 and force into overtime, when Amari Cooper's third touchdown of the game secured a 29-23 win for the Cowboys.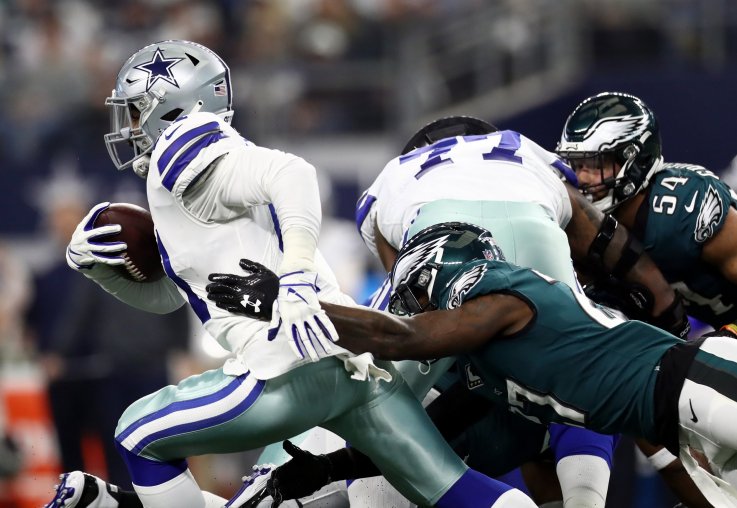 Dak Prescott delivered an inspired performance for Dallas, completing 42 of his 54 passes for 455 passing yards and three touchdowns, while Cooper had 10 receptions for 217 yards. Ezekiel Elliott had 28 carries for 113 rushing yards and added 12 receptions for 79 yards as the Cowboys picked up a fifth consecutive win to improve their record to 8-5 and strengthen their grip on the NFC East.
Dallas can clinch the divisional title with a win on the road against the Colts on Sunday, while the Eagles slipped to 6-7 and now need a miracle to make the playoffs.
According to ESPN Football Power Index, the defending Super Bowl champions have just a 5.1 percent chance to make the playoffs. Since 2010, only three Super Bowl winners have failed to make the playoffs in the following season—the New York Giants in 2012, the Baltimore Ravens in 2013 and the Denver Broncos in 2016.
'Stay Off the Bottle!': Eagles Safety Malcolm Jenkins Delivers Scathing Attack on NFL Officials After Loss to Cowboys | Sports