'The Paris Agreement Will Survive,' Says Former Maldives President Mohamed Nasheed
As the world's lowest-lying country, the Maldives—a collection of about 1,200 islands in the Indian Ocean—have a lot to fear from climate change.
But it's an issue over which the country's former president, Mohamed Nasheed, is preternaturally calm. "We probably will not be able to save the Maldives; we are probably losing the window of opportunity as it is," Nasheed told Newsweek at the Oslo Freedom Forum, an event for global human rights activists, in May.
Nasheed says the only way to save the paradisiacal islands would be to go into "very heavy adaptation." This has a particular meaning for him: Nasheed was deposed as president of the Maldives in a 2012 coup after being elected in the country's first-ever multiparty elections in 2008. "In my view, the most important adaptation measure is good governance and democracy," he says.
Nasheed, 50, came to power after 30 years of authoritarian rule by Maumoon Abdul Gayoom. During his time in power, Nasheed pledged to make the Maldives a carbon-neutral state within a decade. But he encountered a constitutional crisis in 2012, over allegations that he ordered the military to arrest a chief judge for acting on behalf of Gayoom.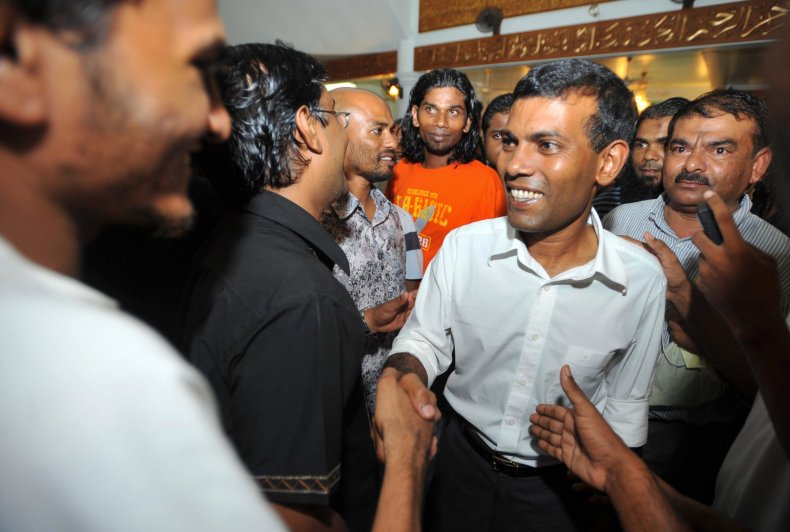 His demise was dramatic. Nasheed resigned in February 2012 but later said he was forced out by a coup. In July 2012 he was charged with illegally ordering the chief justice's arrest. The next year, the half brother of Gayoom, Abdulla Yameen, was elected president. In 2015, Nasheed was arrested on terrorism charges and handed a 13-year prison sentence in a trial he described as politically motivated.
Nasheed escaped the Maldives in 2016, traveling to Britain for medical surgery and successfully seeking political asylum in that country. The following year, he announced his intention to run in his party's internal primaries, with a view to being a presidential candidate in the 2018 elections.
Should he be successful, climate change will remain at the top of his agenda. U.S. President Donald Trump pulling out of the Paris climate accord was not good news for the Maldives. But, speaking before Trump's decision was confirmed, Nasheed was optimistic that the world would stand firm against provocations from the American president. "I don't think that any president or any government can actually reverse what's happening in the world," he says, adding that he believed the Paris Agreement would "survive."