Inside the Battle for the Heart and Soul of the Maldives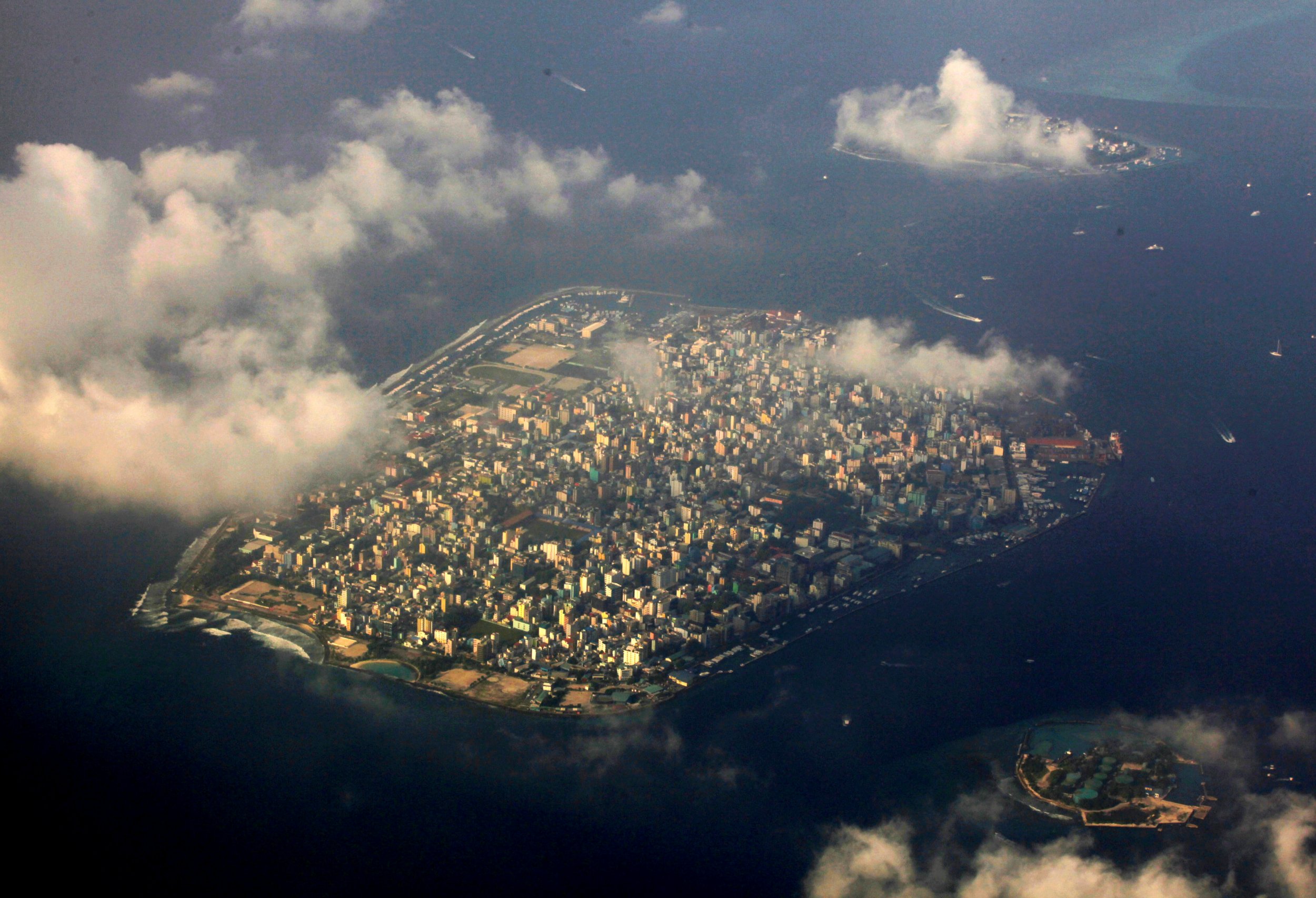 Until recently the Maldives did not have an image problem. Expertly insulated on private islands and in luxury cabanas, the honeymooners and celebrities that flocked to its white sand beaches had little idea of what life was like for Maldivians under the iron fist of dictator Maumoon Abdul Gayoom, who ruled for three decades until 2008.
But in 2017 the Indian Ocean nation—made up of thousands of islands and atolls, around 200 of which are inhabited—is currently undergoing what can only be described as a PR nightmare. From allegations of money laundering and extra-judicial killings to revelations about Islamic State militant group (ISIS) recruitment, stories about the Maldives increasingly invite headlines about perfect storms and trouble in paradise.
It all began in 2012, when Mohamed "Anni" Nasheed, the first democratically elected leader of the Maldives, was ousted after just four years in office. Nasheed—whose supporters call him the "Mandela of the Maldives" and who spent most of his 20s and 30s in prison under Gayoom—was subsequently jailed for 13 years on charges of threatening a high court judge. Allowed to visit the U.K. for medical treatment, he was granted asylum in 2016.
Unfortunately for this rivals, Nasheed had spent his brief period in power making an impressive transition from obscure political dissident to internationally renowned statesman. Feted across the world for his campaign against climate change—an existential risk for the low-lying Maldives, much of which is less than one meter above sea level—his speech to the U.N. in 2009 and high-profile stunts (such as holding a cabinet meeting underwater) led to an award-winning film in 2011, The Island President.
Since taking up residence in the U.K., Nasheed has waged a high-profile campaign—backed by everyone from Amnesty International to Amal Clooney—against the government in Malé, now headed by Abdulla Yameen, a half-brother of Gayoom. As Nasheed has loudly lobbied for international sanctions against Maldivian government figures, Yameen has run into the open arms of China and Saudi Arabia, both of which have pumped billions of dollars into the island nation over the past five years.
But Yameen's wealthy new friends may not be enough to offset the growing international furore about Nasheed, and wider questions about human rights in the country, home to some 400,000 people. Nasheed's campaign has stopped short of calling for an outright boycott of the Maldives' tourism industry, but the former president has called for targeted sanctions against the new regime in Malé. In response, the government has gone on a charm offensive.
Over coffee at a smart hotel in London's Mayfair, Newsweek was invited to meet Mohamed Shainee, agriculture and fisheries minister and one of Yameen's key cabinet members. For Shainee, who claims to have served under Nasheed (Nasheed disputes this), it was the calls for a tourism boycott that spurred Malé into action. "It bothers [us.] It results in pressure we don't want. [Tourism] is our bread and butter," he says.
It isn't the first time since the fall of Nasheed that the government in Malé has tried to fight back. In 2016, the Maldives took on the law firm of Cherie Blair, Omnia Strategy, to plead its case. But as of 2017, that relationship appears to have ended. "We can confirm that Omnia Strategy LLP does not represent the Government of Maldives," the firm said in a statement to Newsweek. It would not comment further on its work for Malé.
It is not only the ousting and subsequent jailing of the country's first democratically elected leader that has brought the government in for criticism, however. Like many nations, the Maldives has seen a number of young men leave to fight with the Islamic State militant group (ISIS) in Iraq and Syria, with official figures as high as 200. It has also seen an increase in radicalization that has led to a spate of gruesome killings of activists and journalists.
In April, a 29-year-old blogger and journalist Yameen Rasheed was stabbed to death in Malé. His killer has not been found. The case had echoes of the disappearance of journalist Ahmed Rilwan, who had been followed and threatened in the weeks leading up his disappearance in 2014, the Guardian reported.
Shainee argues that while the Maldives has seen young men leave to join ISIS since 2014, it is not clear in what capacity: "My intelligence tells me that none of those that go to these conflict areas serve in the front line: they serve as tea boys, as [...] handymen, in other capacities. I'm not saying [...] that we should allow [it]. We are doing everything that we can."
He echoes those comments when it comes to attacks on journalists. The government has involved the FBI in the search for Ahmed Rilwan, and is disappointed, he says, that neither they nor the U.S. have found any trace of the young man.
Meanwhile transparency and human rights groups, including watchdog Freedom House, have criticized the government over a wide-ranging and restrictive new defamation law. But Shainee rejects such criticism.
"It is not the case that there is less press freedom. I would challenge you right now: Open your phone and look at the Twitter and search me, what kind of rubbish they are saying about me. We don't do anything about it," he says.
Gayoom ruled the Maldives for three decades between 1978 and 2008, securing six back-to-back terms in elections in which opposition parties were barred. Initial protests against his rule began in the early 2000s and intensified after the devastation of the 2004 Boxing Day tsunami. A ban on political parties was lifted in 2005 and finally elections were held in 2008 that Nasheed, who returned from exile that year, would win.
Shainee says he welcomed the vote that marked the end of Gayoom's three decade rule, but that Nasheed was too inexperienced to run the nation. While his stance against climate change made Nasheed an international hero, it insulted Maldivians, Shainee says: "People in the Maldives hated him for that: He reminded the world that the Maldives was sinking [...]. With the U.N. speech, the underwater cabinet, [...] this made him a very popular person but it didn't do any good for the country," he says.
Malé may be new to the PR game, but the small and dedicated team around Nasheed have been promoting his environmentalist agenda for almost a decade. In The Island President, Nasheed's advisors are seen expertly packaging his message on climate change and winning huge international support.
Since 1972, the Maldives—set in the Indian Ocean—has been a tourist destination, but in the 1990s and 2000s the islands made their name as an ultra-luxury destination, famed for their resorts and diving. Between 1990 and 2015, according to World Bank figures, gross national income (GNI) per person in the Maldives increased by over 200 per cent and life expectancy increased by over 15 years.
The Maldives' location might have been a blessing—but it has also been a curse. As well as being, at most, 1.8 meters above sea level, two thirds of critical infrastructure on the islands is located within 100 meters of the shoreline, putting it under immediate threat. It was this issue that Nasheed seized on almost immediately when he took office, aiming to convince the world that no less than a sharp reduction in emissions would save his homeland.
Sat in a basement restaurant of a West London hotel, Nasheed tells Newsweek that he remains committed to his climate change agenda and that his present "case" has not been a difficult one to make. Ideally, Nasheed would like to return to the Maldives in 2018 and run in the next elections at the head of his Maldivian Democratic Party (MDP). But the push for democracy, he says, is bigger than one man.
"We want what is good for the people of the Maldives. We want human rights, we want democracy. We want an end to corruption, embezzlement [...], and we want to be able to live there," he says. "You can't have a situation where all the political leaders are in exile, all the political leaders are behind bars. It is untidy, it doesn't fit to now. It is too feudal [...]. People could have digested it in the 1800s, but we can't."
Contrary to Shainee's assertions, Nasheed does not think that anyone who has lived and grown up on the islands needs reminding that their homeland was sinking: "I am very often banished to islands. I spent my 20s and 30s in banishment or in jail. I was blessed to be able to be there for very long periods of time, especially in solitary. And you would see that the people of the Maldives live within the elements and they understand the elements," he says.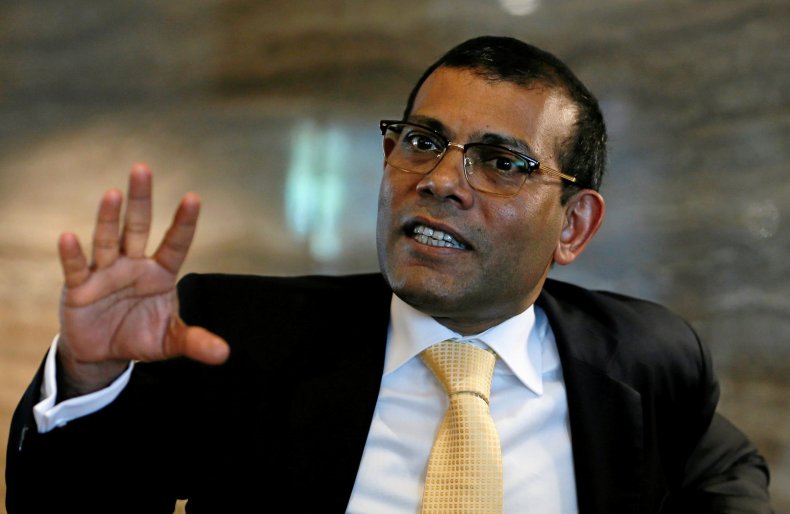 "Everyone in the Maldives knows that they are sinking, everyone. [Climate change] is not a modern scientific theory brought to the Maldives. Sand migration, weather patterns, natural phenomenon: That is our poetry, that's our history, that's our culture and art."
For their part, Yameen's government have also sought to address the issues of climate change in the Maldives, but in a very different way. Yameen's government have undertaken an aggressive program of land reclamation and sought to persuade investors to help. In 2015, a new law legalized foreign ownership of land, providing 70 percent of it was reclaimed from the ocean and a further $1 billion invested in a construction project approved by parliament.
Whether it is terrorism, radicalization or the circumstances of Nasheed's downfall and subsequent conviction, Shainee argues that the Maldives—which only emerged from three decades of one-party rule less than ten years ago—needs longer before it can be judged alongside democracies that have existed for hundreds of years. He asks that the U.S., Europe and other neighbors give the islands time to become the country Maldivians want it to be.
"What I ask from foreign governments, friendly governments, is to help us to build these institutions, to build democracy in the Maldives. But don't measure us on the same scale as institutions and democracy that has matured over centuries. We are young, we are a developing country and we have our challenges," he says. "So, help us."