Male Millennials Dominate Crypto Investing; Elon Musk Tweets Getting SEC Attention
CryptoCorner
Young males are the largest cohort investing in Bitcoin, a report by CryptoParrot found.
Males outnumber females about 86% to 14% in the market.
But testosterone didn't give many retail investors the fortitude to ride out Bitcoin's latest plunge, and scores sold into the downdraft, while most institutional investors held firm and bet on a rebound, a review of blockchain activity showed.
Millennials, or those aged 25 to 35, make up 41.5% of Bitcoin investors, according to the report.
"The younger generation's overall Bitcoin community engagement points to the asset's role in the financial status of this age group," CryptoParrot, an education and trading website based in Ottawa, Canada, said. "Over the years, Bitcoin has emerged as an investment tool for diversifying portfolios with high returns. The interest in Bitcoin also reflects a possible loss of interest in traditional investment avenues like gold and government bonds."
Bitcoin, often ballyhooed as cryptogold, appears to have lost some of its allure in the recent downturn. It now trades within a narrow range and shows no sign of climbing higher in the immediate future.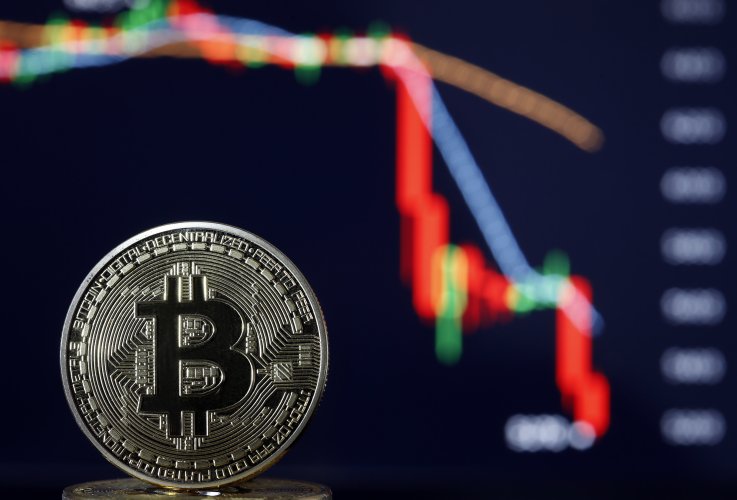 "The younger generation's overall Bitcoin community engagement points to the asset's role in the financial status of this age group," CryptoParrot, an education and trading website based in Ottawa, Canada, said. In this visual representation, a Bitcoin is placed in front of a declining price graph in this photo, taken in France, November 2018.
Chesnot/Getty
A survey of 1,000 Americans by MagnifyMoney, a division of Charlotte, North Carolina-based LendingTree, found that 62% of Bitcoin investors believe that crypto will make them rich.
Fractional ownership—the Satoshi—makes it possible for individual investors to limit their risk and participate in the Bitcoin market. But the importance of the Little Guy is likely to diminish after the recent shakeout, and as major investors continue to bet big bucks on cryptocurrencies.
The irony: Bitcoin is mimicking Wall Street's dominance by major players and becoming exactly the opposite of what its proponents of decentralization sought to create.
Interest in Bitcoin appears to decline with age, CryptoParrot found.
This might seem counterintuitive, since personal wealth typically increases with age, but it makes sense considering the appetite for risk usually decreases age.
Only 4.5% of those aged 65 and above were active in the Bitcoin market, the CryptoParrot report said, which based its findings on data gleaned from Google Analytics and Coin.dance, a cryptodata site.
Bitcoin's price has taken a hit in the past, but it recovered and reached new highs. But increasing government regulation may squelch a robust rebound this time.
The U.S. Treasury Department will require all crypto transactions valued at $10,000 or more to be reported to the Internal Revenue Service. It's part of President Joe Biden's plan to close what he sees as the gap between taxes owed and taxes collected.
However, stated concerns about tax avoidance, possible funding of illicit activity and environmental concerns about the large amount of electricity Bitcoin miners use to solve complex hexadecimal puzzles may mask a simple truth: Governments don't want to relinquish their monopoly on issuing currency.
In any case, Bitcoin may serve as the laboratory for the development of government-issued digital currencies.
China is experimenting with a digital yuan, a move that could challenge the dominance of the U.S. dollar in trade and as the world's leading reserve currency.
The Federal Reserve, the nation's central bank, said it plans to issue a research paper this summer outlining the benefits and risks of issuing a U.S. digital currency.
Unlike Bitcoin, Ethereum or other cryptos, a Central Bank Digital Currency would be issued by the government, backed by monetary reserves, centralized and regulated. Researchers at the Massachusetts Institute of Technology and the Federal Reserve Bank of Boston are developing a prototype.
So, all those young men getting their jollies from the Bitcoin market may have to re-channel their testosterone-fueled energy to beer, sports and . . . what was the third thing?
In mid-day trading Wednesday, Bitcoin changed hands at $38,088.96, up 5.01% in the last 24 hours and up 30.43% for the year. The 24-hour range is $35,750.71 to $38,214.79. The all-time high is $64,829.14. The current market cap is $713.18 billion, CoinDesk reported.
MarketPulse
The U.S. Securities and Exchange Commission said Tesla had failed to review CEO Elon Musk's tweets as required by terms of a revised settlement, The Wall Street Journal reported.
On May 1, 2020, Musk tweeted that Tesla's stock price was "too high," sparking a $13 billion plunge in the company's market value.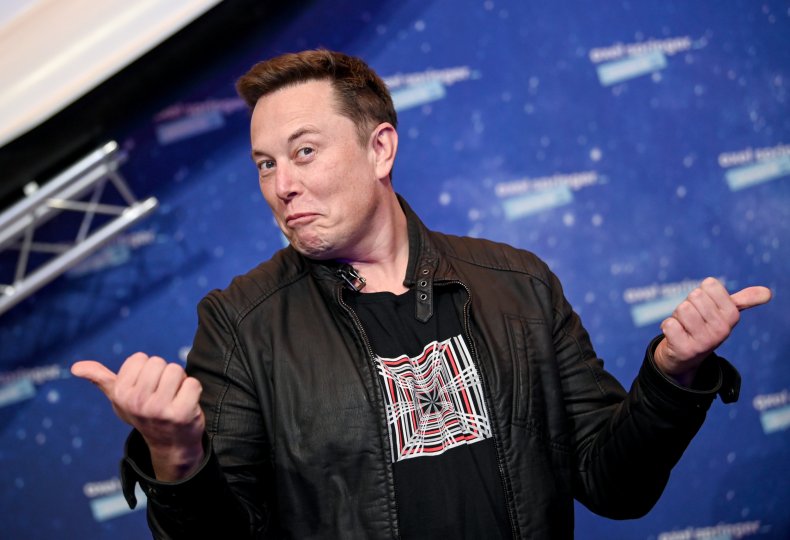 Regulators also said Musk's tweets in 2019 discussing production of solar panels were not reviewed by lawyers as required and therefore violated terms of the settlement.
The "twitter sitter" is part of an updated settlement reached by the SEC, Tesla and Musk. As part of the agreement, Musk stepped aside as chairman of Tesla's board of directors.
Musk has about 56.3 million followers on Twitter, and his tweets typically produce a huge effect on the market. His tweets about Bitcoin and Dogecoin have driven the price of the cryptocurrencies both higher and lower. Those tweets are not part of the SEC's action.
On Wednesday, he tweeted about the song "Baby Shark," and sent shares of Samsung Publishing up about 10%. The company isn't affiliated with Samsung Group, the South Korean maker of smartphones, laptops, TVs, LED panels and memory chips.
Musk's previous tweets have been linked to upward stock moves in GameStop, a video game and consumer electronics retailer, and Etsy, an ecommerce company selling vintage items and craft supplies.
The Journal obtained the email exchanges between the SEC and Musk through a Freedom of Information request.
In 2018, the SEC initially filed two complaints alleging securities fraud, one against Musk as an individual and a second against Tesla.
Musk tweeted that he intented to take the electric car company private at $420 a share and had secured funding for the deal. The tweet sent Tesla's stock higher, but also resulted in a period of volatility that slashed the price to about $177 a share.
In mid-day trading Wednesday, Tesla's shares fetched $607.42 each. The 52-week range is $171.68 to $900.40.
The SEC sued Musk for allegedly making "false and misleading claims," and charged that he chose the $420 price because it referred to marijuana and would "amuse" his girlfriend.
Musk and Tesla paid $20 million each to settle the 2018 case. As part of the settlement, Musk agreed to have all tweets reviewed by a lawyer before posting them.
Shareholders have also sued Tesla and Musk over the tweets, alleging the comments caused them financial harm.
Last spring, the SEC admonished Musk and Tesla for allegedly violating the revised 2019 settlement, but took no further legal action.
The SEC asked a U.S. District Court judge in Manhattan to consider holding him in contempt. But the judge told the two sides to modify the agreement by spelling out which topics required pre-approval by lawyers and settle the dispute.
Last May, Tesla's shares fell after Musk tweeted "Tesla's stock is too high imo (in my opinion)."
Tesla's lawyers said the tweet hadn't been reviewed and didn't require approval because it was an opinion, the Journal reported.
In 2019, Musk tweeted: "Spooling up production line rapidly. Hoping to manufacture (about) 1000 solar roofs/week by end of this year."
Tesla's lawyers said the comment hadn't been reviewed because it was "wholly aspirational."
Musk has also had run-ins with the National Transportation Safety Board and a contentious relationship with state officials in California and Nevada.
SpaceX, another company run by Musk, has sometimes clashed with the Federal Aviation Administration.
NASA awarded SpaceX a $2.9 billion contract to build spacecraft to land astronauts on the moon as soon as 2024. Musk beat competing bids from Blue Origin, owned by Amazon founder Jeff Bezos, and defense contractor Dynetics.
SpaceX tweeted that it was "humbled" to be part of the next step in space exploration. In a separate tweet, Musk said the company was "honored" to be part of the Artemis program, the U.S.-led international spaceflight program.