Maleficent 2 (official title Maleficent: Mistress of Evil) has now been released in theaters, with a new queen in its cast courtesy of Michelle Pfeiffer and a plot that sees the bond between Maleficent (played by Angelina Jolie) and Aurora (Elle Fanning) tested after the latter falls in love with a prince. Before going to watch the movie, read on for everything you need to know.
When is Maleficent 2 Out?
Maleficent: Mistress of Evil has been releasing across the world since Wednesday, October 16 before its U.S. release, which was Friday, October 18. According to IMDB, the movie is now out in every territory except Lithuania (where it will be out on October 25) and Ethiopia, where it will be released on November.
Who is in the Cast of Maleficent 2?
All of the main cast from the original movie, released in 2014, are back for the sequel. This includes Angelina Jolie as Maleficent herself, Elle Fanning as Aurora and Sam Riley as Diaval, the 'evil' queen's raven-turned henchman.
Also returning are the two fairies who raised Aurora in the first movie, Thistlewit (Juno Temple), Flittle (Lesley Manville) and Knotgrass (Imelda Staunton).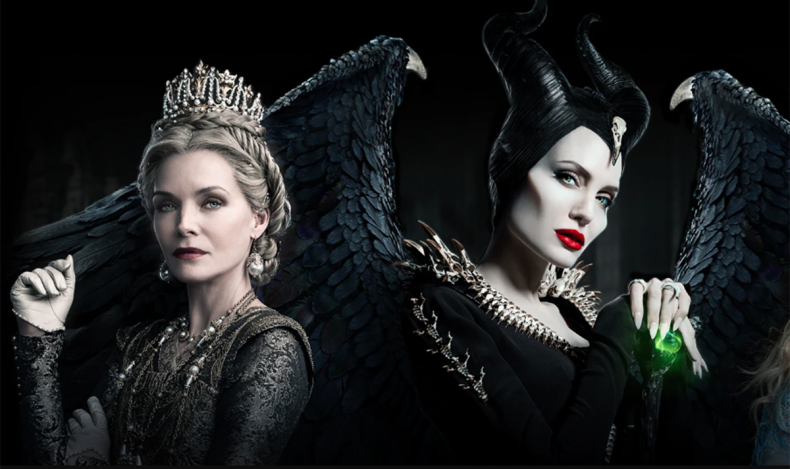 Joining them are a number of new cast members, led by Batman Returns actress Michelle Pfeiffer as Queen Ingrith, described by the actress in an interview with the Collider as "Really brilliant and diabolical. But I wouldn't consider her terribly wise." She added that though the character is the villain of sorts in Mistress of Evil, there is some vulnerability to the character: "She's damaged," the three-time Oscar nominee said, "without getting too cerebral about the whole thing, nobody behaves that way unless they're incredibly damaged. In some ways, what she resorts to is truly out of very deep fear."
Other new characters in the new Maleficent include Igrith's son Prince Phillip (Harris Dickinson), male fairy Conall (Chiwetel Ejiofor) and Borra, another villain looking to declare war on the humans.
What Will Happen in Maleficent 2?
The official plot synopsis reads: "Maleficent and her goddaughter Aurora begin to question the complex family ties that bind them as they are pulled in different directions by impending nuptials, unexpected allies, and dark new forces at play."
In an interview with Indiewire, director Joachim Rønning said he saw Ingirth as a Trump-like character: "Whoever controls the narrative, kind of controls the world, especially now with social media, and with the push of a button with your finger, you can send your whole narrative and control the story, control the conflict. And she's really using that to divide humans and fey and humans against nature and creating fear and chaos. It absolutely reflects today."
What is the Runtime of Maleficent 2?
The movie has a runtime of just under two hours. However, viewers should not feel the need to watch all of the credits if they do not want to, as the film has no after credits scene.
What Happens in the Trailer for Maleficent 2?
In the promo for the move released in July, it was revealed that Prince Philip asks Aurora to marry him, and she accepts--though Maleficent tells her she cannot marry him.
This puts her at odds with Ingrith, leading to what looks like an epic fairytale battle.
Maleficent: Mistress of Evil is in theaters now.