'Maleficent' Recap: What Happened in the First Movie?
Five years ago, Maleficent was the Disney live-action remake with a twist, as it told the story of Sleeping Beauty not from the original point of view of Aurora (played by Elle Fanning) but from that of Maleficent (Angelina Jolie). Now, that movie has spawned a sequel, Maleficent: Mistress of Evil, that builds on the events of the first film. Those who want a recap of those events can read on for our guide to all the crucial plot points of the first Maleficent.
What happened in the first Maleficent movie?
The story of Maleficent starts years before the events of Sleeping Beauty, where Maleficent (Isobelle Molloy) is a young and powerful fairy living in a magical forest. There, she meets Stefan (Michael Higgins), a young human boy with whom she develops a strong bond.
After a childhood of close friendship, however, they are forced apart as Stefan becomes driven by his ambition and Maleficent becomes protector of the forest. When Maleficent leaves King Henry (Kenneth Cranham) dying after he tries to conquer her home, Henry says he will name as his successor anyone who kills Maleficent.
Taking this challenge, Stefan (now played by Jackson Bews) drugs Maleficent (Ella Purnell) and cuts off her wings to present to the king—though he is unable to kill her. He becomes king and Maleficent is left plotting revenge. To keep an eye of the events of court, she turns a raven named Diaval (Sam Riley) into her spy.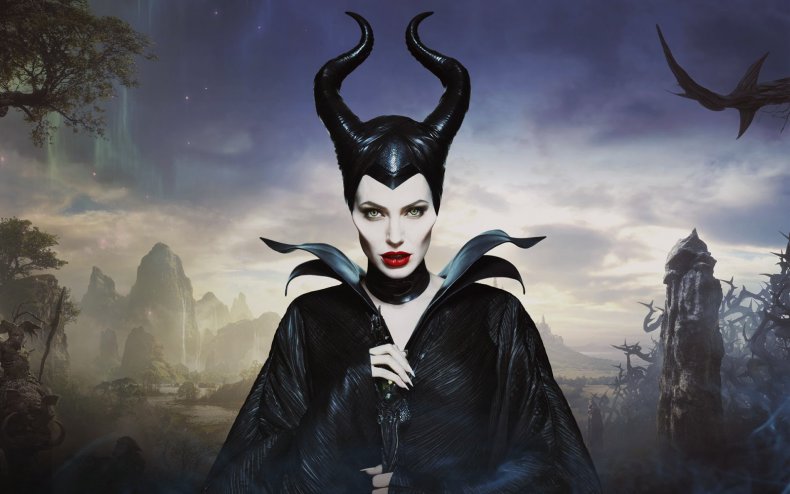 Diaval tells her that King Stefan (now played by Sharlto Copley) is having a party to celebrate the christening of his daughter Aurora (Vivienne Jolie-Pitt), and Maleficent (Angelina Jolie) vows to crash the party and curse her. At the christening, she delivers the classic Sleeping Beauty curse: On Aurora's 16th birthday, she will prick her finger and fall into a sleep from which she can only be awaken by true love's kiss. We later learn that Maleficent cast this curse as she did not believe that true love exists, and so she has essentially killed the young princess.
To protect her from the curse, Stefan sends Aurora away to live with three fairies (Juno Temple, Imelda Staunton and Lesley Manville) until the day after her 16th birthday.) Maleficent bides her time until Aurora (now Elle Fanning) is 15, when they meet again. Aurora believes Maleficent is her fairy godmother, and the two develop a friendship—a friendship so strong, in fact, that Maleficent tries to undo the curse but cannot. Meanwhile, Aurora also meets Prince Phillip (Brenton Thwaites) and develops a romantic attachment.
Aurora reaches the day before her 16th birthday, and tells Maleficent that she wants to live with her. Telling the fairies of her plans, they reveal to her the curse and Maleficent's true identity, and in anger Aurora runs back to her father's castle.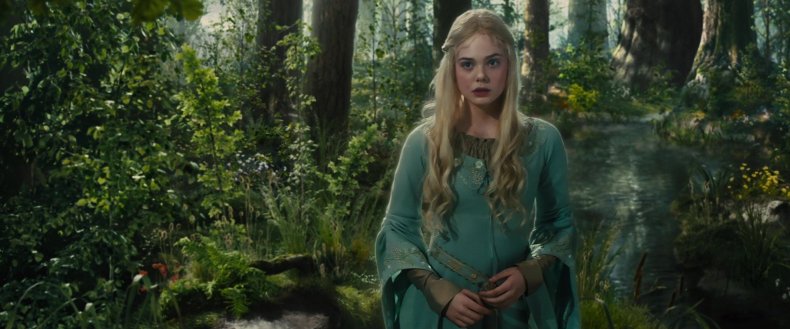 There, of course, Aurora is drawn to a spinning wheel where she pricks her finger and falls asleep. To try and break the curse, Maleficent and Phillip break into the castle, where Phillip kisses the young princess. However, this does not wake up Aurora, and Maleficent feels that her lack of belief in true love has been justified. Begging Aurora's forgiveness, she kisses her forehead, which awakens Aurora, for the protective bond Maleficent now feels for Aurora is the truest love of all.
When the pair try to leave, Stefan finds them and drops an iron net on Maleficent (fairies such as her are deathly allergic to the metal). However, Aurora then finds Maleficent's wings and frees them and they fly back to her fairy godmother.
The wings give Maleficent the strength she needs to escape. She intends to drop Stefan from the castle tower but cannot do it, so Stefan takes his chance to kill her, accidentally plunging them both off of the tower.
Maleficent tries to save him but he falls from her grasp and dies. This leaves Aurora as queen, serving to unite the human and fairy kingdoms and leaving everyone to live happily ever after... until the events of Maleficent 2, that is.
Maleficent: Mistress of Evil is in cinemas now.