With Malia Obama and Tiffany Trump Starting School, A Look at What College Is Like For Presidents' Kids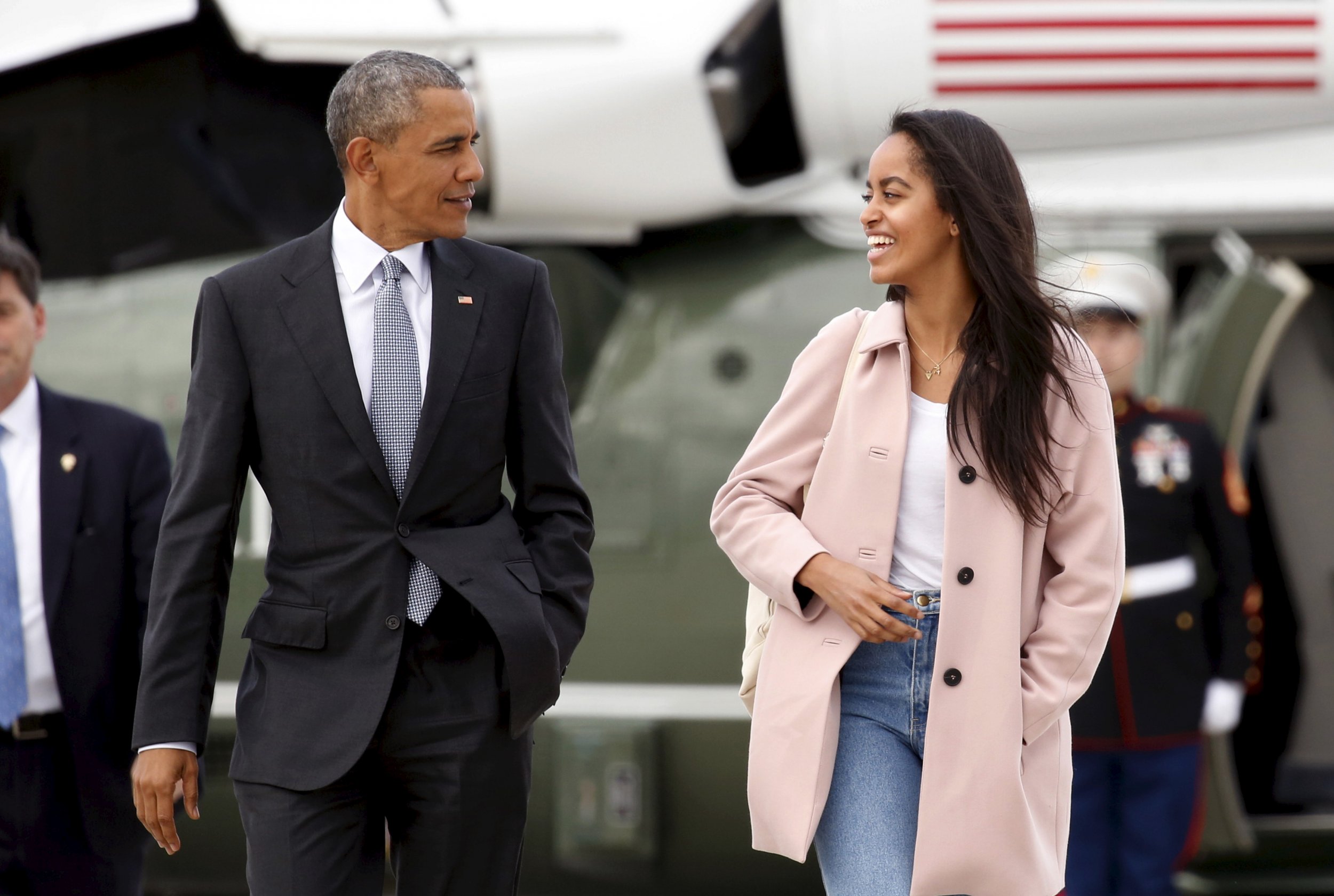 Big men on campus, step aside. Starting this week, the first daughters are going to college.
On Monday, 23-year-old Tiffany Trump started orientation at Georgetown University Law Center less than two miles away from the White House in Washington (though she took a break to peek at the solar eclipse). Her 19-year-old predecessor Malia Obama moved into Harvard University in Cambridge, Massachusetts, a day later, and promptly inspired social media posts from starstruck peers gushing that "Malia ! Obama ! just walked into the cafe I'm at !"
The current and former first children will join more than 20 million people in pursuing higher education this fall. And though college is typically a time of experimentation, exploration and, yes, cheap beer, Trump and Obama aren't like everyone else. They come with Secret Service protection, wildly famous fathers and the national spotlight, and history tells us those factors could seriously influence their college experience.
Here's what we can expect.
A degree of disobedience
"As a rule, presidential kids are very rebellious," Joshua Kendall, author of the 2016 book First Dads: Parenting and Politics from George Washington to Barack Obama, tells Newsweek. "Traditionally, [presidents[ have been very career-focused and the kids felt a little alienated ... College just gives them more freedom to express it."
Take Robert Todd Lincoln, for example, who got busted in 1862 for failing chemistry class when the president of Harvard sent a letter home to his dad. Or Jenna and Barbara Bush, who were cited by police in 2001 for attempting to drink underage near the University of Texas at Austin.
Kendall points out that Obama is no stranger to controversy—last year, she was photographed with what appeared to be a joint at a music festival—but Trump is different. She tends to be fiercely loyal to her dad.
Ronald Reagan's young son Ron went on Saturday Night Live in the 1980s to mock his dad, but "that ain't going to happen with Tiffany or any of her siblings," Kendall says.
Not much press
Back in 1997, as Chelsea Clinton was about to start at Stanford University, her mom wrote a newspaper column asking the press to leave her alone.
"I remember well my own college years—the good, the bad and the ridiculous. The dates that didn't work out; the late-night rushing back to the dorm before curfew—a relic of the distant past; the caffeine-fueled all-nighters during finals; the long walks through city streets or across campus that ended in a tender moment with a handsome new boyfriend," the then-first lady said. "I can't imagine having any of those private experiences, all part of finding myself, being interrupted by the bright lights of cameras—and not because of anything I was or did but because of my parents' occupations."
In general, the media has laid off of covering first kids at college, says Carl Anthony, the author behind America's First Families: An Inside View of 200 Years of Private Life in the White House​. The public has become sympathetic to their privacy, and that'll probably be true of Trump and Obama. Mostly.
"If one of them makes a statement in class or offers an opinion in class, that could be easily anonymously reported as a tip," he tells Newsweek. "Everyone has a phone with a camera, so if they're wearing something funky or outlandish on campus, a snap could appear online somewhere."
Heightened security
Even though she's not a current first kid, Obama will have a security detail at Harvard, the Tribune News Service reported. Trump already has Secret Service protection, but a spokesman for the law enforcement agency tells Newsweek it "does not comment on the methods and means we use to provide this protection."
What we do know, however, is that when Clinton was in college, her dorm room had bulletproof glass, according to Vanity Fair. Her Secret Service agents drove a Jeep.
We also know that John Coolidge had an uncomfortable deal when he went to Amherst College in the 1920s. His dad made him be roommates with a Secret Service agent, whom Anthony says soon "recognized this young man needed to mature and make mistakes on his own." Starling ultimately worked out a system with Coolidge where he'd leave the boy to go on dates or hang out with friends.
Somewhat absent parents
Obama's dad was reportedly seen in Cambridge this week to help her move, but other presidential parents have run into issues. Julie Nixon told her dad not to attend her 1970 graduation from Smith College because of anti-war sentiment on campus.
"It will be necessary for me to plan some sort of trip out of the country at the time of Julie's graduation," her dad wrote in a presidential memo at the time. "She insists that she does not want us to come to the graduation ceremony because of the attitude of the faculty and students, and I believe she is probably correct. However, we could not justify not being there unless we were gone at that time on some sort of a special trip."
The Bushes skipped the twins' graduation in 2004, as well. But Anthony says that because Trump is finally living in the same place as her dad after growing up on a different coast than him, her White House role could actually expand while she's in law school.
"We may well see more of Tiffany Trump at family-type gatherings or events, perhaps, this coming holiday season," he says.