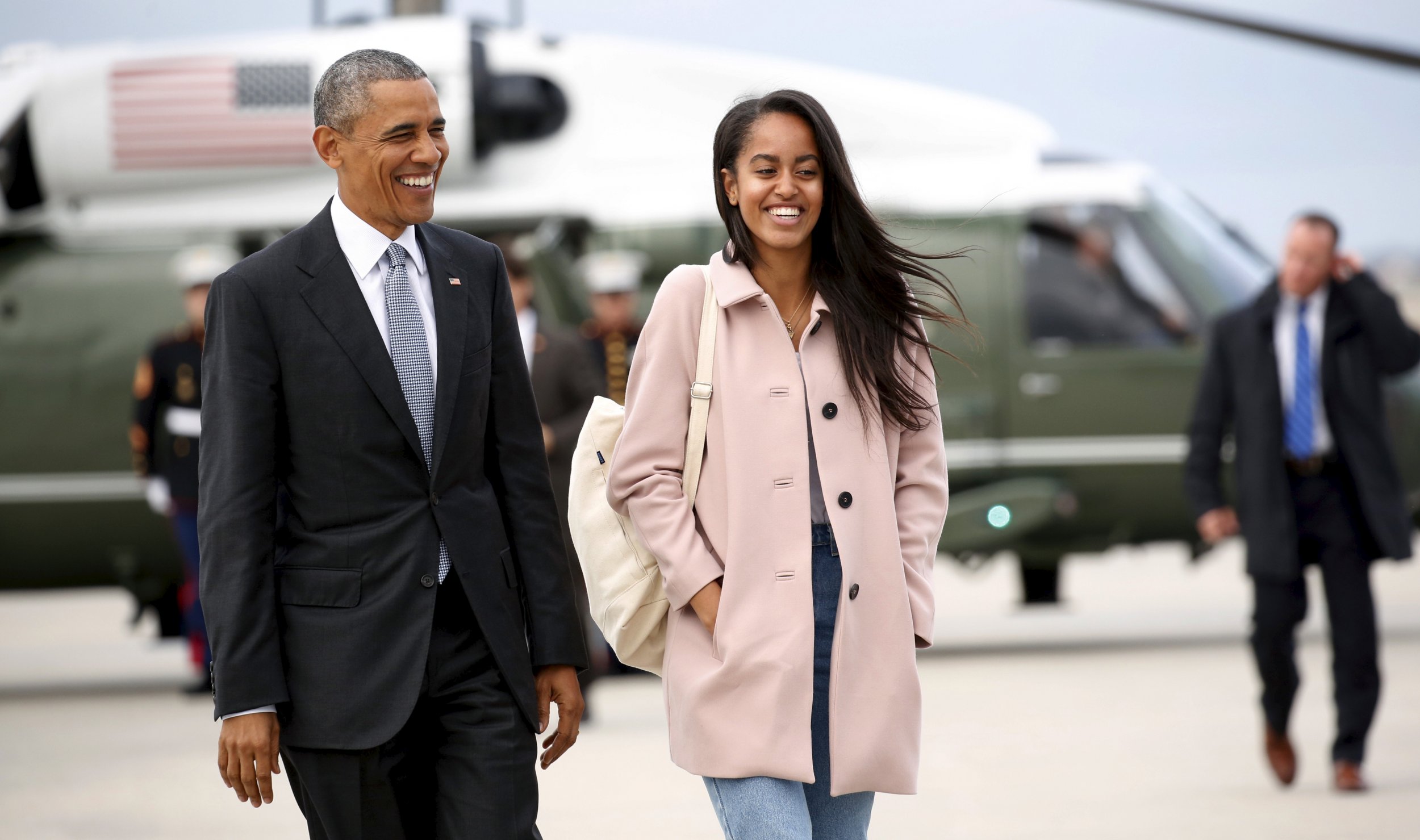 Malia Obama doesn't just observe the nation's birthday every Fourth of July—she also celebrates her own.
Born on July 4, 1998, Obama turns 19 on Tuesday. And what a year it's been, with a turbulent campaign season, the victory of Republican Donald Trump and the end of her father's presidential term. Ever since her dad, Barack Obama, left office this January, Malia Obama has nearly vanished from the spotlight.
Related: Malia Obama's gap year: A fad not just for presidents' kids
Here's what we know about what she's been up to:
Eating Pizza
Obama, along with her sister, mom and friends, had a slumber party for their last night in the White House.
"They had a sleepover because of course on Inauguration Day, because my girls are so normal, they're like, 'Well, eight girls are gonna be sleeping here because it's our last time, and we want pizza and we want nuggets.' And it's like, really?" former first lady Michelle Obama said in April.
Delaying College
Malia Obama is scheduled to attend Harvard University in Cambridge, Massachusetts, this fall. She announced last May that she was taking a gap year before starting college.
Protesting
Obama went to the Sundance Film Festival in Utah to take part in a demonstration against the Dakota Access Pipeline, the $3.7 billion pipeline causing controversy for allegedly disrupting Native American land.
"It was amazing to see Malia," actress and activist Shailene Woodley told DemocracyNow.com in January. "To witness a human being and a woman coming into her own outside of her family and outside of the attachments that this country has on her, but someone who's willing to participate in democracy because she chooses to, because she recognizes, regardless of her last name, that if she doesn't participate in democracy, there will be no world for her future children."
Interning
Starting in February, Obama headed to work with Harvey Weinstein, the movie producer who co-founded Miramax. Paparazzi caught her in New York City going to the Weinstein Company's offices. TMZ reported that she was helping the executives with scripts.
Checking Out Broadway
Obama and her father attended The Price along with former senior adviser Valerie Jarrett in February, according to The New York Times. At intermission, the trio went backstage to meet the cast and crew.
Traveling
On the heels of a secret trip to South America and a ski trip with friends in Aspen, Colorado, Obama was spotted in Indonesia with her mom, dad and sister last month. As the group walked around Bali, Obama carried a camera and wore a sarong paired with a graphic tee. She even went rafting with the family, complete with a bright yellow helmet.