Malibu Painter Sets 'Bitcoin Only' Policy for Art Sales
Malibu artist Tyler "Enso" Barnett plans to price his work in Bitcoin and accept only the crypto-currency as payment.
He believes Bitcoin's block chain, an unalterable record of each transaction, will create a transparent way to price art and, with luck, will break the dominance of major auction houses that he believes routinely shut out new talent and intentionally obscure a painting's value.
"I think using Bitcoin is the best way to ensure that my collectors receive the most value," Barnett told Newsweek. "Also, I don't believe in the paper money system anymore. Crypto-currency is the future of art."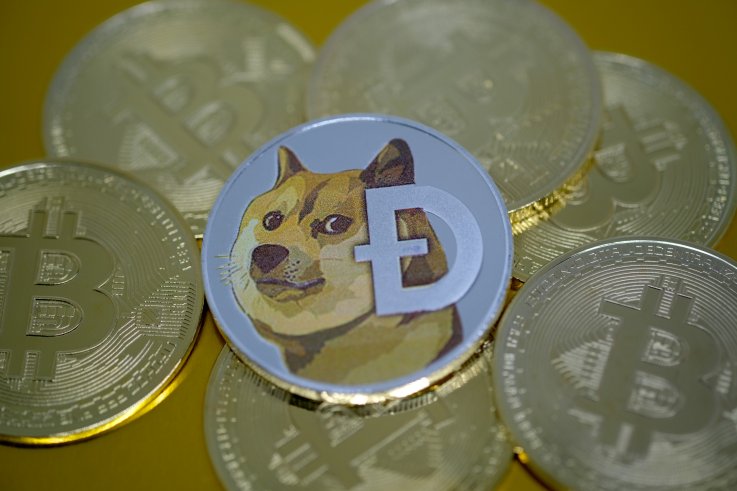 A photo illustration of Dogecoin and Bitcoin seen in the Netherlands on January 4. Dogecoin and other cryptocurrencies can be purchased using several cryptocurrency exchange platforms such as Binance and Kraken.
Photo by Yuriko Nakao/Getty Images
Last year, he sold paintings valued at about $100,000 from his gallery and studio on Highway 1 overlooking the Pacific Ocean in Southern California. But the COVID-19 pandemic cut foot traffic to next to nothing, and he believes pricing his paintings in Bitcoin will be a good way to attract the attention of potential buyers.
Barnett said he's willing to accept the risk of swings in Bitcoin's value when selling his paintings.
It looks like a good bet.
Last year, Bitcoin outpaced gold and the S&P 500 as many investors, including top Wall Street firms, bought the crypto-currency as a hedge against inflation after the U.S. Federal Reserve, the nation's central bank, injected trillions of dollars into the economy during the COVID-19 pandemic.
Bitcoin dipped below $30,000 in January, but its value increased about 400% in 2020. It recently fetched $33,395.41, up 1.25% in the last 24 hours, CoinDesk reported. Bitcoin peaked last month at $41,940.
Barnett sees his new Bitcoin-only policy as a way to drive traffic to his door.
"I think artists should be looking at new ways to promote and sell their art," he said. "Use of Bitcoin is another way for me to get my art in front of anyone who might enjoy it."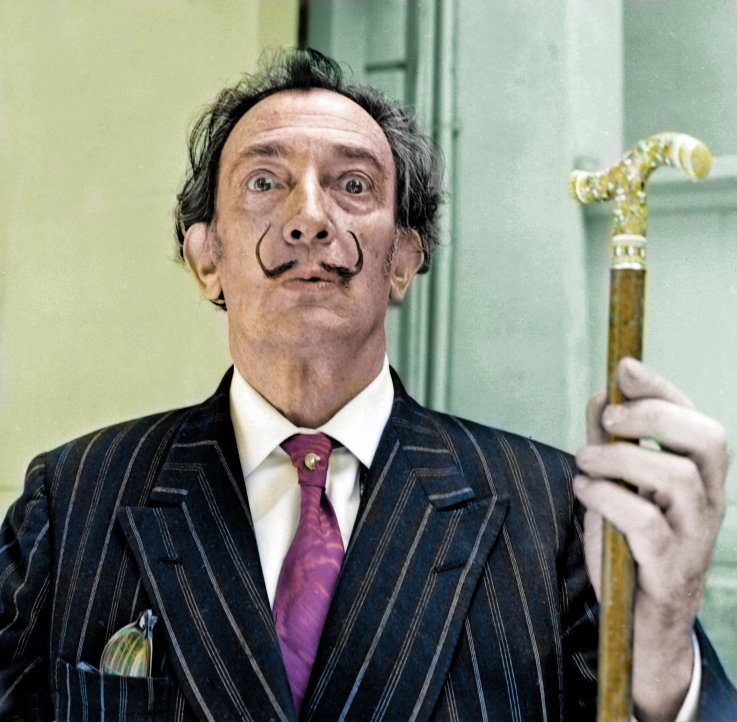 Spanish Catalan surrealist painter Salvador Dali photographed in Barcelona on May 24, 1966, around about the time he produced the etching "Burning Giraffe." The artwork was taken by an opportunistic thief from a gallery in San Francisco.
Jack Mitchell/Getty Images
Barnett said Edgar Degas's paintings of ballerinas are "beautiful," but his taste runs to the abstract art of Jackson Pollock, Pablo Picasso and the surrealism of Salvador Dali. Barnett said his current paintings seek to explore the meaning of the Japanese Enso.
To some, the Enso looks like a poorly drawn circle, but the Japanese symbol is often interpreted to signify enlightenment, elegance, strength, the universe, emptiness or completeness, presence or absence—no thing, nothing or infinity.
He said thinking about the paradoxes symbolized by the Enso helps him focus on his art.
"Enso is the basis of everything I paint," he said. "All my paintings have circular motions and shapes."
Barnett said he's considering selling fractional interest in his work and will adjust the price based on the current value of Bitcoin.
"I think artists should be looking at new ways to promote and sell their art," he said. "I'm an artist and a businessman. This is another way for me to get my art in front of anyone who might enjoy it."
Barnett said he bet on the wrong cannabis company and held the shares too long. He also runs a public relations company, and at 37 has no desire to be a starving artist because he and his wife, Jenna, have two daughters, Lucy, 5 and Nora, one and a half.
His portfolio now contains about 50% Bitcoin with the balance in stock and gold.
"Money and I have had a weird relationship," he said. "I've either had a lot of it, or none."
Barnett said he also admires electric carmaker Elon Musk, who last week electrified the Bitcoin market by adding #bitcoin to his Twitter biography. The crypto-currency rose about 16% on the news.
Despite his belief that Bitcoin is the future of currency, Barnett said he'd be willing to sell his work for dollars, often derided as "fiat" currency because it's no longer backed by gold or silver.
"I'm not an idiot—I'm an artist," he said.