Malik Faisal Akram's Brother Urged Him to End Texas Synagogue Standoff in Phone Call
The brother of a British man who held four people hostage at a Texas synagogue pleaded with him to give himself up and free the four individuals.
In an expletive-ridden recording obtained by The Jewish Chronicle, Malik Faisal Akram told his brother Gulbar, he was "coming home in a body bag."
In the recording, you can hear Gulbar telling him to surrender and the hostages are innocent people. In response, Akram yelled that he was "praying to Allah for two years for this."
Newsweek has not independently confirmed the authenticity of the recording, but experts believe it is authentic.
Akram, who entered the United States on a tourist visa, spent time in homeless shelters in the Dallas area prior to the synagogue attack. According to the BBC, he entered the Congregation Beth Israel during a morning service pretending to be homeless.
During the standoff, Akram called for the FBI to release Aafia Siddiqui, a Pakistani neuroscientist who was convicted in 2010 for trying to kill U.S. troops in Afghanistan. He referred to Siddiqui as his "sister," calling for her release.
All four hostages were unharmed, and Akram was killed in the standoff.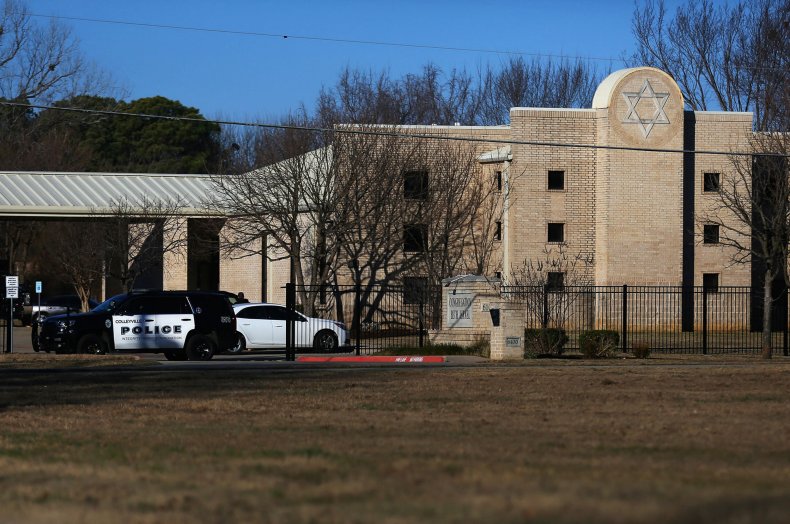 In an interview with CBS Mornings, Rabbi Charlie Cytron-Walker reflected on the last hour of the standoff.
"We were terrified.… I told them to go, I threw a chair at the gunman and I headed for the door and all three of us were able to get out without even a shot being fired," Cytron-Walker said.
The FBI said the incident targeted the Jewish community. U.S. President Joe Biden called it "an act of terror," and U.K. Foreign Secretary Liz Truss called it "anti-Semitism," later echoed by the Muslim Council of Britain, who expressed their support for the Jewish community.
British media confirmed that in 2020, MI5 investigated Akram as was considered a possible "terrorist threat." However, by 2021, he was removed from the active list and was considered a "former subject of interest" and no longer deemed a threat. The White House also announced U.S. law enforcement databases found no red flags prior to him entering the country.
On Sunday, the Greater Manchester Police said they arrested two teenagers connected to the Texas incident. However, they were released without charges.
The Associated Press reported that Counter Terrorism Police said they arrested two men, one in Birmingham, central England, and another in the northern English city of Manchester. Both are being held for questioning, but as of publication time they have not been charged.
Akram's family, who was from Blackburn, said he was "suffering from mental health issues."