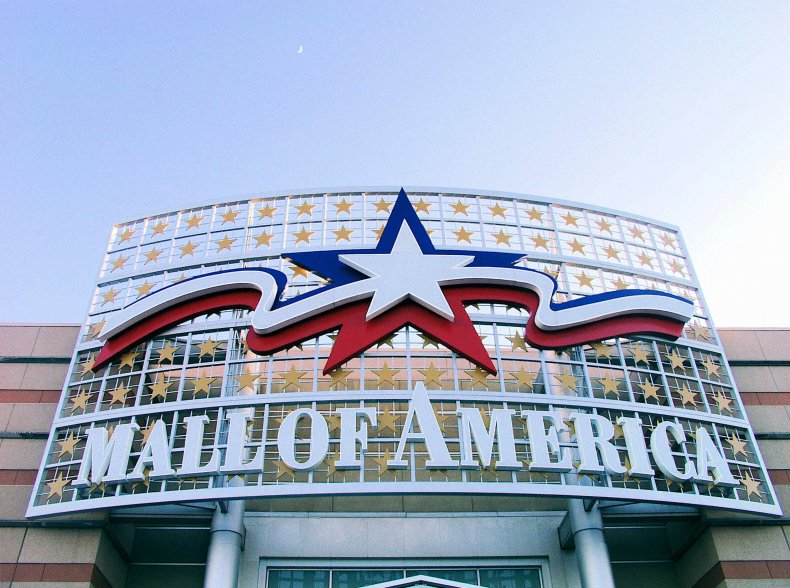 The Mall of America in Bloomington, Minnesota told tenants to close down early Thursday as a precautionary measure amid protests surrounding the death of George Floyd.
"Out of an abundance of caution, Mall of America has required all retail tenants and non-critical team members to exit the building by 2 p.m. today. While there have been no protests or actions at the Mall, the safety and security of those within the building remains our top priority," the mall said in a statement sent to Newsweek via email.
The Mall closed to customers on March 17 due to the novel coronavirus pandemic, but the statement said that tenants and other employees were preparing to reopen the 96.4 acre complex on June 1. Some stores located in the mall had also been provided curbside service, which has also been suspended for the day.
"At this time, we are not certain when access to our building will resume for our tenants and team members. We will continue monitoring the situation and will update our tenants, team members and guests as soon as possible," the mall's statement said.
Throughout Thursday, protests connected to Floyd's death continued, with many in the area near University Ave. W and Pascal Street N. in St. Paul, located 12 miles east of Minneapolis. Those protests led to a Target and Walmart to close for the day.
Videos of the protests surfaced across social media, showing police officers attempting to stop protesters from looting stores. Other videos show protestors throwing items at police officers and smashing store windows.
Floyd, a black man, died on Monday following his arrest by officers from the Minneapolis Police Department. In videos posted to social media, an officer can be seen pinning him to the ground by kneeling on his neck while Floyd repeatedly says he can't breathe. The 46-year-old was pronounced dead a short time later at the Hennepin County Medical Center.
The four officers involved in Floyd's arrest were fired from their positions on Tuesday, but many, including Minneapolis Mayor Jacob Frey and Floyd's brother, Philonise Floyd, are urging law enforcement officials to take further action.
"I've wrestled with, more than anything else over the last 36 hours, one fundamental question: Why is the man who killed George Floyd not in jail," Frey said during a press conference on Wednesday. "If you had done it, or I had done it, we would be behind bars right now."
Thursday's protests follow others held earlier in the week, leading some protestors to cause damage to areas across Minneapolis. During protests on Wednesday night, fires broke out at an AutoZone, Target and Walmart, located near E 29th Street and Minnehaha Ave., as well as a nearby apartment building.
According to the Star Tribune, at least five people were struck by gunfire during the protests, and one person died at the Hennepin County Medical Center after the owner of a pawn shop opened fire on a man he believed was looting his business. On Thursday, police said that one person was arrested during the protests and they were still investigating the nature of the incident.
St. Paul Mayor Melvin Carter urged residents to stay home amid the protests in a tweet on Thursday. St. Paul, the capital of Minnesota, saw protestors smashing windows and setting shopping carts on fire at a Target store in the afternoon.
"Please stay home. Please do not come here to protest. Please keep the focus on George Floyd, on advancing our movement, and on preventing this from ever happening again. We can all be in that fight together," Carter wrote in his tweet.