Who Is Mallory on 'American Horror Story: Apocalypse'? Langdon Begs For Wisdom
Episode 3 of American Horror Story opened with a shock. Michael Langdon (Cody Fern) meets with the residents of Outpost 3 once again to assess if they're worthy to make it to the sanctuary. Langdon seemingly knows all—until he meets with Mallory.
"I can see into the dark places people desperately try to keep hidden," he tells the residents. He first meets with Mr. Gallant (Evan Peters), who killed his Nana, (Joan Collins) last week, thinking it was Rubber Man. Timothy Campbell (Kyle Allen) also confesses his killing, though Langdon doesn't seem fazed. That changed when he sat down with Mallory (Billie Lord).
He tries to get her to talk bad about Coco St. Pierre Vanderbilt (Leslie Grossman), the rich billionaire who wanted to be a social media influencer before the world ended. Mallory worked as her assistant and flew on the airplane that was supposed to take Coco to safety.
"She sometimes makes me do things I'd rather not. That doesn't mean I want to kill her. She's spoiled and entitled but she's also helpless. She needs me," Mallory says.
Langdon tells her she's afraid of herself. "Sometimes I feel like there's something buried inside me," she says. "Something trying to claw its way out."
Mallory says she doesn't know who she is but assumed Langdon wouldn't want her in the sanctuary if she were a bad person. "You've made the assumption that I'm looking for people pure of heart," he says. The old world lived by a different set of rules, the Ten Commandments, but Langdon doesn't want his new world to be like that. Not only does he want people to eat the forbidden fruit from the tree of knowledge of good and evil, but he also wants them to burn it down if necessary.
"Don't be afraid, Mallory. I'm offering you a chance to live. Who are you?" he asks.
"I don't know," she responds. "Who are you?" That's when a blast blows Langdon away, shocking him as he falls to the ground. It happens once more and Mallory leaves to the room. Langdon is left stunned.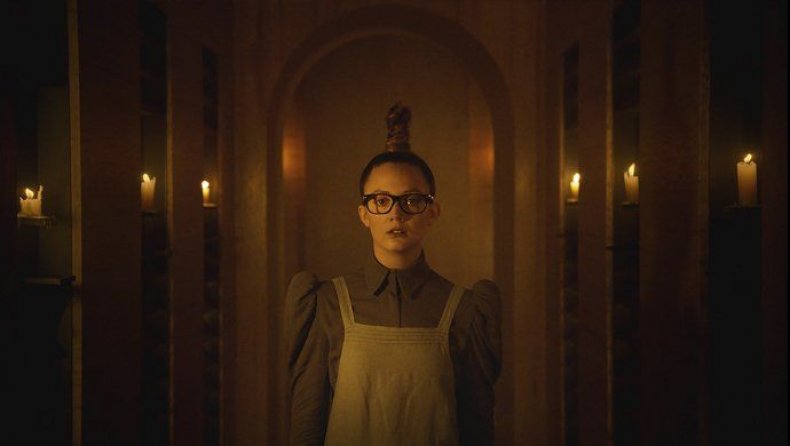 Langdon, needing answers, cuts himself from the top of his arms to his wrist. He makes a pentagram out of his blood. "May your darkness guide me," he says during his chant. "Power in your name to be strong within."
"I destroyed them all. One survived. I found her. She's here," he says, apparently talking about Mallory. "I beg for your wisdom. Please, father, open my eyes."
Snakes slither out of the pentagram and Langdon's eyes turn to black.
While Coco is getting ready for Halloween with Mr. Gallant, they talk about who might be going to the sanctuary. When Mr. Gallant hints that it might be him, Mallory speaks up, asking if he had a strange experience with Langdon too.
"It wasn't anything he said. It was a feeling," she tells them. "I think I set the room on fire. Like flames shot out of the fireplace and went everywhere. I know this is impossible but I think I made the fire with my mind."
Coco mocks Mallory, telling her that if she did it once, she should try it again with the fireplace in their room, but Mallory is unable to make the same thing happen.
According to the American Horror Story Twitter account, Mallory is a child of the fire.
Everyone in Outpost 3 seemingly dies when Ms. Venable (Sarah Paulson) and Ms. Mead (Kathy Bates) give them poison apples. Coco, Mallory and Dinah Stevens (Adina Porter) are revived when three of the Coven witches return. Cordelia Foxx (Paulson), Myrtle Snow (Francis Conroy) and Madison Montgomery (Emma Roberts) bring them back to life.
"Surprise, bitch," Madison tells Mallory when she comes back from the dead, telling her she thought she had seen the last of her.
American Horror Story: Apocalypse airs Wednesdays at 10 p.m. ET on FX.