Teachers Allegedly Killed by Student at Sweden's Malmö Latin School
A student at a high school in Malmö, Sweden, allegedly killed two teachers on Monday, authorities said.
Two female instructors in their 50s were found with an 18-year-old male suspect on the third floor of the Malmö Latin School, police said at a news conference. Although the women were taken to a hospital, the medical personnel were not able to save their lives, local newspaper Aftonbladet reported.
Students remained in lockdown inside the classroom while authorities investigated. Photos of the incident show authorities entering the school with stretchers. One of the students told Sveriges Television (SVT) that he saw the two injured victims being rolled away on the stretchers, describing them as "bloody."
The incident comes as the country's gun violence rate has risen, largely due to increased gang activity, according to a May 2021 report by The Guardian. It said that between 2000 and 2003, Sweden's gun violence rate was lower than many other European countries but has risen to one of the continent's highest.
According to a 2021 report from the Swedish national council for crime prevention, the gun violence death rate in Sweden ranks higher than most European countries with approximately four fatalities per million inhabitants per year compared to Europe's average of about 1.6 deaths per million.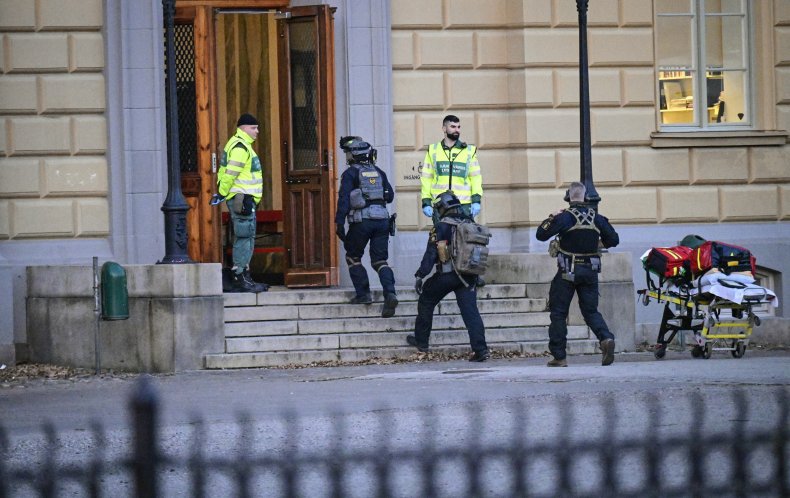 "None of the other countries included in the study have experienced increases comparable to that noted in Sweden," the report said, adding that the majority of other countries studied saw decreases in gun homicide rates.
Police did not disclose how the teachers were killed.
Several students from the school told SVT that police came into the school "with weapons drawn" and told them to evacuate, but they did not know what was happening at the time. Many students were staying late to work on a school musical, the report added.
Police continued to search the premises for more suspects as students remained in lockdown, per Aftonbladet. A spokesperson also told the newspaper that authorities were looking to get witness statements.
The Malmö Latin School continued to be cordoned off as police investigated. Fredrik Hemmensjö, the school's headmaster, told Aftonbladet that he was in Gothenburg at the time of the incident but is traveling back to Malmö as soon as possible, calling the situation "absolutely awful."
An alarm that something was happening at the school, which has about 1,100 students, began just after 5 p.m. local time, Aftonbladet reported. Police said that they do not anticipate any other injuries.
So far, a motive has not been specified.
Update 3/21/22, 3:41 p.m. ET: This story was updated with additional information.
Update 3/22/22 10:49 p.m. ET: This story has been updated with additional information and a revised headline.