Libyan Flight Hijackers Surrender, Malta's Prime Minister Declares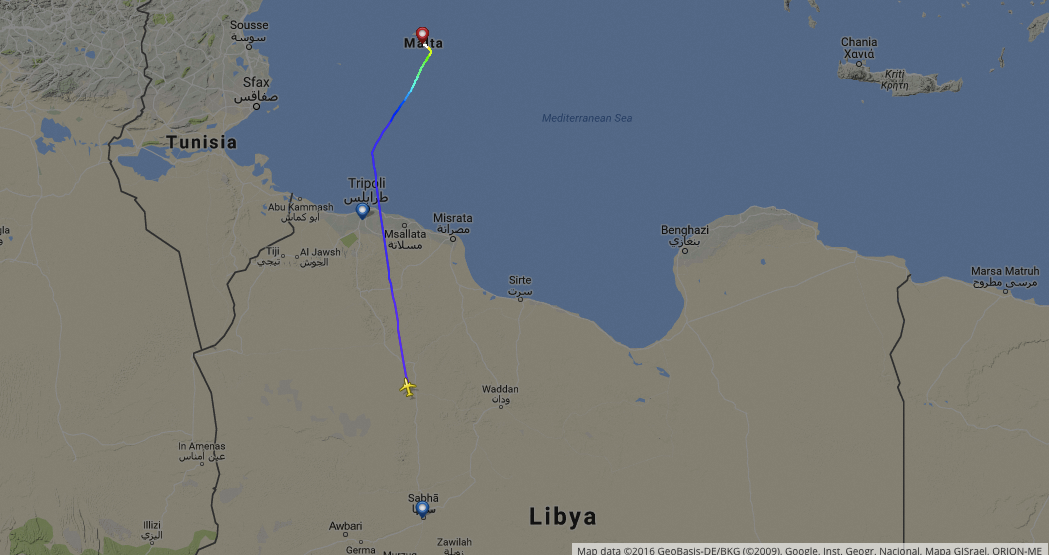 Updated | Two hijackers who diverted an internal Libyan flight to Malta Friday and threatened to blow up the aircraft with hand grenades have surrendered, Malta's prime minister has confirmed.
"Hijackers surrendered, searched and taken in custody," Joseph Muscat tweeted.
The Airbus A320 belongs to state-owned airline Afriqiyah Airways. It had 118 people on board, including seven crew, Muscat said in an earlier tweet. There were 82 men, 28 women and one child on board. He said they had all departed the aircraft safely.
The flight, code AAW209, was traveling from the southern city of Sabha to the Libyan capital, Tripoli. Muscat had earlier said that he had been "informed of potential hijack situation of a Libya internal flight diverted to Malta."
Maltese state television TVM initially said two hijackers on board possessed hand grenades and threatened to use them. Their motivations, despite their surrender, remain unclear.
The Malta airport authority said all emergency teams were deployed to what it called an "unlawful interference" at the airport.
The flight, code AAW209, was traveling from the southern Libyan city of Sabha to the Libyan capital, Tripoli, Maltese news site the Times of Malta reported.
The Times of Malta said that the hijackers claimed to be supporters of former Libyan dictator Colonel Muammar Qaddafi, killed at the height of the Arab Spring in October 2011 by Libyan rebels. Their demands remain unclear.
The North African country has been in a state of flux since his removal, with militias and jihadist groups vying for control of territory and power. The Islamic State militant group (ISIS) captured the central coastal city of Sirte in 2015 but lost its only bastion in the country last month to forces supporting the U.N.-backed government in the country.
A rival authority rules in the country's far-east, supported by the forces of former Libyan general Mashal Khalifa Haftar, claiming the U.N.-backed government to be illegitimate. Haftar's forces have been battling jihadists in the eastern city of Benghazi.