Mama Duck Leads Ducklings Through NYC Traffic Before Stopping in Bagel Shop
Videos posted to social media earlier this week show a duck adorably leading her young through the busy streets of New York City. Luckily, nearby pedestrians guarded the family of ducks as they, like true New Yorkers, headed straight into a neighborhood bagel shop.
TV writer and producer Doug Gordon, known on Twitter as @BrooklynSpoke, captured the Monday afternoon stroll and shared it on the platform. "A real-life 'Make Way For Ducklings' scene just unfolded in Brooklyn with this mama duck and her babies trying to cross 5th Ave.," wrote Gordon, referencing the beloved children's book. "Multiple people helped stop traffic to get them safely across the street."
The clip showed the mama duck and her eight ducklings crossing a street in Brooklyn's Park Slope neighborhood, passing under a parked car, and hopping onto the sidewalk.
"But it gets better..." Gordon teased before sharing the next video. In the second clip, the brood is seen making a beeline for Bagel World, a local bagel spot. The ducks, showing zero hesitation, hilariously walk towards a line of customers, as if the birds were planning on placing orders themselves. "No word on what they ordered," Gordon joked.
The third and final video in the series shows the ducks leaving Bagel World after resourceful employees lured them outside with a treat. "After a few minutes the ducks came out and one of the Bagel World employees helped lure them to the opposite curb with some bread crumbs," Gordon captioned the clip. "They are on their way up 4th Street, hopefully to Prospect Park."
In a final update, he added that the ducks did indeed find their way back to the park. "Out for a walk and I overheard someone talking about the ducks," he tweeted. "I stopped to ask about them. He accompanied them all the way up to the park and they went into the woods. Happy ending!"
Twitter users couldn't get enough of the "wholesome" thread, which has racked up thousands of likes on each video.
"Even the ducks in Brooklyn know the importance of a good bagel..." political advisor Sarah Margon joked.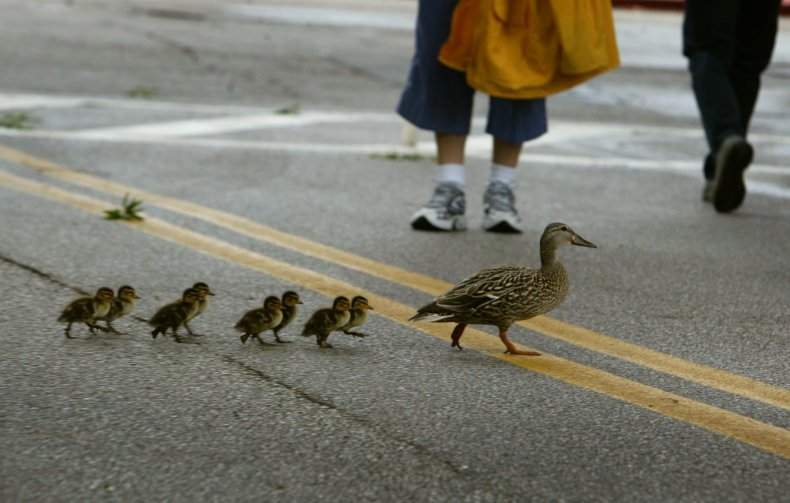 Others expressed astonishment at the birds' charmingly humanlike behavior. "Look at them using the crosswalk like little humans!!!!" wrote one Twitter user.
"Mama bird took her babies to bagel world and politely got in LINE!!" another tweeted.
Gordon later spoke to Gothamist, describing the experience as "a real Brooklyn-steps-up sort of moment, New Yorkers taking charge."
"These ducks emerged from beneath an NYPD school safety van," Gordon explained to the NYC news outlet. "They went right out into the street. A couple of us jumped out to stop traffic so they didn't get run over, and then they got to the other side."
Once the family of ducks reached Bagel World, he said that "they were in there a couple of minutes, but [he] didn't see what happened inside."
"I don't know whether they decided to come out because they didn't see anything on the menu they liked, or if they were chased out," he joked.