Man Accidentally Shoots Girlfriend in Leg While Trying to Pay Bill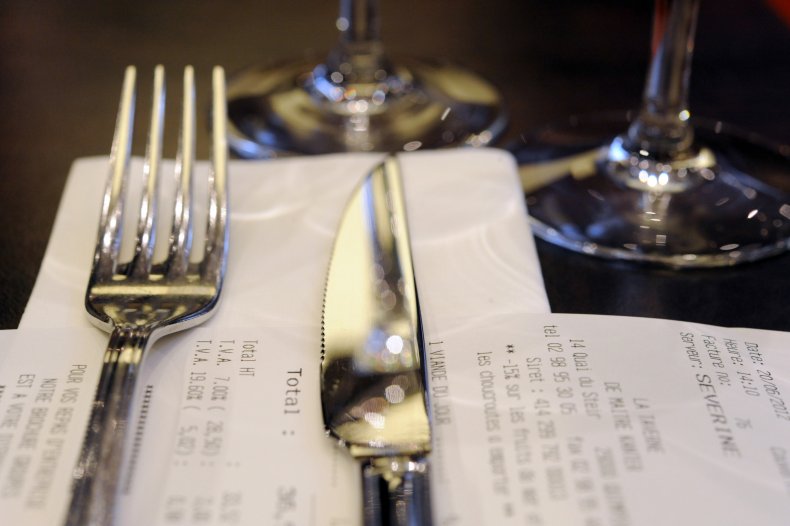 On Thursday night, a man in upstate New York was reaching into his pocket to pay his dinner bill, but instead of pulling out his wallet, he accidentally shot his girlfriend in the leg.
According to Cheektowaga Police, 19-year-old Anthony Ciccarelli, unintentionally fired his pistol while dining at Texas de Brazil in Cheektowaga, New York, with the gunshot grazing his girlfriend's leg.
Afterward, the couple left the restaurant to get medical assistance. "The couple left the restaurant in an attempt to seek medical care. While en route to obtain medical aid, Ciccarelli pulled into a plaza parking lot at Walden Avenue and Galleria Drive where the female contacted Cheektowaga Police requesting medical assistance," Cheektowaga Police Chief Michael Sliwinski told WKBW New in Buffalo, New York.
When officers arrived at the parking lot, they placed a tourniquet on the woman's leg. Shortly after, she was transported to Erie County Medical Center in Buffalo. Her injuries are not considered to be life-threatening.
After his girlfriend was transported to the medical center, Ciccarelli was charged with reckless endangerment and criminal possession of a weapon.
"This was the police presence still at Texas de Brazil just a few minutes ago," wrote Twitter user Erica Brecher, a news anchor for WIVB-TV in upstate New York, describing a picture she posted. "Crime scene tape surrounds the entrance, but @CPDNYinfo's CSI truck is packing up to leave."
According to WKBW News, a spokesperson for Walden Galleria, where the Texas de Brazil is located, stated that the safety of the public is its main concern and it has been "working collaboratively with the Cheektowaga Police," regarding the incident.
A similar situation occurred in Oak Harbor, Washington, just about two months ago. While eating dinner at a restaurant in January, an 80-year-old woman was accidentally shot by a 57-year-old man.
According to Heraldnet.com, Oak Harbor Police Chief Kevin Dresker stated that the 57-year-old, who has a concealed license permit, removed his .40-caliber handgun and placed it on his chair, covering it with a napkin while he momentarily stood up. The man was placing the gun back into his holster when it fired, striking a woman at a nearby table. The bullet went through her shoulder and exited from her chest area; she was then airlifted to Harborview Medical Center in Seattle.
The man who accidentally shot the gun was arrested on suspicion of assault in the second degree, reckless endangerment and unlawful discharge of a firearm.
Man Accidentally Shoots Girlfriend in Leg While Trying to Pay Bill | News