Man Accused Of Attempted Murder With Stolen Bulldozer in 'Act of Vengeance'
A man was arrested in Newberry, South Carolina, for allegedly stealing a bulldozer and letting it run after aiming it toward a house on June 9, causing extensive damage.
According to a Facebook post published by the Newberry County Sheriff's Office, deputies received a call at 4:30 that morning about a tractor that drove through a shed and was still running.
The responding deputies found the bulldozer with the tracks still in motion.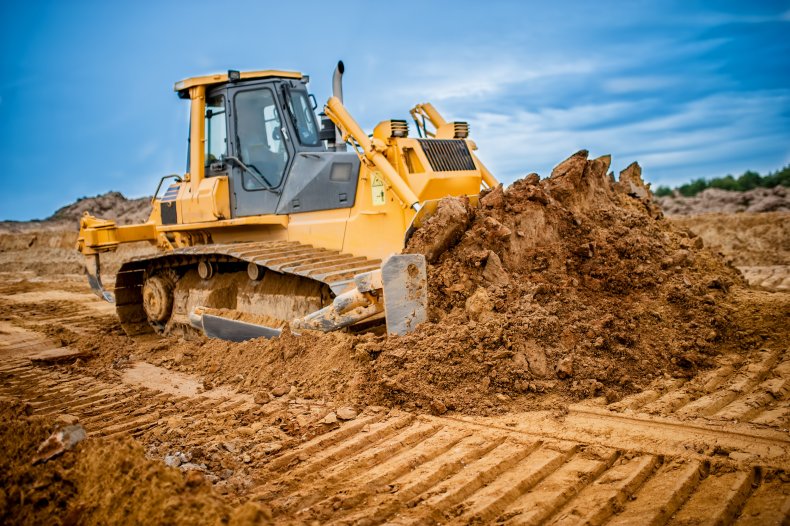 "One of the Deputies was able to safely get on the bulldozer and take it out of gear and cut the engine off," the post stated. "Upon further investigation, it was discovered that the bulldozer had been stolen from a nearby construction site and driven to the house on Jollystreet Rd."
Officials said the bulldozer was aimed in the direction of the house, and damage was done to the side porch, a carport and a block shed. After collecting forensic evidence, police identified 41-year-old Robert Fred Robarge as a suspect.
Robarge was taken into custody on June 17, and he faces several charges, including attempted murder.
"A person who, with intent to kill, attempts to kill another person with malice aforethought, either expressed or implied, commits the offense of attempted murder," reads the South Carolina Legislature's definition of attempted murder. "A person who violates this section is guilty of a felony, and, upon conviction, must be imprisoned for not more than thirty years."
In addition to facing an attempted murder charge, Robarge was also charged with malicious injury to property and grand larceny.
After facing a Newberry County Magistrate, he was denied bond.
Sheriff Lee Foster said investigating deputies discovered this was an act of revenge for allegations made in a previous case.
"This was a very dangerous and costly act of vengeance that could have cost the life of the person inside the house or someone traveling on Jollystreet Road in the early morning or darkness," he said.
Newsweek reached out to the Newberry County Sheriff's Office for further comment.
Other people are facing legal repercussions for their alleged actions.
A woman was arrested after she reportedly spat on a corpse at a funeral home in Tyler, Texas. In the affidavit, a witness claimed the woman had "animosity" toward the family of the deceased.
Another woman was arrested after she allegedly committed a hate crime at a Starbucks in Mountain View, California. She is accused of directing "racial epithets" at the coffee company's store manager.
One woman in Odessa, Texas, was charged with killing her husband. She allegedly said she killed him to protect her children.