Man Accused of Domestic Violence Leads Police in High Speed Chase Across State Lines
What started as an investigation into a man accused of domestic violence evolved into a high-speed chase that started in Ogden, Utah, and ended in southern Idaho.
In a press release posted to the Ogden Police Department's Facebook page, officers were called to a business in West Ogden on Wednesday to investigate a domestic violence assault.
"Witnesses reported a male suspect physically assaulted a female, forced her into a vehicle, then fled the scene," the press release read. "Officers observed the vehicle leaving the scene and attempted to stop the vehicle. The suspect failed to comply and led the officers in vehicle pursuit."
The chase started in Ogden before the suspect turned onto a northbound interstate. Idaho News 6 reported that speeds reached up to 110 miles per hour during this chase.
Because this chase crossed over different municipalities and into a different state, other police departments got involved, including the FBI.
Brigham City Police Department was one department that was involved in the pursuit. Administrative Lieutenant James Crapse told Newsweek that their role in the chase was to block off the entrance ramps to ensure the suspect couldn't get into their municipality.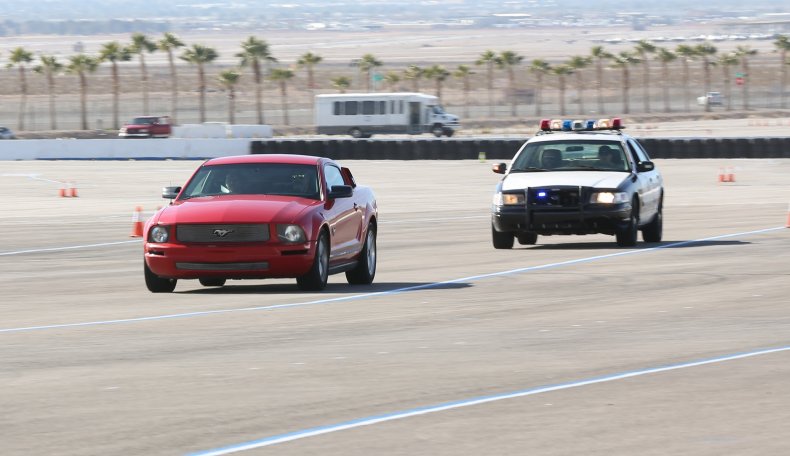 The Utah Highway Patrol was also involved in the pursuit. Sergeant Cameron Roden, the department's public information officer, told Newsweek they heard about the pursuit from the Ogden City Police Department. When the officers saw the car in question driving by on the freeway they began pursuing the vehicle.
The highway patrol representative said the officers following the suspect received permission to cross state lines into Idaho before the suspect came to a stop.
After the suspect stopped the car in southern Idaho, police were able to get the victim to safety, and the suspect was taken into custody without incident.
Roden told Newsweek the Ogden City Police Department is handling the charges against the suspect, and the Utah Highway Patrol was not filing any charges of its own.
Newsweek has reached out to the Ogden City Police Department and the Idaho Highway Patrol but did not receive a comment by press time.
If you are a victim of domestic violence, call the national hotline at 1-800-799-SAFE (7233), or visit thehotline.org. Services are free and confidential.