Man Accused of Feeding Pet Squirrel Meth to Make It Aggressive
A man who allegedly fed a squirrel methamphetamine in order to make the animal aggressive is scheduled to appear at an Alabama court Monday,
WHNT reported that Mickey Paulk, 36, is due to be present before a judge in Limestone County on a single count of possession of a wild animal.
In June 2019, the Limestone County Sheriff's Office received a tip that Paulk had been providing the tree-climbing rodent meth to create an "attack squirrel." On that information, they conducted a raid on a home on Piney Chapel Road.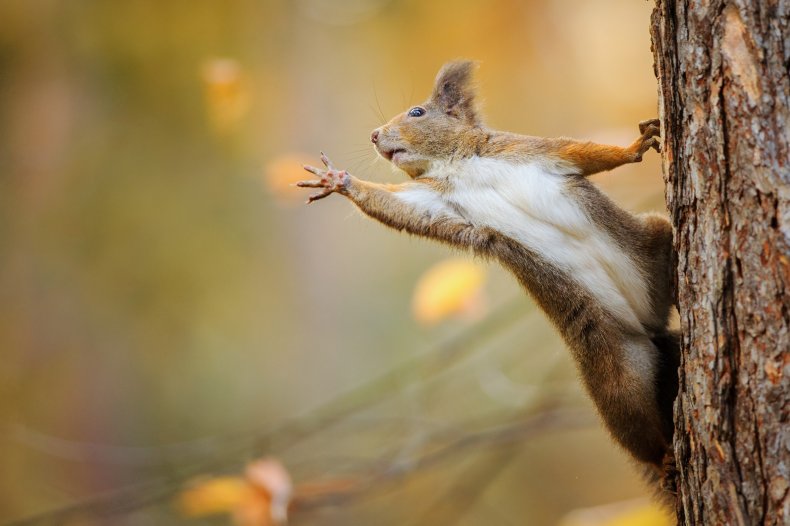 Paulk was not present, but police found the animal in a cage along with body armor and drug paraphernalia, including meth. They arrested 37-year-old Ronnie Reynolds at the scene. When Raymond informed authorities that the squirrel belonged to Paulk, they began seeking him as well.
Police were unable to test the squirrel for meth, according to WHNT. On the advice of the Alabama Game and Fish Division, the animal was released into the wild.
Nine days after the raid, Paulk was apprehended leaving a hotel in Lauderdale County while riding a stolen motorcycle, according to AL.com. After ramming a police vehicle, he was taken into custody.
In addition to the wild animal charge, Paulk was accused of possession of a controlled substance, possession of drug paraphernalia and felon in possession of a firearm, as well as receiving stolen property. That final charge was dismissed in October.
Paulk denied the charges, and released a YouTube video in which he petted what he claimed to be the same squirrel.
In the clip, Paulk said: "You can't give squirrels meth, it would kill them. I'm pretty sure."
Paulk also claimed that he was not residing at the residence that the police raided, and said that the drugs did not belong to him. He said that he was going to return to pick up the squirrel after moving out, and the police arrested and charged him for no reason.
Of the animal, Paulk said "he is an a--hole, he's a mean motherf---er, but he's not a trained attack squirrel." He also said that the squirrel has bitten "a few people."
He uploaded numerous additional videos of the squirrel to his YouTube page. In photos posted to his Facebook page, the animal can be seen perching on his shoulder.
Paulk faces a maximum fine of $500 or three months in jail if convicted.