Man Accused of Killing Christina Lee Never Given Mental Health Evaluation
The man accused of killing Christina Yuna Lee early Sunday was not ordered to undergo a mental health evaluation despite his connection to three other criminal cases.
Suspect Assamad Nash, 25, appeared before a Manhattan judge for the other criminal cases five weeks before he was charged in Lee's death, WNBC in New York City reported.
Judge Herb Moses could have ordered Nash to undergo a psychological examination with mental health professionals, which could potentially lead to him receiving treatment, but he didn't. Nash was ordered to be freed without having to come up with bail, according to WNBC.
Lee's killing has added to growing concerns about anti-Asian violence, even though police have not designated her death as a hate crime. Dozens of other residents in Lee's neighborhood and other supporters chanted "Enough is enough!" at a rally near her apartment building on Monday, the Associated Press reported.
Nash was allegedly seen following Lee into her building just before the attack, catching the door as it was about to close and then walking in behind her. He allegedly trailed her to her sixth-floor apartment and, again, waited until just before the door of her apartment was about to close before entering.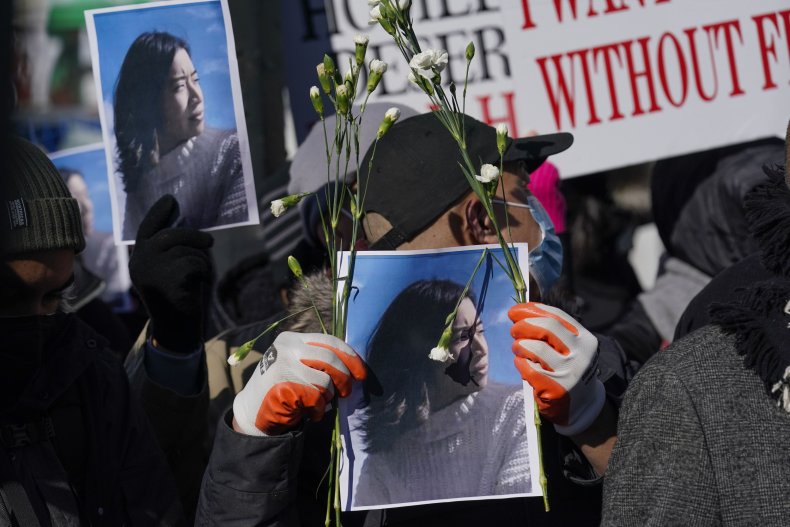 Two women who lived across the hall from Lee, 35, heard screaming a short time later and called 911 at about 4:30 a.m. When police arrived, they had to break down the door and found Lee dead in her bathtub, "bleeding from multiple wounds to the body," Newsweek reported.
They also allegedly discovered Nash hiding under the bed and a bloody knife in the apartment. He was taken into custody and charged with second-degree murder and other crimes, WNBC reported.
Nash's previous criminal cases were connected to an alleged illegal sale of a subway fare, punching a commuter in the face and fleeing from police after being caught inflicting damage on MetroCard machines, WNBC reported.
When Nash appeared before Moses for the three cases on January 7, the judge ordered some restrictions. He placed Nash under supervised release, which requires him to report to authorities twice in person and once by phone each month, according to WNBC.
After being charged with Lee's death, a judge ordered Nash to be held without bail.
Newsweek reached out to the Manhattan District Attorney's Office for comment.
Update 2/16/22, 11:19 a.m. ET: This story has been updated with additional information and background.