Man Accused of Painting Swastika on Synagogue Facing Federal Charges, Allegedly Referenced Hitler During Arrest
An Indiana man is facing federal charges for allegedly spray painting a swastika and other Nazi symbols on a synagogue's property in what federal authorities are certain wasn't any kind of prank.
Nolan Brewer, a 20-year-old from Cloverdale, Indiana, was arrested on Wednesday and charged with conspiracy to violate civil rights, according to the United States Attorney's Office for the Southern District of Indiana.
"Federal civil rights laws protect our rights to worship freely without threats or intimidation," Indianapolis United States Attorney Josh Minkler said. "Those who choose to deny anyone those rights by spreading hate and bigotry will be prosecuted to the fullest extent of federal law."
On July 28, anti-Semitic symbols, including swastikas and Iron Crosses, were spray painted on a brick structure of the Congregation Shaarey Tefilla, in Caramel, Indiana, and several areas of the grass and ground around the brick structure were burned.
Newsweek subscription offers >
The Caramel Police Department received information that linked Brewer to the crime and an investigation that was conducted with the FBI showed surveillance footage of Brewer purchasing red and black spray paint and bandanas from Walmart the day before the incident. During a search of Brewer's home and car on Wednesday, FBI agents and Caramel Police officers found cans of spray paint and "items consistent with the burned areas around the structure."
Minkler explained during a press conference that the fire was not started with an explosive device. During the search, investigators found items consistent with those that could be used to create a pressurized explosion including, Drano, tin foil and Gatorade bottles.
Brewer was arrested at the time of the search and according to the Indianapolis Star, referenced German Chancellor Adolf Hitler, who incited the murder of six million Jewish people, during his arrest. He also reportedly said that he chose the synagogue because it was "full of ethnic Jews," and WXIN reported he hoped the graffiti would send a message for Jewish people to "back down or something like that."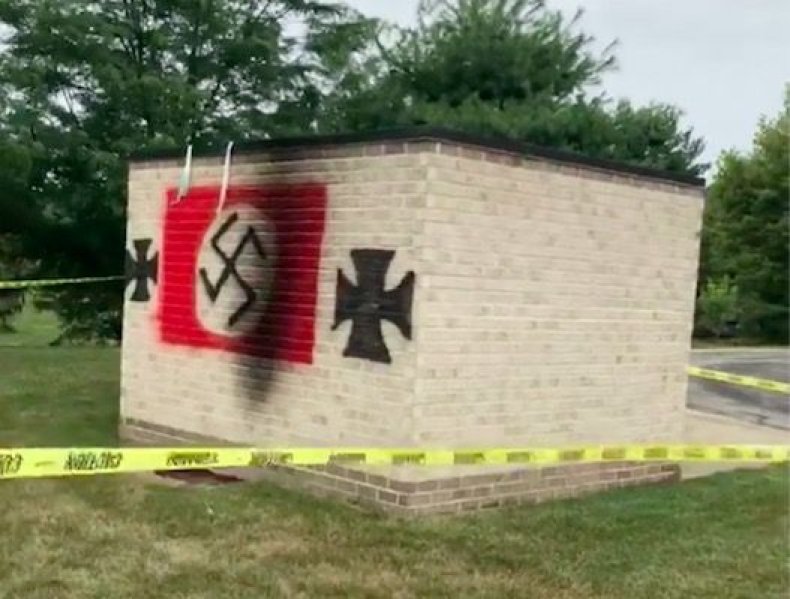 Newsweek subscription offers >
"We put all available resources on this investigation because we do not take these actions lightly. I am very proud of our police department and the other law enforcement agencies that worked together for this successful conclusion," Caramel Mayor Jim Brainard said. "As difficult as this incident was, it was gratifying to see the public show of support for the Congregation Shaarey Tefilla, that was targeted by this hate crime."
A 17-year-old female was also arrested as a co-conspirator, according to WXIN, but her name is not being released because she is under 18 years old. She is being charged with criminal mischief and arson, according to the Indianapolis Star. Investigators also found text messages on Brewer's cell phone that showed him bragging about the vandalism.
"There is a uniquely federal charge here," Minkler said during the press conference. "Brewer is charged with violating civil rights law, namely conspiring to threaten, intimidate, and interfere with a use of a synagogue by its members because they are Jewish."
Benjamin Sendrow, rabbi at Shaarey Tefilla told the Indianapolis Star that Brewer "utterly failed" at evoking fear among the Jewish community and what the vandals actually achieved was creating "an outpouring of love and support and solidarity."
"These guys did a cowardly thing in a cowardly way," Sendrow added. "My sense is more a sense of gratitude than a sense of okay, now I'm safe."
The vandalism of the synagogue drew such widespread outrage that even Vice President Mike Pence spoke out on Twitter to condemn the attacks.
"Sickened and appalled by the cowardly act of vandalism at Congregation Shaarey Tefilla; a beautiful synagogue in Carmel, Indiana, where I have many good friends," the former Indiana governor tweeted. "Those responsible must be held accountable. These vile acts of anti-Semitism must end."
The 20-year-old is currently in the custody of the United States Marshal Service and has a detention hearing set for August 21. The charge of conspiracy to violate civil rights has a maximum sentence of 10 years in prison. Minkler explained during a press conference that an investigation is still ongoing but officials don't believe there is a larger threat to the community. For anyone who feels inspired to commit their own crime because of Brewer's alleged act, Minkler reminded them that he's currently facing 10 years in prison.
Man Accused of Painting Swastika on Synagogue Facing Federal Charges, Allegedly Referenced Hitler During Arrest | U.S.