Man Admitted to Using Xbox Live to Pay Minor Boys to Send Him Naked Selfies, Feds Say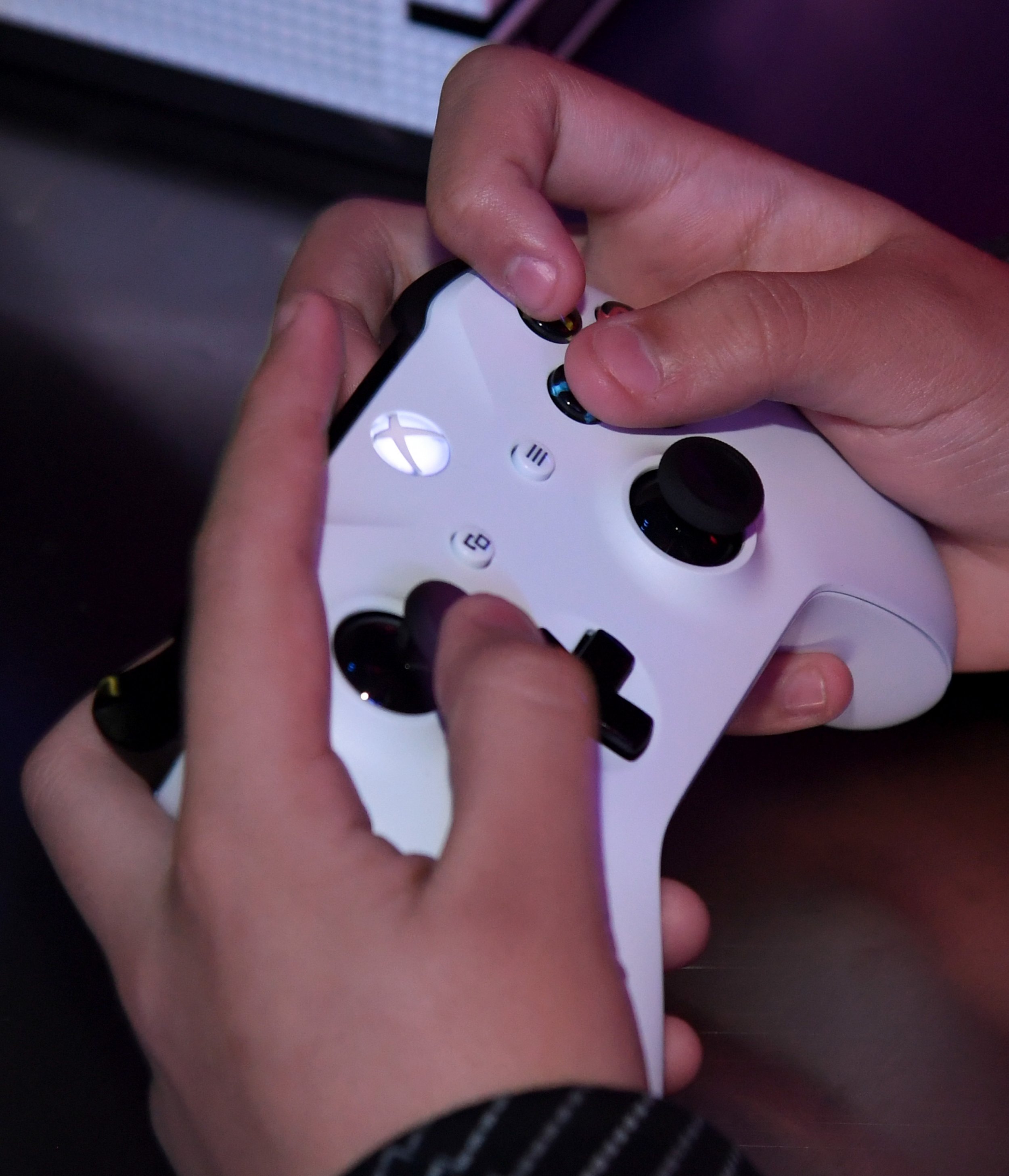 On the surface, 22-year-old Kyle Wallace, of Tampa, Florida, stayed out of trouble and lived under his mother's roof while working at a senior living center. On the internet, he was "AsThickAsFire" and "drawingguitar" who for years allegedly solicited prepubescent boys to send him nude selfies in exchange for money.
In one instance, on an Instagram exchange archived from a year ago between Wallace and a 12-year-old boy he'd met playing an Xbox game, Wallace allegedly demanded explicit photos. He made the request before the feds say he sent out a gift code worth $40.
The boy eventually responded, "I'll try." After some back and forth, Wallace confirmed the money was coming.
"Its [sic] the whole $40," he allegedly explained to the boy, before it was deposited into the kid's Xbox account.
Last week, FBI agents searched Wallace's home and confiscated a cellphone they said was his before arresting him.
Wallace was charged with production and attempted production of child pornography as well as possession of pornography. The federal probe claimed he admitted he preyed on young, cash-strapped boys he met while playing games and messaging on Xbox Live and other social media platforms, according to a criminal complaint filed in U.S. District Court for the Middle District of Florida.
On Monday, Wallace was ordered held in jail by a federal judge in Tampa, who cited the nature of the case "regarding multiple actual victims…including an alleged sexual battery" as key reasons for his "dangerousness to the community," according to an order of detention reviewed by Newsweek.
A man who answered the phone at Wallace's mother's home told Newsweek that he believed Wallace wasn't guilty.
"They are accusing him; the word 'accusing is the key," the man, who refused to identify himself, said. "You gotta remember that he's innocent until proven guilty."
Michael Ferrante, a Florida landscaper who was engaged to Wallace's mother for three years, claimed he's known Wallace "all of his life" and said he hoped that the charges don't stick. "I don't believe it's true," he told Newsweek.
Wallace, the complaint noted, allegedly tried to explain his behavior as resulting from his Asperger's, a form of autism. During questioning, Wallace allegedly stated that the condition forces him to possess "the mindset of a younger child, which he indicated explains his offenses."
Ferrante said that Wallace was overall "a good kid" and confirmed that he took medication for Asperger's.
From September 2017 until July 2018, Wallace allegedly engaged in a correspondence with two boys, 13 and 12, over Xbox Live.
Parents of the 13-year-old (referred to as "Victim 1" in the complaint) approached the Manatee County Sheriff's Office claiming they found "numerous suspicious payments" on their son's Xbox account. They said that a man (who later was pinpointed as Wallace by the MCSO and the FBI, who joined in the investigation to perform a forensic examination the boy's devices) "enticed [their son] and persuaded [him] to produce pornography."
It appeared that Victim 1 learned from Victim 2 (who was 12 years old), that "Wallace was using Microsoft Xbox Live" asking for nude images in return for gift cards codes or virtual currency that's used to purchase goods on the game console.
Wallace allegedly paid both boys various sums for images.
Wallace allegedly propositioned Victim 1 over Xbox but would switch to Instagram to talk about "sending nude images" to him. Initially, in return for payments ranging from $10 to $35, Victim 1 sent Wallace images he had lifted online claiming they were authentic selfies.
"Wallace sent [him] multiple payments for these images in the form of codes that [he] used to reload his Microsoft Xbox Live account," the complaint reads.
But Wallace allegedly caught on to the boy's ruse, the complaint stated, by performing "a reverse lookup of the photographs."
After the discovery, authorities said Wallace guilted the boy into sending him "real pictures."
The boy complied and sent Wallace actual nude selfies over Instagram, the document contends.
In his contacts with the 13-year-old, Wallace allegedly used the internet signals at his mother's home and workplace to make the requests for pornography, the complaint adds.
Victim 2's parents approached authorities concerned about their 12-year-old son's consorting with Wallace; whom he allegedly met while playing Grand Theft Auto on Xbox Live.
The 12-year-old allegedly informed Wallace he was a minor. Meanwhile, Wallace supplied the boy his full name and stated that he worked at a retirement home, allegedly using both his handles for Xbox—AsThickAsFire—and Instagram—drawingguitar. From there, Wallace allegedly provided cash in return for nude selfies.
On September 22, 2017, a day after Wallace allegedly paid $40 for an explicit photo of a "prepubescent boy," he allegedly asked for a picture of the boy in his school uniform. The request led authorities to conclude that "Wallace knew Victim 2 was a minor and that [he] would pay for photographs of him," according to the document.
The boy refused, claiming he wouldn't take or send such a selfie, even for a "shark card." In Grand Theft Auto, shark cards are worth millions of in-game dollars to spend on yachts, jets and cars.
After some back and forth, Wallace appeared to adopt a more intimate tone; referring to the 12-year-old as "baby" and "a cute boy" and pushing him to have actual sex with him.
When FBI agents searched Wallace's home in Tampa last week, they confiscated Wallace's LG cellphone that they contend in the criminal complaint "contained child pornography images."
Under questioning, Wallace allegedly admitted to the investigators that "he knew Victim 1 and Victim 2 were minors" and that he "also "attempted to persuade [the victims] to produce child pornography and agreed to send [them] Xbox Live gift cards in exchange for them sending pornographic images of themselves.
According to the complaint, Wallace also made admissions that he tried to "persuade three other minors to produce child pornography and send it to [him] via the Internet."
He allegedly told investigators that he "pursued an 11-year-old boy" (referred to as Victim 3) with money for pornographic selfies. But in this case, the photo-for-funds transaction graduated into a sexual act.
Wallace, who authorities say was 18 or 19 at the time and living near Ocala, Florida, allegedly confessed that he "performed oral sex on a then 11- or 12-year-old minor, Victim 3," the complaint states.
The victimized boy allegedly "needed money," and the FBI subsequently discovered three photographs of him on Wallace's confiscated cellphone.
Two other minor boys (Victim 4 and Victim 5) were also allegedly pursued by Wallace for nude selfies for years, the document states. And up until "two weeks ago" Wallace was allegedly still in touch with a minor known as Victim 5. Wallace allegedly told authorities that he was sent "nude photographs…in exchange for money."
Ferrante remembered Wallace as "a quiet kid" and an avid gamer who "always played Xbox." He said that Wallace wanted to become a professional gamer. But, he also said that if Wallace is found guilty he needs to be penalized.
"I wouldn't want this to happen to one of my grandchildren," he said. "I wouldn't wish that on anybody's kid. And if he's doing that to somebody I do believe he should be put in jail."