A popular TikToker sparked a viral wave of engagement after sharing the story of how he adopted Doakes, a dog that had been abandoned by his neighbor. The clip, found here, has been viewed 6.9 million times since it was shared earlier this month and is leaving commenters moved by the TikToker's kind gesture.
Animals that are abandoned or surrendered by their owners often end up in shelters, where they face uncertain futures. According to the ASPCA, approximately 3.3 million dogs enter animal shelters each year. About 48 percent of these dogs are adopted, while 20 percent are euthanized.
As TikToker Derek Schmit (known on the app as @sunnyvaletrailerpark) wrote in his video's caption: "[Three] shelters and [four] phone calls later. I found the neighborhood dog and adopted him. We gave him the life he deserves."
The footage shows the inside of a shelter, with rows of dogs barking from their kennels. The TikToker approaches one dog in particular, who—in contrast to his peers—appears to simply stare at the camera.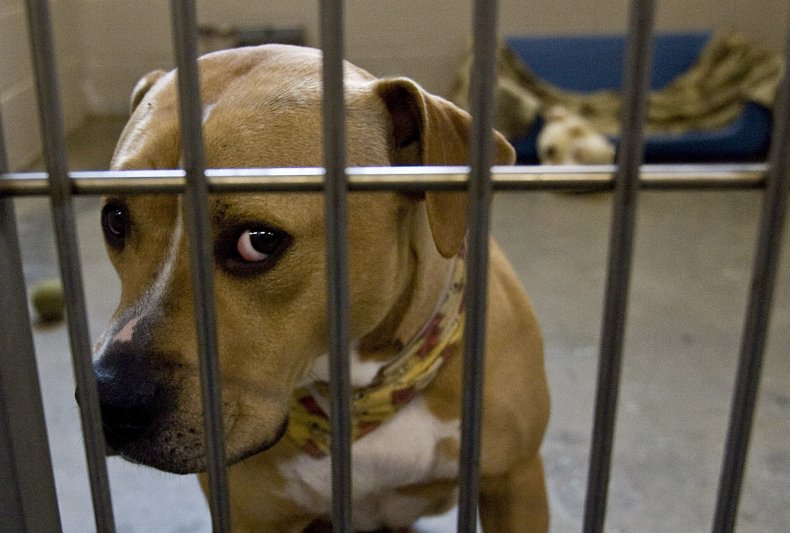 Based on the video, many viewers suspected that the dog immediately recognized the approaching TikToker.
"He is stunned!" wrote @_abbylouise. "He knew all along you were supposed to be his dad."
"I love that look of recognition. Face, body, entire stance is like ... I'm so glad you came for meeee!" commented @h3yd000.
Apparently, Schmit himself agreed, writing: "You can tell he recognized me. All the other dogs are barking [and] he's just like "is that really him?'"
In the comments section, Schmit also provided some additional backstory. "Previous owners left him on the streets. He was picked up by animal control," he wrote.
"I adopted him from [the] shelter. Sold my house and moved away," he said, explaining that he moved because he "didn't trust" the neighbors. "They were in and out of jail. I also relocated to a much nicer location [with] a fenced in yard for the dogs," he wrote.
The TikToker added in another comment that the neighbors still "have no idea" that he adopted their former dog.
Doakes, meanwhile, has adapted easily to his new home. "Doakes and Dexter are brothers for life and we are so happy together," said Schmit in a comment to Newsweek.
Countless commenters expressed support for the TikToker's actions, and many said that they hope the other animals living at the shelter will have a happy ending, too.
"All of them wagging their tails as you walk through breaks my heart," wrote @.sinsky. "I hope they all find a home soon."
"I wish I could rescue them all," echoed @jemianxo.
Updated 12/21/2021, 4:36 p.m. ET: This story has been updated with a statement from TikToker Derek Schmit.