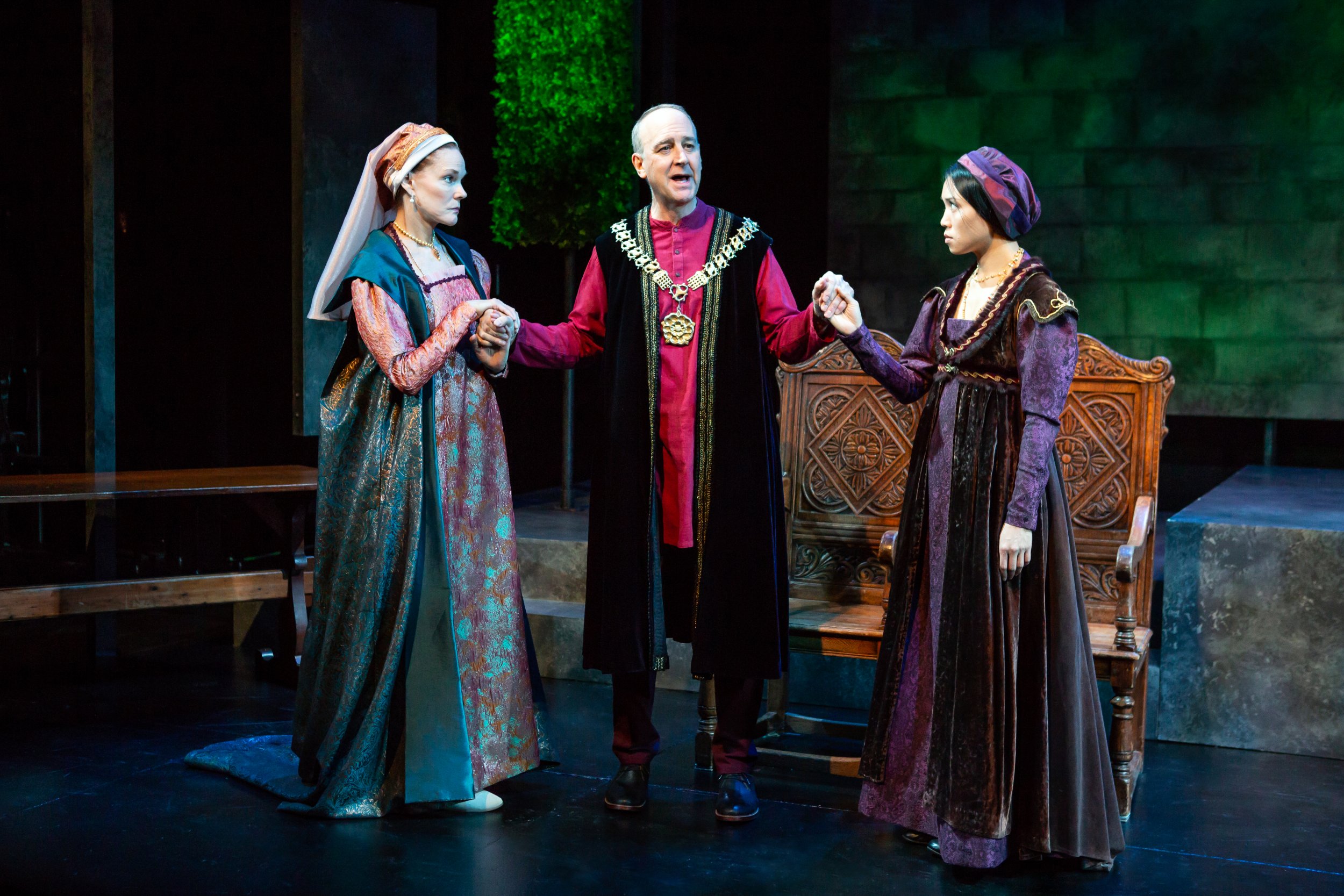 Speaking truth to power has never been the secret to a long life, and sticking to your principles can really get you in trouble with the boss. And when your boss is Henry VIII, well you'd have trouble getting long-term life insurance even from Lloyd's of London. Such is the dilemma of Sir Thomas More, the protagonist of Robert Bolt's engrossing drama A Man for All Seasons and probably the most principled lawyer ever.
Bolt's play is not easy to pigeonhole really. It has elements of a costume drama, but costumes are not important to this production. There is a philosophical debate at its core, but the characters are so strong, the drama so compelling and the language so accessible that you probably won't notice that some pretty complex concepts will go down pretty easily. And even if you were to get a little lost, we have an audience surrogate, a Common Man, to keep clarify things from time to time. The sets, which could be lavish, are minimal, which helps make Christa Scott-Reed's staging seem more…well, Elizabethan if you will, with quick scene changes and a brisk overall pace.
The premise is simple: Henry VIII wants a divorce from Catherine of Aragon and a male heir. All he needs is the approval of the pope and his lawyer, e.g., More—a sign from God on the level of a burning bush would be nice, but he's not being that greedy. A simple divorce might seem hard to believe these days when a divorce can be achieved by partners mutually uncoupling on Twitter. But in the 16th century, separation anxiety was often fatal.
A legal scholar and loyal to the pope, More will not give Henry's divorce the green light. Well, Hell hath no fury like a despot scorned, but More is secure in his relationship—or lack thereof—with the netherworld. And he sticks to his guns, or Scriptures as it were.
Related: Highlights of the bright lights of Broadway and beyond for 2018
Far from making A Man for All Seasons irrelevant, however, More's quandary does the opposite. Today, it is almost unthinkable that anyone could stake such a moral stance, or any moral stance; expedience rules. We can all take a knee and think about that. It doesn't help More that he surrounded by enablers. If he just accedes to Henry's wishes, the world will be his oyster—well this world. Unfortunately for More, he is much more concerned with the next world.
The play is smart and complex and it is served by a cast that across-the-board excellent. It is led by Michael Countryman, who plays More and has been a familiar face on the New York theater scene for over 30 years. He has elevated secondary roles in plays by such writers as Aaron Sorkin, Neil Simon and John Guare. So it is particularly good to see him sink his teeth into a truly meaty role. His More is about as conflicted as one can get: He is loyal to the pope, the king, and his family, and they all want different things. More is also a savvy lawyer who can split legal hairs with the best of them, but he is not happy about it. For A Man for All Seasons to work, Countryman has to keep the audience with him while remaining steadfastly on the fence. There is nothing beatific in his portrayal of this future saint and that makes his tragedy all the more compelling.
John Ahlin is another veteran who has played everyone from Falstaff to Orson Welles (in Orson's Shadow) to Shrdlu (in The Adding Machine). Here is has two roles: His Cardinal Wolsey is pragmatic to a fault; and his Signor Chapuys, the Spanish ambassador to England, encourages More to stick to religious guns. But when Chapuys tells More of a potential uprising in the provinces, More shows his loyalty to the king and tells the Duke of Norfolk. One thing about More: He doesn't make things easy for himself.
As More's well-off wife Alice in Act 1, Carolyn McCormick is wonderfully refined. She is quite at home in her "upstairs" world. Not surprisingly, she wants her husband to acquiesce to the kings' wishes; she has the big—albeit temporal—picture in mind. As More's not-so-well-off wife in Act 2, she is torn between her love for her husband and frustration at this stubbornness. McCormick's Alice fights desperately for what control that she can have over her family's future—which really does not amount to much in Tudor England.
Todd Cerveris's Thomas Cromwell is much more than a serviceable villain. He is a plotter and schemer who traffics in gossip and personal information with all the gusto of a social media baron. He is a power broker who loves his job.
And Kevyn Morrow as Norfolk moves with ease, jumping back and forth from being More's friend to just another corrupt politician. Just when you want to like Norfolk, his power-hungry side emerges.
When this group gets going, things get really ugly really fast and in ways you probably haven't seen since well the last news cycle. But More is refreshing is steadfast refusal to compromise his beliefs, even when he knows the consequences.
Politicians with ideals and principles may be hard to find, but they do exist from time to time and in every season, and A Man for All Seasons puts one of the best examples front and center. The play may be almost 60 years old and about events that happened almost 500 years ago, but it could not be more timely.
A Man for All Seasons is playing at the Acorn Theatre at 410 West 42nd Street in New York. For more information go to FPATheatre.com