Man Allegedly Hopped Airport Fence, Took Off Clothes to Climb on Plane Wing
A suspect has been arrested after allegedly trespassing into an airport and removing his clothing prior to attempting to board a plane.
According to a charge release obtained by Newsweek, Javier Martinez, 33, of Chicago, Illinois, was arrested and charged with one felony count of criminal trespassing.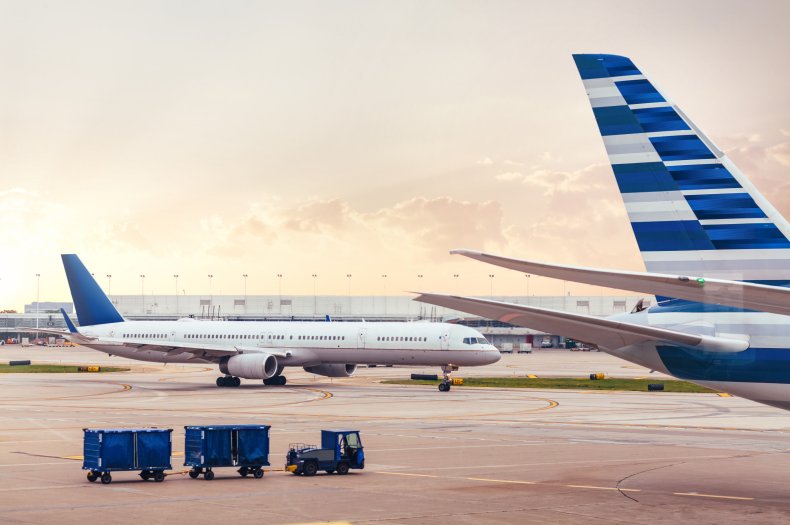 Authorities said that Martinez was arrested at 4:31 p.m. on Tuesday at Midway International Airport. He was identified as the individual who "moments earlier, unlawfully gained entry to the airfield by climbing a security fence."
"The offender then climbed onto an aircraft that was preparing to take flight," the charge said.
WGN 9 reported that Martinez allegedly climbed over a barbed-wire fence near the tarmac and attempted to stop a small private jet. Officials from the Chicago Police Department reportedly said the suspect also attempted to get on board the plane, getting as far as climbing onto the wing before apprehension.
Martinez, who reportedly took off his clothes on the runway, allegedly seemed intoxicated and was later transported to MacNeal Hospital for a mental evaluation.
SkyCam9 was reportedly over the scene at the time of the incident, alluding to a heavy police presence.
"He's out here in front of the jet, looks like he's trying to get in," air traffic control audio said.
The Chicago Department of Aviation (CDA) wrote to Newsweek that while all inquiries related to the incident are being referred to the Chicago Police Department (CPD), the CDA has an approved security plan that meets all federal security regulations.
"Those security protocols worked as established," the CDA said. "The response by CPD and airport security was swift, and the impact to airport operations was minimal."
A similar incident occurred in September 2021 when a man accessed the Midway airfield over the fence and was quickly apprehended. That case remains under investigation by the Transportation Security Administration (TSA).
Jessica Mayle, the regional spokesperson for the TSA, told Newsweek that airport perimeter security is usually the airport's responsibility, adding that airports craft security plans that they submit to TSA for review.
"TSA can also levy civil penalties in these incidents," Mayle said. "However, that process can be quite lengthy."
She referenced the TSA's Enforcement Sanction Guidance Policy, which states that "tampering or interfering with, compromising, modifying, attempting to circumvent, or causing a person to tamper or interfere with, compromise, modify or attempt to circumvent any security system, measure, or procedure" can result in a civil penalty range between $690 and $4,170.
An Associated Press investigation from 2016 revealed that intruders broke through the security at one of the 31 major U.S. airports on average every 13 days from the beginning of 2004 through mid-February. From 2012 to 2016, the average decreased to every 9.5 days.
In December of last year, a woman was arrested at Phoenix Sky Harbor International Airport after allegedly running onto an airport tarmac after attempting to halt a plane that was about to take off without her. The St. Louis, Missouri native reportedly ignored signs near the tarmac that stated in at least two languages not to trespass.
Newsweek reached out to CPD for comment.
Updated 03/31/2022, 3:30 p.m. ET: This story has been updated with comments from the Chicago Department of Aviation.