Man Allegedly Steals $1.2 Million in Fajitas From Government Job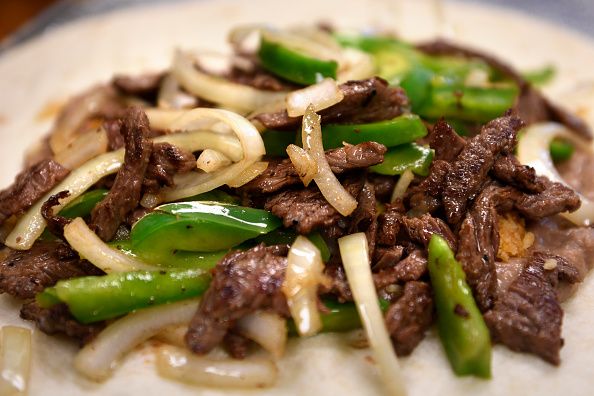 Everything's big in Texas—including this alleged theft: $1.2 million worth of fajitas over the past nine years.
An employee from the Cameron County Justice Department in San Benito, a city about 10 miles north of the U.S. Mexico border, allegedly stole shipments of fajitas, District Attorney Luis Saenz told The Brownsville Herald.
He was arrested on a felony charge of first-degree theft.
This spicy story unfolded when Gilberto Escaramilla decided to take a day off on August 7 for a medical appointment. A driver from Labatt Food Service in the city of Harlingen—the juvenile justice department's meat vendor—called the kitchen to notify it about the delivery of 800 pounds of fajitas, but the woman who answered the call said the center did not serve fajitas. After hearing this, the delivery man said he had been shipping fajitas to the juvenile justice department for nine years, Saenz told the newspaper.
Escaramilla lost his job on August 8 and was arrested the following day. Once the District Attorney's Office Investigations Unit was able to get a search warrant, officers allegedly found plenty of fajitas in his house.
"If it wasn't so serious, you'd think it was a Saturday Night Live skit. But this is the real thing," Saenz said.
The value of the fajita orders oscillated between $2,500 and $30,000 at a time. While Escaramilla went to jail and made bond, the DA's office found more evidence.
After Labatt Food Service and the County Auditor's Office provided more shipping documents in the form of invoices, vouchers and purchase orders, the unit concluded that Escaramilla had stolen $1,251,578 worth of fajitas, The Brownsville Herald reported.
"[Escaramilla] would literally, on the day he ordered them, deliver them to customers he had already lined up," Saenz told the publication. 'We've been able to uncover two of his purchasers, and they are in cooperation with the investigation."
Escaramilla's fraud signaled a "total failure of the chain of command," Saenz told the newspaper, since the juvenile justice department had been exceeding "its line item budget consistently." He added that "people were signing off on these things. It's upsetting because the auditor gets a detailed invoice where it states the breakdown of what's delivered, so they should've seen it."
In light of Escaramilla's alleged mischief, Chief Juvenile Probation Officer Rose Gomez announced that the juvenile justice department would review and establish "procedures, controls and safeguards to avoid a recurrence of this type of situation."