Man Allegedly Stole Identities of Multiple Senior Citizens to Buy iPhones
A Brentwood, Long Island, man allegedly stole the identities of multiple residents of a nearby retirement community to buy iPhones over a period of three years.
Elder abuse currently affects about 15.7 percent of people ages 60 and older worldwide and is only projected to become more common as national populations age, according to the World Health Organization (WHO). The term can refer to everything from acts of physical restraint to acts of medical abuse or misconduct to acts of emotional manipulation, the WHO states.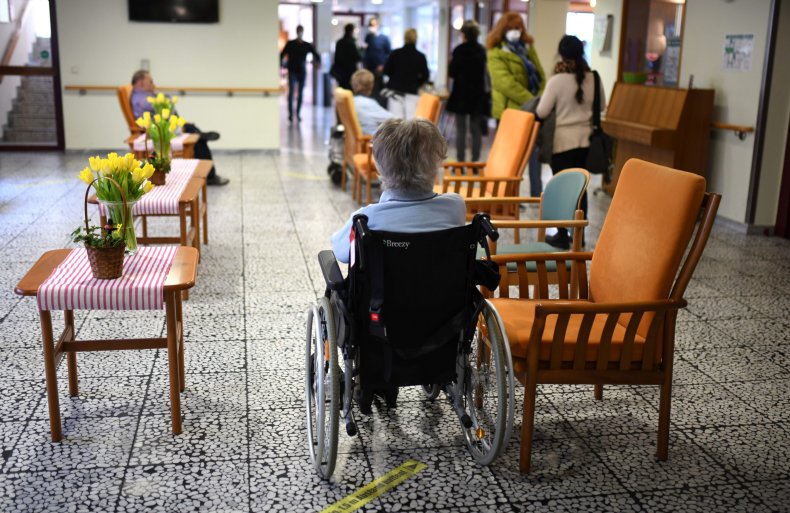 On Monday afternoon, Darrel Sharpeson, 37, was arrested and charged with three counts of first-degree identity theft and six counts of second-degree identity theft by police in Suffolk County on Long Island, according to a press release.
The Suffolk County police said that officers with the department's Financial Crimes Unit had discovered that Sharpeson had somehow acquired three senior citizens' personal information and filled out loan applications and purchased iPhones in their names at Apple store locations in multiple states. He attempted to buy 12 iPhones in this manner, Daniel Pagano, a detective who worked on the case, told Newsweek in an email.
The victims were all residents of Atria Bay Shore, an assisted living facility in the hamlet of Bay Shore. They were 90, 92, and 94 years old, respectively, Pagano said. Located in the hamlet's historic district, Atria Bay Shore provides a range of supportive living and memory care services, according to its website. Residents are housed in a restored 19th-century mansion.
While the identities of the victims were not disclosed, Suffolk County police said that the first case of identity theft was reported in October 2019. Following his arrest, Sharpeson was held overnight at Suffolk County's Third Precinct and is due for arraignment at First District Court in the hamlet of Central Islip on Tuesday. He was "not cooperative to determine motive," Pagano told Newsweek. The police are still investigating how Sharpeson came into possession of the senior citizens' personal information, Pagano said.
"Anyone who believes they may be a victim of Sharpeson is asked to contact the Financial Crimes Unit at 631-852-6120 or the non-emergency police phone number, 631-852-COPS (2677)," the press release concludes.
Based on a statement from Atria Senior Living, the company that operates Atria Bay Shore, provided to Newsweek, it appears that Sharpeson may have had a relationship with a former employee of Atria Bay Shore.
"We are concerned by these allegations, and immediately began an internal review upon learning of the situation. We confirmed that an individual, who was briefly employed at our community more than two years ago, may have lived with the person alleged to have committed these crimes. We have notified police of this connection and will continue to provide any support to their investigation. We will continue to take every step at Atria Bay Shore to ensure that we provide a safe senior living experience for our residents," Jason Shott, the regional vice president of Atria Senior Living, told Newsweek in an email.
Examples of elder abuse abound in a diversity of countries, including the United States. Starting in January 2018, Tennessee couple Karl and Deborah Hampton allegedly tricked a woman who was beginning to show signs of dementia into disclosing sensitive information about her financial assets.
Around the same time, the adult daughter of a woman identified only as "Julie" by New Zealand news outlets allegedly persuaded her mother to sign away the rights to her home.
Update, 07/23/21 at 5:38 p.m.: This article has been updated with comments from the Suffolk County Police Department and Atria Senior Living.